I don't know when I'll get around to baking cookies, but Dawn saved the day by sending a recipe for these Fudge-Filled Ginger Cookies. Dawn is as cookie-mad as I am (maybe more) and this one is bound to be good. It's adapted from two great sources – Bon Appetit and Elinor Klivans. Dawn combined two recipes to make a unique cookie.
Photo of Fudge-Filled Ginger Cookies taken by Dawn.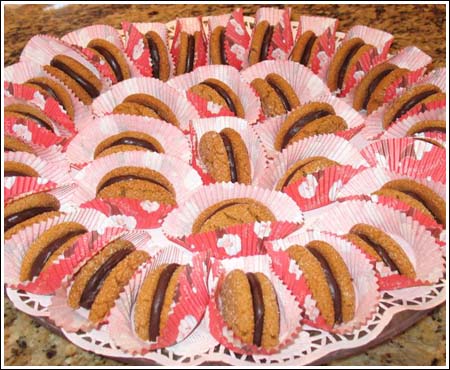 Fudge-Filled Ginger Cookies
Fudge-Filled Ginger Cookies
(1 hour chilling time to batter recommended before baking)
(adapted from a recipe in Sept. '04 Bon Appetit)
Makes about 42 cookies or 21 sandwiches
2 cups all purpose flour
2 tsps baking soda
¾ tsp ground ginger
1 ¼ tsp cinnamon
½ tsp salt
1 cup sugar
½ cup + 2 TBS canola oil
1 large egg
¼ cup mild flavored molasses (I use "Grandma's" brand)
additional sugar for coating
Preheat oven to 350. Position oven rack to center level. Line baking sheet with parchment paper.
In a medium bowl, whisk together the first 5 ingredients. In a separate large bowl, beat the sugar and oil for 2 minutes. Add in the egg and molasses (batter will look like smooth caramel). Slowly add in the flour mixture. Cover the batter with plastic and refrigerate for one hour or place in freezer for 30 minutes.
Form 1 inch balls of dough, (rounded tablespoon) then coat each with granulated sugar. Place on baking sheet 2 inches apart. Bake for 9-10 minutes, until light golden brown, Allow them to cool and enjoy or fill with fudge filling as shown.
Fudge Filling!
(from the book "Big Fat Cookies" by Elinor Klivans '04)
This cookie cream can easily be made in advance, and stored tightly covered in the fridge for 2 days. Simply allow it to come to room temp, or gently warm it over a pan of simmering water.
½ cup heavy whipping cream
2 TB unsalted butter, cut into pieces
1 ⅓ cups (8 oz) semisweet chocolate chips
In a medium saucepan, heat the cream and butter over low heat until the cream is hot and the butter melts. The hot cream mixture should form tiny bubbles around the edge and measure about 175 on a thermometer. Do not let the mixture boil.
Remove the pan from the heat and add in the chocolate chips, and allow them to sit in the hot cream for 45 seconds to soften. Use a small whisk and stir the mixture until it is melted, dark and shiny!
Pour the filling into a medium bowl and allow it to sit at room temperature until thickened, about an hour. Or refrigerate until it thickens, about ½ hour.
Place a dollop of filling onto the center of the bottom side of your desired cookie. Sandwich with another cookie and press gently to even out filling.