Today's cookie is from an NPR segment where a person posted her version of a local grocery store's pumpkin chocolate chip cookies. I assumed the local grocery store was Kroger because the cookies sounded similar to some my sister tasted at a Kroger – very spicy, soft and not too sweet. Based on all the rave reviews the Kroger pumpkin chocolate chip cookies were getting, I decided to try the version posted on NPR.  Just for reference, here's a picture of the real cookies from Kroger.    They come in regular and mini size, and this a pack of mini size.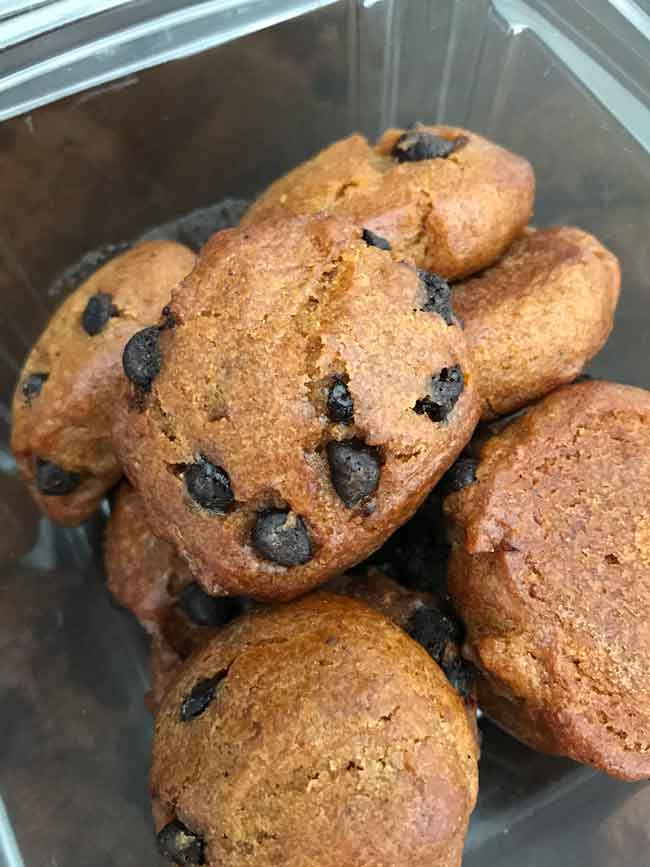 Kroger Pumpkin Chocolate Chip Cookies
The cookies aren't very sweet, so I increased the chocolate chips too….but that's just because I'm a chocolate monster. All in all, they're very good — different from the Pumpkin Harvest Cookies people love, but very good in their own right.
Here's what mine looked like.
I made 1/2 the recipe and got about 2 dozen cookies.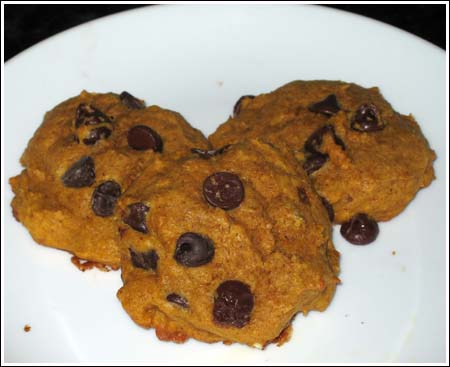 If you have trouble finding the link to the original, here's how I made them.
Here's a link to another version from Kroger.  I'm fairly certain this is really nothing like the ones they sell in the store!
Update 2:  I now live near a Kroger and can share the real ingredient ingredient list.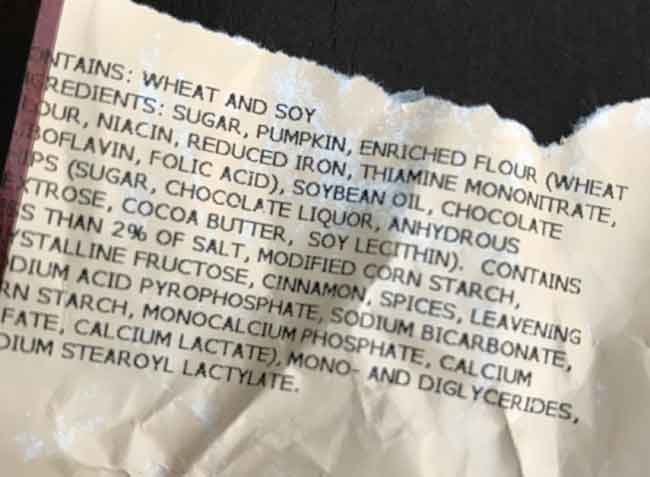 Kroger Pumpkin Chocolate Chip Cookies Clone
2 1/2 cups all purpose flour (11 1/4 oz on scale or around 340 grams)
1 tsp baking soda
Scant 1 tsp salt
1 tablespoon cinnamon
1/2 tsp ground cloves (reduced slightly from original)
1/2 tsp nutmeg
3/8 tsp ginger
8 ounces/230 grams unsalted butter, room temperature
1/2 cup packed brown sugar (100 grams)
1/2 cup granulated sugar (100 grams)
2 large eggs
2 tsp vanilla extract
1 cup canned pumpkin
1 cup sour cream
About 1 1/2 cups semisweet chocolate chips
Preheat oven to 350 degrees F.
In a medium bowl, whisk together flour, baking soda, salt, cinnamon, clove and nutmeg; set aside.
Cream butter and both sugars until light and fluffy. Add eggs and vanilla; beat until combined. Stir in the pumpkin, then sour cream and beat until combined. Add flour mixture; beat until just combined. Fold in chocolate chips.
Drop dough in mounds using a well rounded tablespoon (equals about 2 level) at least 2 inches apart onto baking sheets. Chill remaining dough while other cookies bake.
Bake, rotate sheets halfway through, until cookies are golden brown but still soft to the touch, 12-18 minutes (I baked mine for 15 minutes).
Makes about 3 1/2 to 4 dozen