Today's recipe was originally inspired by one from an NPR segment where a person posted her version of a local grocery store's pumpkin chocolate chip cookies. I assumed the local grocery store was Kroger because the cookies sounded similar to some my sister tasted at a Kroger – very spicy, soft and not too sweet. Based on all the rave reviews the Kroger pumpkin chocolate chip cookies were getting, I decided to try the version posted on NPR.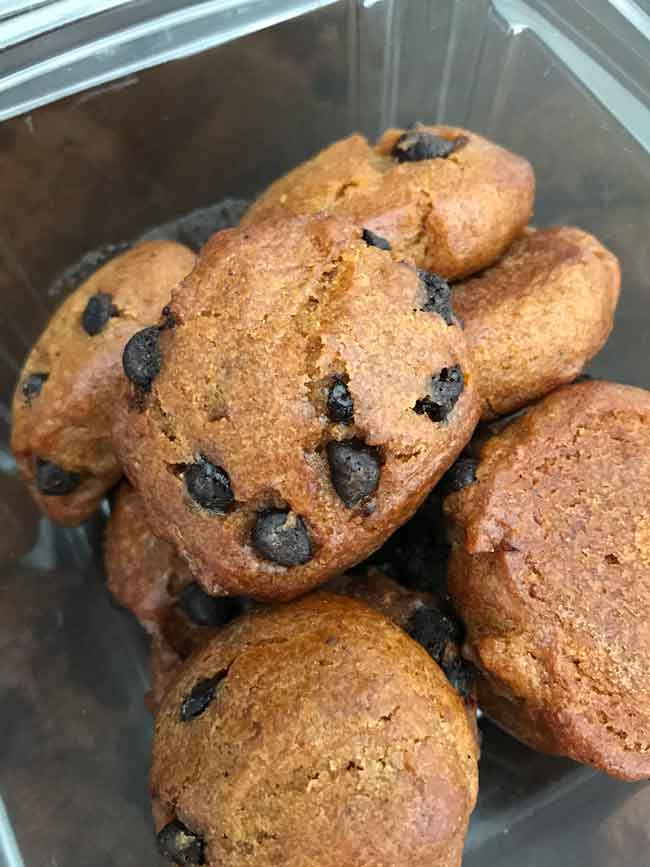 The NPR cookies were very good, but not quite the same. Somewhere around that time I found yet another recipe on the Kroger website for pumpkin cookies. I finally tried it, and wow! They were so good. However, they weren't the same as the ones in the bakery either. They were soft, dense, and while you could might call them cakey, they were kind of a dense and velvety cakey, so not cupcake-like. If you are used to baking with sour cream, you know what I mean.
As for the real Kroger bakery pumpkin cookies, I didn't get to try them until after I'd posted the supposed clone. And I can't say I was surprised that they weren't really similar at all. Here's a picture of the REAL cookies from the bakery. They're very dark and they come in regular size and mini. Their texture is extremely chewy, yet slightly cakey at the same time. This is most likely due to the oil (no butter in the Kroger cookies) and the modified food starch.
Kroger Pumpkin Cookies Ingredient List
Here's a picture of the Kroger bakery pumpkin chocolate chip cookies ingredient list. There's no sour cream, no butter, just oil.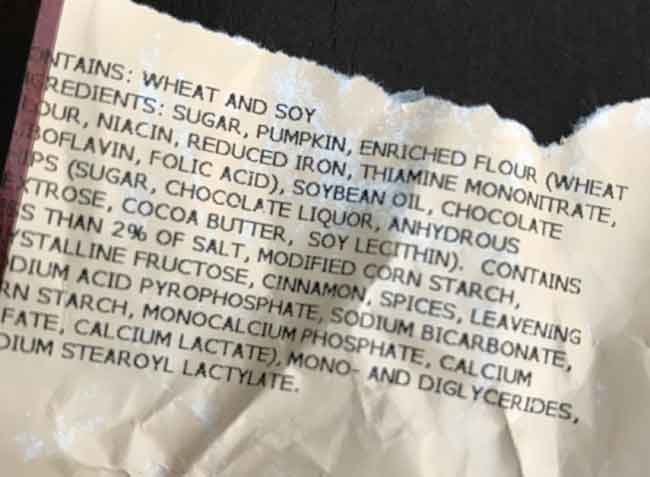 Since the old recipes I had from NPR and Kroger STILL were not like the bakery, I'm going to just refer you to the original Pumpkin Chocolate Chip Cookies with Oil recipe. I also have so many other ones.
More Pumpkin Chocolate Chip Cookies
Sue gave me this recipe years ago. These are soft and cakey and perfect for frosting with buttercream or cream cheese icing. Sue's recipe here.
My daughter is a big fan of the Roasted Pumpkin Chocolate Chip Cookies. For this recipe, you bake some of the moisture out of the pumpkin before adding it to the dough.
Here are some Vegan Pumpkin Chocolate Chip Cookies. I haven't made these in a while, but with a few small changes they might come close to Kroger's, seeing as how the ingredient list from the bakery does not include eggs.
Again, not Kroger, but how about a big pumpkin cookie cake?
And finally, why not just try the Taylor Swift recipe? Hers and Miranda Lambert's are next on my list.