Today's cookie is from the NPR segment where a commenter posted her version of a local grocery store's pumpkin chocolate chip cookies. I assumed the local grocery store was Kroger because the cookie sounded similar to one my sister tasted at a Kroger – very spicy, soft and not very sweet. Based on all the rave reviews the Kroger cookies were getting, I decided to try the version posted on NPR.
Here's a link to the commenter's recipe which is what I used. I'm trying to get it to link directly, but if you see other comments, just scroll up to the pumpkin chocolate chip cookie recipe. It has a 44 on the top and was posted by "Mannar".
The cookies were great. At first I thought they were too salty, but after I waited a while and went back, the flavors had settled and the salt level seemed fine. So if you are sensitive to salt, you might want to reduce that a bit. However, the cookies were good with the full 1 tsp salt. The cookies aren't very sweet, so I increased the chocolate chips too….but that's just because I'm a chocolate monster. All in all, they're very good. Different from the Pumpkin Harvest Cookies people love, but very good in their own right.
As for whether or not they are like Kroger's cookies, my friend Maureen lives in Scottsdale and shops at Kroger. Maybe I can convince her to take a picture of a Kroger cookie and send it to me.
Here's what mine looked like.
I made 1/2 the recipe and got about 2 dozen cookies.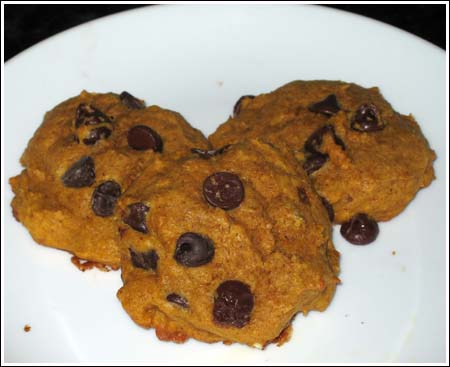 If you have trouble finding the link to the original, here's how I made them.
Pumpkin Chocolate Chip Cookies
2 1/2 cups all purpose flour (11 1/4 on scale)
1 tsp baking soda
1 tsp salt (scant)
1 Tbsp cinnamon
1/2 tsp ground cloves (reduced slightly from original)
1/2 tsp nutmeg
1/2 tsp ginger
8 ounces (2 sticks) unsalted butter, room temperature
1/2 cup packed brown sugar
1/2 cup granulated sugar
2 large eggs
2 tsp vanilla extract
1 cup canned pumpkin
1 cup sour cream
1 1/2 cups semisweet chocolate chips
Preheat oven to 350 degrees F.
In a medium bowl, whisk together flour, baking soda, salt, cinnamon, clove and nutmeg; set aside.
Cream butter and both sugars until light and fluffy. Add eggs and vanilla; beat until combined. Add pumpkin, then sour cream and beat until combined. Add flour mixture; beat until just combined. Fold in chocolate chips.
Drop dough in mounds using a well rounded tablespoon (equals about 2 level) at least 2 inches apart onto baking sheets. Chill remaining dough while other cookies bake.
Bake, rotate sheets halfway through, until cookies are golden brown but still soft to the touch, 12-18 minutes (I baked mine for 15 minutes).
Makes about 3 1/2 to 4 dozen