It's October, so I've jumped on the pumpkin bandwagon and have been making these Vegan Pumpkin Chocolate Chip Cookies.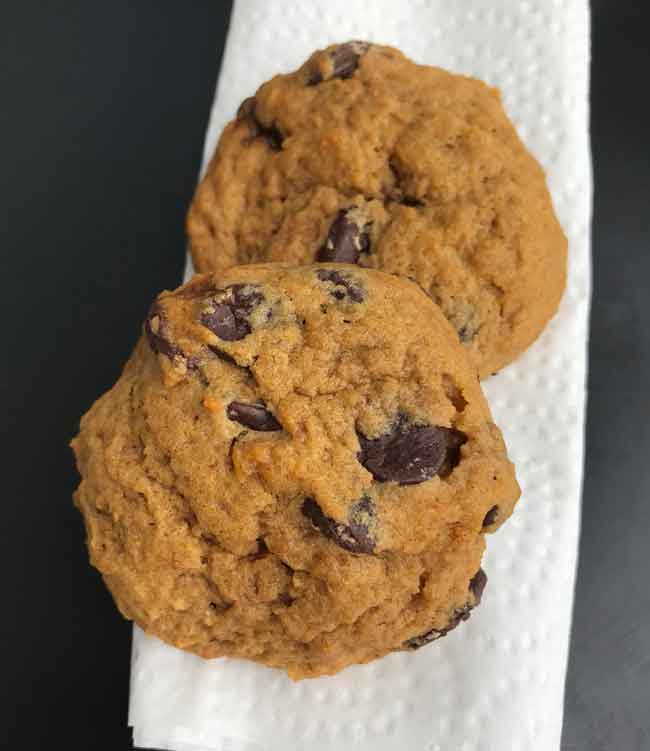 They're made with my new favorite ingredient, "plant butter" as well as coconut milk, which helps them bake up light, thick and round. They are cakey, but not as cakey as some . They even less cakey if you take the time to drain the pumpkin a bit on a paper towel.
Coconut Milk in Vegan Pumpkin Cookies
Given the small amount of full fat canned coconut milk, this recipe is best for when you have coconut milk leftover from another recipe or when you have another recipe you can use it in. I usually open a can of coconut milk, pour it in a plastic tub, stir it around really well, then use it as needed for about a week. Different brands seem to stay fresher longer, but I almost always find ways to use coconut milk after opening it.
If you try the Vegan Pumpkin Chocolate Chip Cookies, let me know.  So far I've made them a couple of times just for myself but haven't shared them with anyone other than Todd, who likes them too.
Update:  If you are looking for a good recipe for pumpkin chocolate chip cookies and you don't need them to be vegan, these Pumpkin Chocolate Chip Cookies are very good.  They are made with oil rather than butter.
Recipe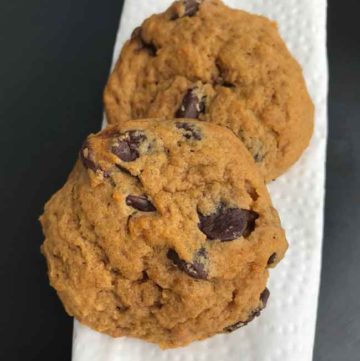 Vegan Pumpkin Chocolate Chip Cookies
Dairy free and egg free vegan pumpkin chocolate chip cookies made with plant butter and coconut milk.
Ingredients 
1

cup

plus 2 T. all-purpose flour

(160 grams)

½

teaspoon

baking powder

¼

teaspoon

baking soda

¼

teaspoon

salt

½

cup

dark brown sugar, packed

(110 grams)

1 ½

teaspoon

pumpkin pie spice

7 ½

tablespoons

vegan plant butter, cool room temperature OR shortening such as Nutiva

(100 grams)

⅓

cup

canned pumpkin, measure after draining on a paper towel**

(80 grams)

1

tablespoon

cold, well-shaken and stirred full fat coconut milk

(20 grams)

1

teaspoon

vanilla

½

cup

dark chocolate chips
Instructions 
Preheat oven to 350 degrees F. Line a large baking sheet with parchment paper.

Stir together the flour, baking soda, baking powder, salt until very well blended. Add the brown sugar and pumpkin pie spice and mix again until well blended. Set aside.

In a mixing bowl, using an electric mixer or just a heavy duty rubber scraper, beat or mash the plant butter until creamy. Add the pumpkin, coconut milk and vanilla and stir with the mixer or by hand just until blended – no need to whip it.

Add the flour mixture to the pumpkin mixture to make a fairly soft but scoopable dough, then stir in the chocolate chips. Using a medium cookie scoop, scoop out 14 rounds of dough. You can bake all the dough rounds immediately or put them on a plastic wrap lined plate, cover and chill.

Space dough about 2 ½ inches apart on the baking sheet and bake at 350 for about 12-14 minutes. Let cool slightly on baking sheet, then transfer to a wire rack to cool completely.
Notes
To drain pumpkin, spoon a heaping half cup of it onto a small stack of paper towels and use the back of a spoon to lightly press out extra water moisture.