I pulled this recipe out of my "Top Cookies" file, which has become completely disorganized and not to be trusted because all the cookies filed there aren't really "Top". But these sounded good and since I needed to use up the rest of a big can of roasted, salted macadamias from Costco, I made a batch this morning. Looks like I filed the recipe in the right place.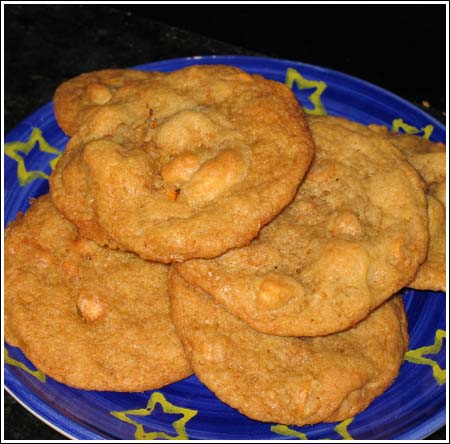 These are non-oatmeal-containing butterscotch cookies with a rich brown butter flavor and a texture similar to chocolate chip cookies. They're tender on the outside and the edges are crispy. I think the cornstarch might play a part in that.
The only drawback to this recipe is that you have to brown the butter and re-solidify it in the refrigerator first. It's easy to do, but requires some planning. I browned my butter yesterday, strained it (which I just started doing with browned butter because Bon Appetite recommended doing so) and let it firm up overnight. I set it out for a few hours before using it, then proceeded with the recipe as usual.
Browned Butter Macadamia Butterscotch Cookies
8 tablespoons unsalted butter (115 g)
1/2 cup lightly packed brown sugar (3 1/8 oz)
1/2 cup granulated sugar (3 1/2 oz)
2 tablespoons milk
1 large egg
1 teaspoon vanilla
1 1/3 cup all purpose flour (6 oz)
2 1/2 tablespoons cornstarch
1/2 teaspoon baking soda
1/2 teaspoon salt
1/2 cup roasted, salted coarse/roughty/BARELY chopped macadamia nuts
1 cup butterscotch morsels
First, brown the butter. Place butter in a saucepan and heat over medium until the butter melts, smells good and turns brown around the edges. This should take about 3-5 minutes. Butter might foam up a bit. Remove from heat and strain butter directly into mixing bowl (I used a 3 quart). Place mixing bowl in refrigerator for two hours or until butter is just set but still kind of soft. If you leave it in longer, you'll need to soften it again.
Preheat oven to 375 degrees F.
Add both sugars to mixing bowl with butter. Using an electric mixer, beat butter and both sugars very well. Add milk and continue beating until creamy. Beat in egg and vanilla. Stir together flour, cornstarch, baking soda and salt. Stir flour mixture into butter mixture until incorporated. Stir in macadamia nuts and butterscotch chips.
Drop dough by rounded tablespoons onto a parchment lined pan. Bake for 11-13 minutes.
Makes about 2 dozen