My new favorite cooking hack is making browned butter in the microwave, so I always have little custard cups of browned butter in the refrigerator. This recipe for Browned Butter Macadamia Butterscotch Cookies is a great way to use it. I've re-worked it a little bit by adding gram amounts along with a variation.
Browned Butter Sea Salt Caramel Chip Cookies
You can make Browned Butter Sea Salt Caramel Chip Cookies. Just substitute the butterscotch chips with caramel flavored chips (morsels), omit the macadamia nuts and put a little sea salt on top of each cookie.
The cookies have a rich brown butter flavor and a texture similar to chocolate chip cookies. They're tender and chewy on the outside and the edges are crispy. I think the cornstarch might play a part in that. And chocolate chips work too!
Brown Butter Weight Loss
The recipe calls for 4 ounces (114 grams) regular unsalted butter or 3 oz (84 grams) already browned butter. The reason is that when you brown a 4 oz stick of butter you lose almost an ounce of liquid. Also, generally when you use browned butter in a recipe you have to make up for some of the liquid lost. And in this case, the milk does the job.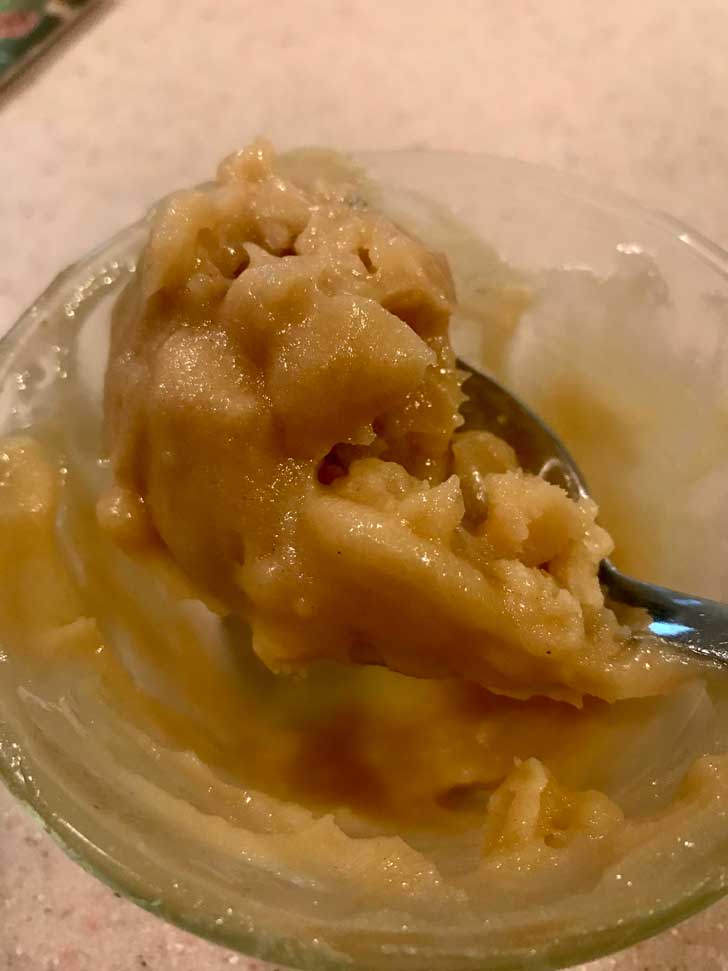 Here's a picture of the new Browned Butter Salted Caramel Chip Cookies. I used Hershey's Sea Salt Caramel Chips.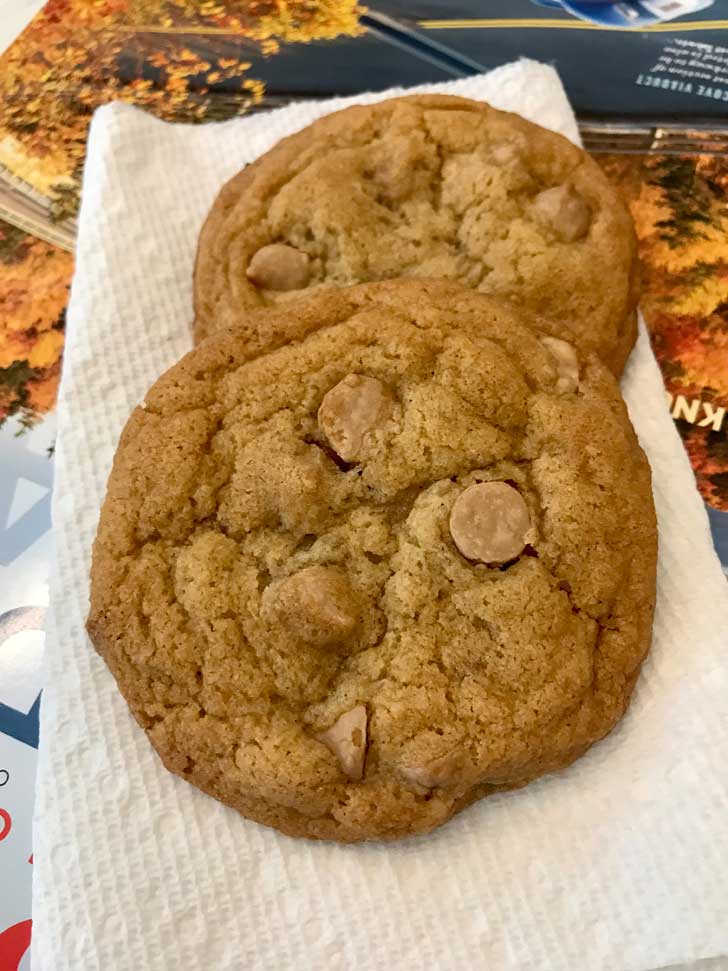 Browned Butter Macadamia Butterscotch Cookies
8 tablespoons unsalted butter (115 grams ) OR use 84 grams of already-browned and set butter
½ cup lightly packed brown sugar (100 grams)
½ cup granulated sugar (100 grams) 1 teaspoon vanilla
2 tablespoons milk, whole milk
1 large egg
1 ⅓ cup all purpose flour (170 grams) 2 ½ tablespoons cornstarch (20 grams) ½ teaspoon baking soda
½ teaspoon salt
⅓ cup roasted, salted coarse/roughty/BARELY chopped macadamia nuts
1 cup butterscotch morsels (or substitute sea salt caramel chips)
First, brown the butter. Place butter in a saucepan and heat over medium until the butter melts, smells good and turns brown around the edges. This should take about 3-5 minutes. Put the browned butter in a bowl, let cool slightly, then chill until it is somewhat firm. Alternatively, you can use butter that you've already browned.
Preheat oven to 375 degrees F.
Add both sugars to mixing bowl with butter. Using an electric mixer, beat butter and both sugars very well. Add milk and continue beating until creamy. Beat in egg and vanilla. Stir together flour, cornstarch, baking soda and salt. Add flour mixture to butter mixture until incorporated. Stir in macadamia nuts and butterscotch chips.
Drop dough by rounded tablespoons onto a parchment lined pan. Bake for 11-13 minutes.
Makes about 2 dozen