When I was a kid, whole grains came in the form of Roman Meal Bread and the occasional packet of flavored instant oatmeal. My mom didn't cook, and even if she did, things like brown rice, couscous, and quinoa were eaten by pale people who liked macramé ….at least in my world. This was Texas, remember.
But things are different now. The grocery store down the street sells ancient grain breads, brown rice you can zap in 2 minutes, 11 different types of couscous and even quinoa. And if we're not in the mood for anything remotely healthy sounding, we can find whole grains hidden in white bread, sweetened cereals, cookies and even goldfish snacks.
What I'm leading up to is that I got an email the other day from Eagle Mills telling me about yet another source of whole grains in disguise – their new 100% whole wheat flour which they say has "white flour appeal". The secret is something called Ultragrain.  Eagle Mills PR team offered to send me a sample, but I told them I'd buy it myself and write about it only if I liked it.
Shortly after they'd told me about the product, I checked the local grocery store to see if the Ultragrain/Eagle Mills flour was even available. I expected it wouldn't be and if so, it would be pricey. It wasn't. A 5 pound bag was $1.99, which was pretty good! I bought it, put it away and waited for a good opportunity to use it.
A few days later, I had to make a big batch of sugar cookies for Fuzz's Holiday party. Thinking the little kids would be too busy decorating to notice the cookies were whole grain, I made them with Eagle Mills using the same proportions I would use with my usual flour. The cookies tasted the same as always.
The next day, I used it again in the pumpkin chocolate chip cookies and didn't taste any whole grain. The cookies were very soft, but I'm fairly certain that was from the pumpkin.
The final test was today. I used it in one of our favorite chocolate chip cookies recipes. Again, no difference. I haven't used the flour in anything but cookies, but based on the results, I'd be comfortable using it in just about anything. While we might only be getting a couple of tablespoons of flour per serving, every little bit of whole grain adds up. 
 Here's a picture of what the bag looks like along with the cookies I made this morning.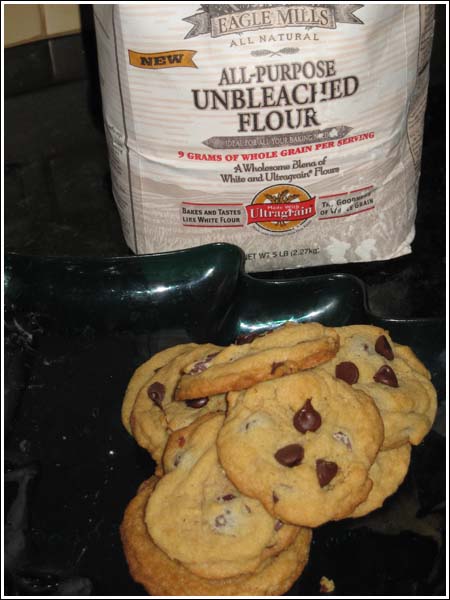 Chocolate Chip Cookies — Half Batch
1 ½ cups plus 2 tablespoons all purpose flour (7 ¼ ounces)
½ teaspoon baking soda
½ teaspoon salt
½ cup granulated sugar (3 ½ oz)
½ cup dark brown sugar, packed (3 ¼ oz)
⅓ cup unsalted butter, softened (2 ¾ oz)
⅓ cup vegetable shortening (butter flavored) (2 ¼ oz)
1 large egg
1 teaspoon vanilla
1 cup semi-sweet chocolate chips
⅓ cup to ½ cup bittersweet chocolate chips (or dark or milk)
⅓ cup chopped toasted walnuts or pecans (optional)
Preheat oven to 350 degrees F.
Stir together flour, baking soda and salt; Set aside.
Using high speed of an electric mixer, beat both sugars, butter and shortening until creamy. Reduce speed to low and mix in egg and vanilla - do not overbeat after adding the egg.
Add flour mixture to butter mixture and stir until flour is incorporated. Add chocolate chips and nuts (if using)
Drop cookies by rounded teaspoonfuls onto ungreased baking sheet. Bake for 12 minutes or until golden around edges and set. Transfer to a rack to cool.
Maks 20 (or so) cookies