Easy Pumpkin Soup with Curry is a recipe I usually only make during the fall. It's a lighter pumpkin soup that gets its creaminess from the pumpkin and evaporated milk. Honey brings out the sweetness of the pumpkin.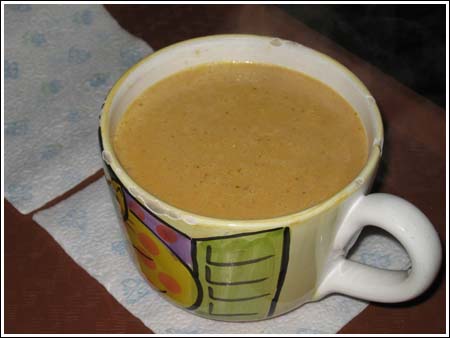 Easy Pumpkin Soup with Curry
½ cup chopped onions
1 tablespoon butter plus 1 tablespoons olive oil
2 tablespoons all-purpose flour
1 teaspoon curry powder ( I used red)
3 cups vegetable broth
1 can pumpkin -- (15 ounce)
1 can evaporated milk -- (12 ounce)
1 tablespoon honey
½ teaspoon salt
¼ teaspoon pepper
½ teaspoon ground nutmeg
In a large pot, sauté onions in butter/oil mixture until tender.
Add flour and curry powder and mix until blended.
Gradually add the broth. Bring to a boil; cook, stirring constantly, for 2 minutes or until thickened.
Add the pumpkin, evaporated milk, honey, salt, pepper, and nutmeg; cook until heated through.
Makes about 6 cups