One more recipe for today.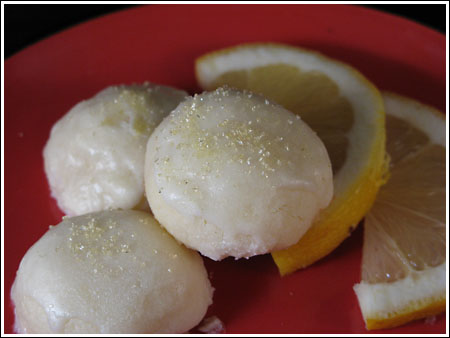 The Lemon Clouds recipe was posted in the comment section by Kay, who said she received some of the cookies as a holiday gift and fell in love with them. I pasted the recipe below as Kay wrote it, but put "butter" in parenthesis because that's what I used. I also found that the food processor worked perfectly – just process the butter and sugar until creamy, sift in the flour and cornstarch, then pulse until mixture forms a dough. As for shaping, the dough was pliable, so I just kind of molded the cookies into balls. They spread a tiny bit and the end result where little mounds, which I frosted with Kay's lemon icing. Thanks for the recipe, Kay!
Enjoy the Lemon Clouds and thanks to Kay for sharing!
Kay's Lemon Clouds
Yield 4-6 dozen
2 c. margarine (butter)
⅔ c. powdered sugar
2 c. unsifted flour
1-⅓ c. unsifted cornstarch
Lemon Icing
6 tbl. Margarine (butter) -- soft
1 box powdered sugar (1 pound)
Lemon juice for consistency
Lemon rind (optional) – didn't need
Cream margarine (butter) and sugar. Sift in flour and cornstarch. Mix well. Drop by small teaspoonful on un-greased cookie sheet about one inch apart. Bake for 15 minutes at 350. Do not brown. Cool and ice.
To prepare icing, cream margarine and powdered sugar, adding lemon juice for consistency. Lemon rind may be added if desired. This recipe may be baked ahead
and frozen. Best if eaten within 2-3 days after baking.
Note: I used unsalted butter and added ½ teaspoon salt to dough.