I have a cake recipe to post later today, but for all of you searching for a quick super bowl snack, here's a good one for pan cookies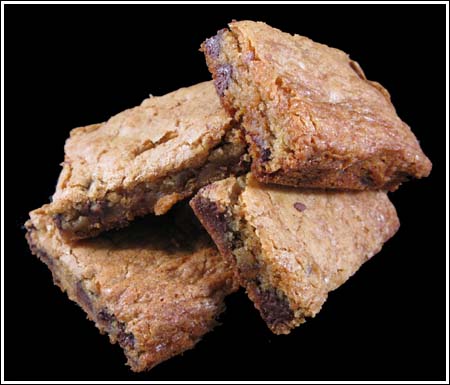 The base for these pan cookies is pretty simple, but you can jazz the recipe up by using different types of chips and nuts. I used a combination of cinnamon and chocolate chips, but you can use butterscotch, bittersweet chips, dark – whatever is on hand. What's great about this bar cookie is that it's moist, has a dense texture, chewy edges and a caramel flavor.
No Fail Pan Cookies
¾ cup all purpose flour
1 teaspoon baking powder
¼ teaspoon salt
4 tablespoons butter
1 cup brown sugar, packed
1 teaspoon vanilla
1 large egg
¼ to ½ cups of your favorite flavor chips (butterscotch, chocolate chips, bittersweet) -- see note at bottom
Preheat oven to 350 degrees F. Line an 8 inch square metal pan with non-stick foil.
Thoroughly stir together flour, baking powder and salt. Set aside.
In a microwave-safe bowl, melt butter on high for 1 minute. Add brown sugar and stir well. Stir in the egg and vanilla and beat 15 strokes with a mixing spoon.
Add flour mixture to sugar mixture and stir just until mixed. Mixture will still be very warm so let it cool for 5 minutes. Stir in chips.
Bake for 25 minutes or until a toothpick inserted comes out clean and bars appear set (edges will be brown).
Let cool for about 20 minutes. Lift from pan and slice into 16 bars
Note: These bars are fairly sweet, so you may want to eliminate the chips altogether. I like chips, so I add them. If you are using a sweet chip such as butterscotch or cinnamon, you might want to use ¼ cup, but if you are using a dark chocolate type chip, go for the higher amount. Nuts are a good add-in too.
Makes 16