In honor of Super Booze Sunday, I mean Super Bowl Sunday, here's a cake made with rum. If made properly, this cake is extremely moist. It also happens to be lower in fat than other rum pound cake recipes, which isn't to say it will help your diet any because it's loaded with sugar – but you could do worse.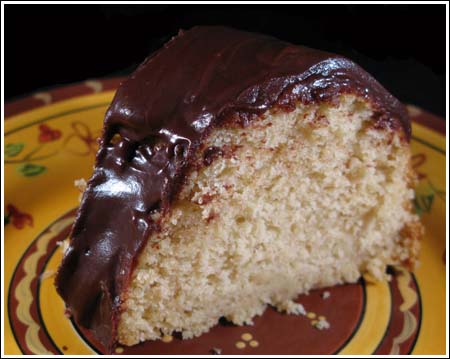 As a chocoholic, I like to add chocolate glaze. I tend to make chocolate glazes up as I go along, so I've linked to a relatively light one on allrecipes.com
Rum Pound Cake with Chocolate Glaze
2 cups all purpose flour (lightly spoon and gently sweep) – 8 ½ oz
3/4 cup cornstarch
1 teaspoon baking powder
1/2 teaspoon salt
12 tablespoons unsalted butter, softened
1 cup packed brown sugar,
1 cup granulated sugar
1 teaspoon vanilla extract
3 eggs, room temperature
1/3 cup Rum (golden) — whiskey works too
3/4 cup buttermilk
***Glaze
Preheat oven to 325 degrees F. Spray a 10 inch bundt pan with flour-added cooking spray or grease with shortening and dust with flour.
Sift together flour, cornstarch, baking powder and salt. Set aside.
In a large mixing bowl, stir together softened butter, both sugars and vanilla. Using an electric mixer on high speed, beat for 1 minute. Beat in eggs, one by one, beating for 30 seconds after each egg. Continue beating on high for 1 minute. Batter should be light. Stir in rum.
Using a mixing spoon, stir flour mixture and buttermilk into batter alternately, beginning and ending with flour mixture. Mix thoroughly, keeping batter light and being careful not to overbeat. Pour batter into prepared pan and bake for 50 minutes or until toothpick inserted comes out clean or with moist crumbs. Let cool for 10 minutes in pan. Turn onto a sheet of foil to finish cooling.
When cool, drizzle with your favorite chocolate glaze.
**Read the reviews before making allrecipes glaze. Needs an additional tablespoon of butter and more milk.