Ricotta cheese is such a great muffin ingredient. Not only does it add protein, it gives muffins a little extra mass, making them more substantial. Honestly, I don't know why I don't make ricotta muffins more often, so I'm going to change my ways starting with these Ricotta Rum Chocolate Chip Muffins.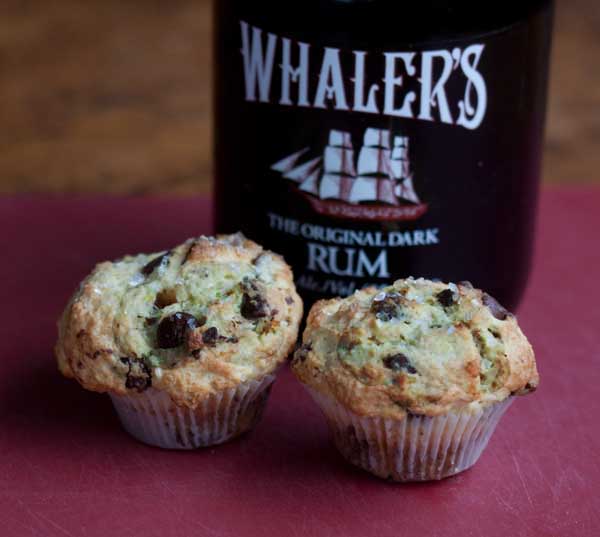 I like the alliterative "Ricotta Rum", but if you swap out the rum for a little vanilla and are generous with the orange zest, you can call these Ricotta Orange Chocolate Chip Muffins. The batter is thick so you can pile it in the cups and get fairly high crowns with crispy edges. Since the batter is piled high, a standard size muffin will weigh in at about 3 ½ to 4 oz. That's a nice size for a bakery style muffin, but if you want a more modest serving you can make these as mini muffins, which are still pretty substantial.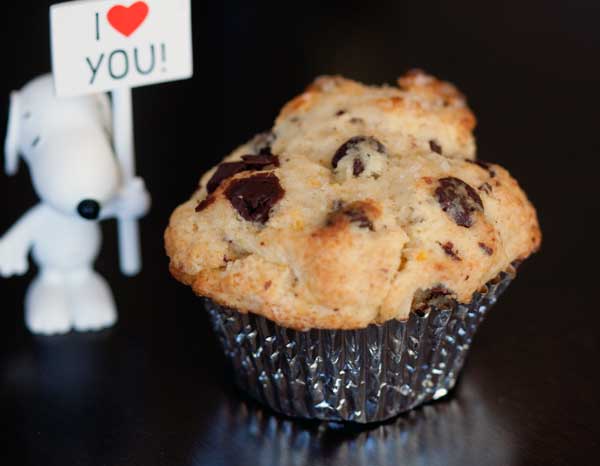 If you try the muffins or come up with a neat variation, let me know! I plan on making these again as muffin tops, so I'll update you when my new muffin top pan arrives in the mail.
Update: Made another batch today using homemade ricotta and noticed that the dough was dryer than usual. If your dough is dryer due to dryer ricotta, just add a little milk to soften. Dough consistency is about like this -- definitely thicker than your usual muffin batter!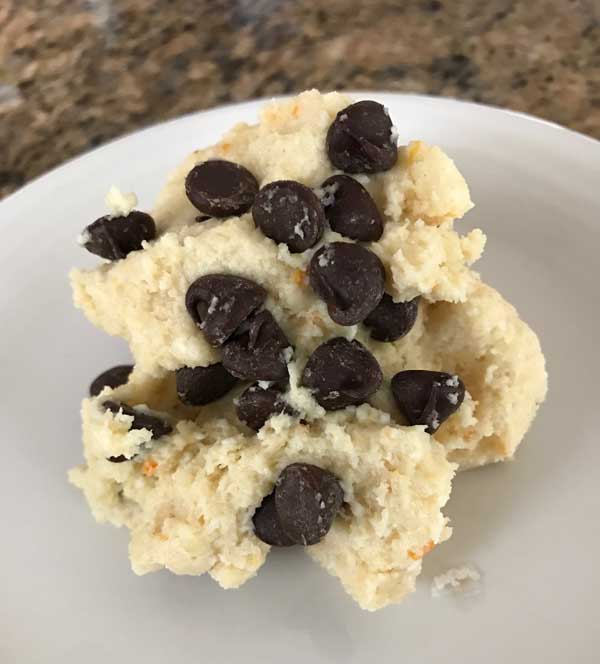 And here's another muffin. I used chocolate chunks for this one and skipped the muffin paper.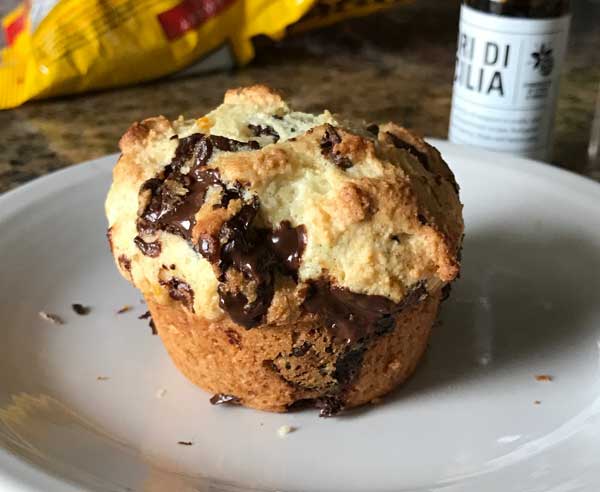 Recipe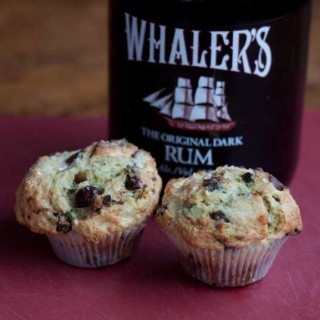 Ricotta Rum Chocolate Chip Muffins
Ricotta Rum Chocolate Chip Muffins are orange muffins with a hint of rum and a lot of ricotta cheese. Chocolate chips or chopped chocolate may be used.
Ingredients 
⅔

cup

chocolate chips

1 ½

cups

all-purpose flour

200 grams

1 ½

teaspoons

baking powder

¼

teaspoon

baking soda

¼

teaspoon

salt

½

cup

sugar

100 grams

5

tablespoons

unsalted butter

softened (70 grams)

1

tablespoon

vegetable oil

14 grams

1

large egg

50 grams

2-3

teaspoons

orange zest

4

teaspoons

of dark rum

¾

ricotta cheese

6 oz, part skim or whole

1-4

tablespoons

milk if needed

will depend on ricotta
Instructions 
Preheat the oven to 400 degrees F. Line eight standard size muffin or 12-13 miniature (2 inch size) cups with paper liners.

Toss the chocolate chips with 1 teaspoon of the flour and set aside. Put the remaining flour, baking powder, baking soda and salt in a bowl and whisk for 15 seconds.

In a mixing bowl, beat the butter, oil and sugar with an electric mixer. Add egg and stir until blended, then beat with the mixer until light and fluffy, scraping the bowl. Beat in the orange zest, rum and ricotta cheese.

With a heavy duty scraper, stir in the flour mixture. If batter seems dry (more like cookie dough than muffin dough) add milk 1 tablespoon at a time until the batter is about the consistency of ricotta or drop biscuit batter.

Pile the muffin batter into muffin cups. It should be pretty thick..

Put the muffins in the hot (400 degree) oven, then immediately reduce temperature to 375 degrees F. Bake for 20 minutes or until a meat thermometer inserted in a muffin registers 205 F. If making the smaller size 2 inch muffins, preheat to 375 and bake at 375 for 20 minutes.