Almost Tortuga Rum Cake is an old favorite I found years ago on from Recipe Goldmine (now Food.com). It was inspired by a trip to The Bahamas, where I kept seeing rum cake everywhere – especially the Nassau airport, where they have a booth and free samples. The cakes come in all different flavors and have quite a following. I'm not sure how much they cost these days, but at the time they were about 30 dollars. And they weren't very large. This recipe makes a similar cake with more to go around!
Make Your Own Mix
This recipe is kind of fun because it has you make a cake mix of sorts with the dry ingredients, then add the other ingredients later. Basically, it bypasses the creaming process. You mix the flour, sugar, etc. and cut in the butter (you can do it with a mixer or food processor) then add the other ingredients to your mix. This is handy if you want to make the mix ahead of time and get back to cake baking later. I've always just made it all at once, but I like the idea of making it as a mix. Because it calls for butter, you'd need to keep it in the refrigerator.
Rum for Tortuga Rum Cake
Using the right rum is important. I believe the original cake uses Tortuga rum, but most people make this with Whaler's Vanilla Rum (spelled "Vanille") which seems like a pretty useful baking rum and only costs about $11 a bottle. Since I first shared this recipe, I've made the cake with all kinds of rum.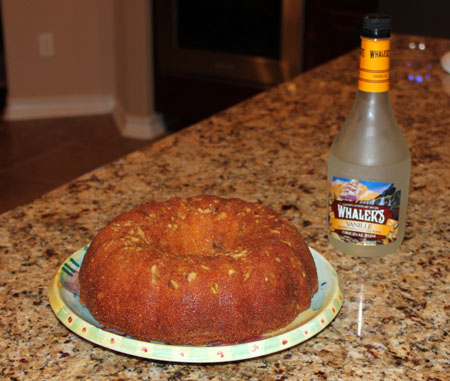 Soaking Rum Cake for Moisture
Toriginal Tortuga Rum Cakes are known for being moist, then this one probably comes close. It's definitely soaked – not so wet as a tres leches cake, but almost. There's a lot of flavor from the butter, and while you can definitely taste the rum, I think the butter and vanilla flavor tone down the alcohol.  Would it be crazy to make this cake for Thanksgiving?  No, I think it would be a great idea.  And it tastes better on Day 2, which is another bonus. Todd forgot to take the rest to work, so I'll be able to tell you how it tastes on Day 3, Day 4, Day 5, and Day 6 too.
Recipe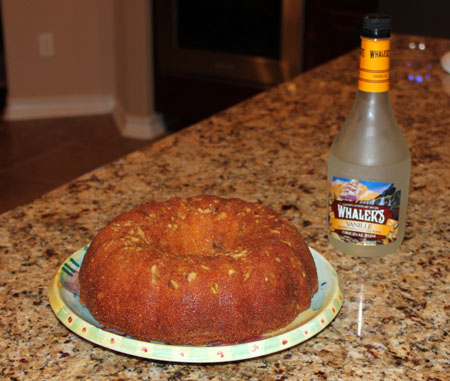 Almost Tortuga Rum Cake
A scratch copycat version of the famous cake sold in The Bahamas.
Ingredients 
Dry Mix Ingredients
2

cups

cake flour

(8 oz/230 grams)

1 ½

cups

granulated sugar

(300 grams)

4

teaspoons

baking powder

1

teaspoon

salt

½

cup

unsalted butter, cut into bits

(114 grams)

3

tablespoons

vegetable oil

1

box

vanilla instant pudding mix

(3.5 oz box or 4 serving size)
Wet Ingredients & Nuts
½

cup

vegetable oil (melted coconut oil works, too)

½

cup

milk

(120 ml)

4

large

eggs

½

cup

whaler vanilla rum

Hawaiian-style rum

1

teaspoon

vanilla extract

½

cup

finely chopped walnuts
Soaking Glaze
½

cup

butter, unsalted or salted (I used unsalted)

(114 grams)

¼

cup

water

1

cup

granulated sugar

(200 grams)

½

cup

whaler vanilla rum

Hawaiian-style rum
Instructions 
Preheat oven to 325 degrees F. Grease and flour a standard size Bundt pan or spray generously with a good flour-added baking spray.

Mix the cake flour, sugar, baking powder and salt in bowl of a stand mixer. Add chunks of softened butter and 3 tablespoons of the vegetable oil. Continue mixing on medium low speed until mixture looks like fine gravel. Add the pudding mix and stir well.

Once you have your dry mixture ready, it's time to add the "wet" ingredients.

Add milk, eggs, remaining oil, rum and vanilla. Continue beating with the paddle, raising speed to medium. Beat until well mixed, scraping bowl often. Batter should be very smooth.

Sprinkle the chopped nuts across the bottom of the pan. Pour batter over nuts and bake for 55 minutes or until a cake tester comes out clean and cake springs back.

Prepare Rum Soaking Glaze. Combine butter, water and sugar in a small saucepan and bring to a boil. Reduce to a simmer and cook until sugar is dissolved and syrup is well combined and a little thicker.

Remove from the heat and stir in the rum.

While cake is still cooling upside down in the pan, pour some of the hot syrup on top of the cake (I poke holes all over it with a toothpick, allowing it time to soak in. This may take a few minutes as there will be a lot of syrup) continue to add syrup until all of the syrup is added. Allow cake to cool completely in pan before turning out onto serving platter.