Also known as The Banana Bread Man's Banana Bread, this recipe was inspired by a man in Florida who used to ride around on a bike selling banana bread. The original version is a spice bread with bananas, chocolate chips and several types of dried fruit. I didn't have the dried fruit, so I just doubled the chocolate chips and re-named it Spiced Chocolate Chip Rum Banana Bread.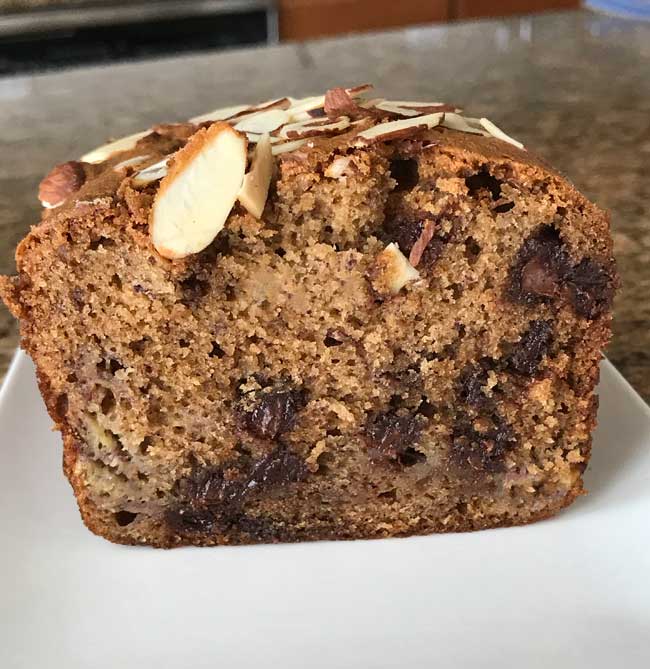 As far as banana bread goes, this one's good but a little different. The bread is baked at a low temperature so it gets nice and brown. Also, the rum and spice flavor is discernable so kids (and banana bread traditionalists) may not love it as much as regular banana bread. However, the chocolate does add extra appeal and gives it a more dessert-like quality.
You can bake this in a standard size loaf pan or divide it between two 8x4 inch pans, which is what I did.
Recipe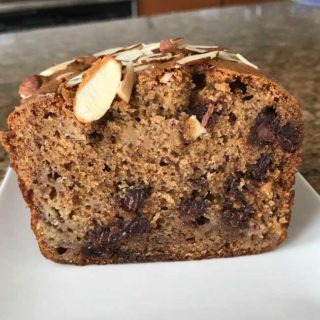 Spiced Chocolate Chip Rum Banana Bread
Spiced Chocolate Chip Rum Banana Bread is a basic banana bread enhanced with a little rum and a lot of chocolate chips.
Ingredients 
2

cups

all-purpose flour

270 grams

1

teaspoon

baking soda

½

teaspoon

salt

1 ½

cinnamon

¼

teaspoon

ground nutmeg

¼

teaspoon

ground cloves

1

stick unsalted butter

softened (114 grams)

1

cup

packed dark brown sugar

200 grams

2

extra-large eggs

100 grams (

1 ½

teaspoons

vanilla extract

¼

cup

dark rum

3

tablespoons

sour cream

2

cups

mashed bananas

4 to 5 Medium banana

1

cup

dark chocolate chips
Instructions 
Preheat the oven to 350 degrees F. Grease a 9x5 inch or two 8x4 inch loaf pans. Line with strips of parchment, then grease again and dust with flour. Alternatively, you can line the inside of the pans with nonstick foil and skip greasing.

In a medium bowl, whisk together the flour, baking soda and salt, then whisk in the cinnamon, nutmeg and cloves.

In a large bowl beat the butter and sugar until light and fluffy. Beat in the eggs one at a time. Add the vanilla extract, rum and sour cream. Beat until blended. Add flour mixture and stir until blended, then stir in bananas. Lastly, stir in the chocolate chips. Batter should be fairly thick.

Spoon the batter into the pan; bake for 10 minutes at 350. Reduce the temperature to 300 degrees and bake for 80 minutes until the bread pulls away slightly from the sides of the pan and a toothpick inserted comes away clean. I use a meat thermometer and take it out when it has reached at least 205 degrees.

Let the bread cool in the pan on a wire rack for 10 minutes, then loosen from edge of pan and let cool completely.