It bugs me when I spend good money on a bottle of wine and find that I don't like it as much as something less expensive. And while I love the quote "Life is too short to drink bad wine", I'm too cheap to live by it and usually end up serving the second half of the bottle the next night. Sometimes Todd and I fool ourselves and say "It tastes better on day two, no?" But usually, we just drink it regretfully.
White Wine Cake is going to end all that. Rather than finish up a bottle of wine we don't love, I will now put the remainder in this cake.  It was absolutely delicious and smelled so good baking that even Fuzz, who is pretty use to cakey smells around here, begged for a piece after dinner.
The recipe appears in many different forms, so I used the version with the highest reviews and followed tips from reviewers, one of whom said she "despises" cake mix cakes but thought this one is "different".
I know what everyone is wondering. Do you taste the Chardonnay? Is the cake oaky and buttery with hints of pineapple, apple and toast? Well, no. I think maybe the wine just cancels out some of the box taste and maybe, I'm not sure, helps this cake have an outstanding texture and light crumb. Then again, that might just be from all the stabilizers and emulsifiers in the cake mix. I don't know, but I'll definitely make this again.
Now I'm actually excited about running into some bad red wine so I can use the rest in a chocolate version.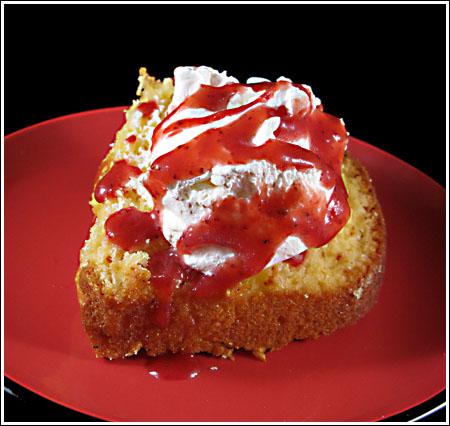 Garnished with whipped cream and sweetened strawberry puree
White Wine Cake
1 ½ tablespoon granulated sugar
1 teaspoon cinnamon
1 box Duncan Hines yellow cake mix **
1 5-ounce box instant vanilla pudding mix
½ teaspoon freshly ground nutmeg
¾ cup cooking oil
4 eggs
¾ cup white wine (Chardonnay)
Preheat oven to 350 degrees F. If using a black Bundt pan, preheat to 325.
Grease a 10 inch Bundt pan with shortening. I recommend shortening over butter because it won't burn as easily, but you might be able to get away with butter if you have a good non-stick Bundt pan.
In a small bowl, mix together sugar and cinnamon. Sprinkle over bottom and up sides of pan. Hold over a sink and tilt pan so that cinnamon sugar coats sides as much as possible. Dump out any remaining.
Combine all ingredients in a mixing bowl and stir just until mixed. Using an electric mixer, beat for two minutes. Pour into the cinnamon-sugar coated pan. Bake cake for 50 minutes or until a toothpick or some kind of wooden skewer inserted comes out clean. Cool on a rack for 10 minutes. Flip from pan.  Cool and serve.
Makes 12 servings
**I used Duncan Hines because it is does not have pudding added.