I hardly ever make sandwich cookies because I prefer packaged. There, I said it. Nothing, not even the homemade "copycat" versions, compare with Oreos. Newman's Own ginger sandwiches are the best in the ginger category, and for lemon, my vote goes to Lance "Lem-o Lunch" found mostly in hospital cafeterias, gas stations in the south and break rooms of companies that sell things like copiers. In cookie taxonomy, sandwich cookies belong in their own phylum under which various species of cookies such as the... Ack. I'm going crazy. Let me just get to the recipe.
Last week, I was compelled to make some lemon filled sandwich cookies. They tasted too homemade for me. If you like that sort of thing…..homemade sandwich cookies, here's the recipe I used. It's from a book of blue winning recipes. A retired meteorologist won a bunch of blue ribbons with this recipe.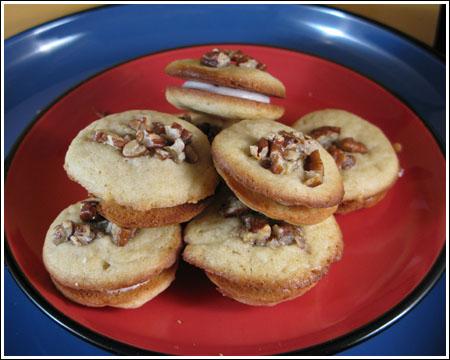 Update: This post is nuts. I like packaged sandwich cookies and homemade. There is a place in the world for both.
Lemon-Filled Sandwich Cookies
1 ½ cups all purpose flour
½ teaspoon salt
¼ teaspoon baking soda
2 large eggs
½ cup granulated sugar
4 ounces butter, softened
1 tablespoons water
1 teaspoon vanilla extract
¾ cup chopped pecans – set aside
Lemon Filling:
1 cup powdered sugar
2 teaspoons butter, softened
1 teaspoon grated lemon peel
4 ½ teaspoons lemon juice
Sift together the flour, salt, and baking soda. Set aside.
Separate the eggs. Put the whites in the refrigerator.
Put the yolks in a mixing bowl and beat in the sugar, softened butter, water and vanilla. When thoroughly mixed, add flour mixture and stir until you have a dough. Divide it in half and shape each half of dough into a 7 inch long cylinder that is about 1 ½ inches in diameter. Wrap the cylinders in waxed paper and chill for at least 4 hours. They need to be very firm, so that you can slice them.
Preheat oven to 400 degree F.
Have ready two parchment or non-stick foil lined cookie sheets. For crisper cookies, I recommend using a regular cookie sheet over an insulated cookie sheet.
Remove cylinders from the refrigerator and slice into ⅛ inch thick slices. Place slices on cookie sheets, spacing about 2 inches apart (or a little less).
Remove egg whites from refrigerator and whisk until frothy. Add pecans and mix until pecans are coated with egg whites. Spoon ½ teaspoon of pecan/white mixture on top of HALF of the cookie slices.
Bake cookies one sheet at a time on center rack for 6 minutes or until edges are brown. Let cookies cool slightly then remove to a wire rack to finish cooling.
Make filling. Stir together all filling ingredients, adjusting liquid if necessary, and beat until light and creamy. Spread filling over half of the cookie bottoms, then cap with pecan topped cookies.
Makes 48 (in theory). You may get less, depending on how adept you are at making ⅛ inch thick slices