The original name for these cookies is "3 Chip Cookies", but today I'm calling them "Chips Gone Wild!" for obvious reasons.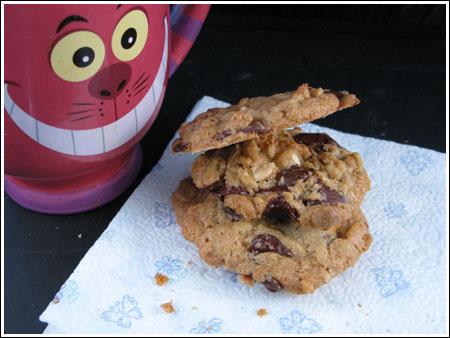 I'm wrong a lot and this was one of those times. See, I thought using three types of chips would be overkill and that the flavors would all cancel each other out. But no, they mingled happily together in harmony with the crispy cereal which is a key factor in what makes these cookies good. Maybe without the cereal, the chips wouldn't get along so well? I don't know, but these were great and all the reviewers on the sugar web site agreed.
Not aware of how delicious they'd be, I only made half batch. Below are the measurements. I weighed everything as I went along, so if you use the metric system, you're in luck. Of course those who use the metric system probably can't find butterscotch chips. If that's the case, just use whatever chips you can find and maybe throw in some Smarties or something.
Chips Gone Wild! Cookies
4 oz unsalted butter (114 grams)
½ cup brown sugar, packed (96 grams)
½ cup granulated sugar (100 grams)
1 teaspoon vanilla (5 ml)
1 large egg
1 ¼ cups all purpose flour (165 grams)
½ teaspoon baking powder (2.5 ml)
¼ teaspoon baking soda (1.25 ml)
½ teaspoon salt (2.5 ml)
1 cups white chips (180 grams)
1 cups semi-sweet chips (180 grams)
1 cups butterscotch chips (180 grams)
1 cups Rice Krispies cereal (40 grams)
Preheat oven to 350 degrees F. (180 degrees C).
Have ready two ungreased baking sheets
In a mixing bowl, using an electric mixer, beat the butter and both sugars until creamy (do not over-cream). Beat in the vanilla and egg, beating just until mixed.
In a separate bowl, thoroughly stir together flour, baking powder, baking soda and salt. Add flour mixture to sugar mixture and stir until almost blended. Add all chips and the cereal and stir until well mixed.
Drop by rounded teaspoonfuls, spacing 2 ½ inches apart, onto cookies sheets. Bake for 10-15 minutes or until golden brown around edges.
Makes about 30 cookies