Fuzz is home sick, but she's not missing school because there is none. It's Conference Day, when families talk with the teacher, view their child's portfolio and visit class centers. Fuzz's conference went well, so I took her to Barnes and Noble to buy an Amelia Bedelia book. She said she wanted to read it to her old Kindergarten teacher's class and seems really excited about the idea. I was so proud of her, I bought her a Pokemon movie which she volunteered to pay for with her own money.  She's just so sweet --even moreso when she's feeling rundown. I hate to admit it, but one nice thing about a sick child is they sit still long enough to be cuddled. Sheesh, that sounds terrible. Get well, Fuzz!
In the meantime, I'm about to go wash (more) dishes leftover from yesterday's grapefruit pie adventure. For now, here's a much easier recipe from a cookbook our grocery store put out. This picture was taken about 3 years ago.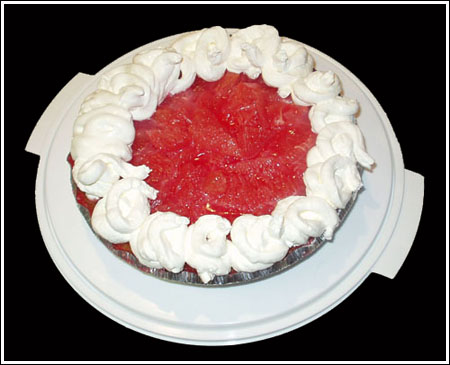 Easy Grapefruit Pie
Crust:
1 ⅔ cups graham cracker crumbs (22 squares, crushed)
3 tablespoons sugar
6 tablespoons melted butter
Filling:
1 cup water
¾ cup sugar
2 tablespoons flour
2 tablespoons butter
½ of a 3 ounce package strawberry gelatin (eyeball it or weigh it)
1 8 ounce package cream cheese, softened
1 cup powdered sugar
3 Ruby Red Grapefruits, peeled, sectioned, membranes removed
Whipped Topping of some sort for garnish
Crust:
Preheat oven to 350 degrees F. Mix together crumbs, sugar and butter. Press into bottom and up sides of a 9 inch glass pie plate. Bake for 8 minutes. Let cool.
Filling:
In a medium saucepan set over medium heat, whisk together water, sugar and flour. Continue cooking over medium, whisking (almost) constantly, until thickened. Remove from heat. Stir in butter and gelatin. Set aside to cool.
Combine cream cheese and powdered sugar and beat until light and fluffy. Spread cream cheese mixture over crust. Arrange grapefruit over cream cheese filling. Pour gelatin mixture over grapefruit and chill until set.
Garnish with whipped topping.