I don't know much about the original Brown Derby restaurant other than that it was a Los Angeles hot spot back in the day, was shaped like a hat, and that they served a very popular Grapefruit Cake. I learned about it from reading Jean Anderson's 20th Century Cookbook, where she described the restaurant's place in history and shared a recipe for the cake. Later, Disney opened their own Brown Derby themed restaurant in Hollywood Studios, and put the cake on the menu. It's still there, where they describe it as a vanilla sponge cake with grapefruit syrup and a cream cheese icing.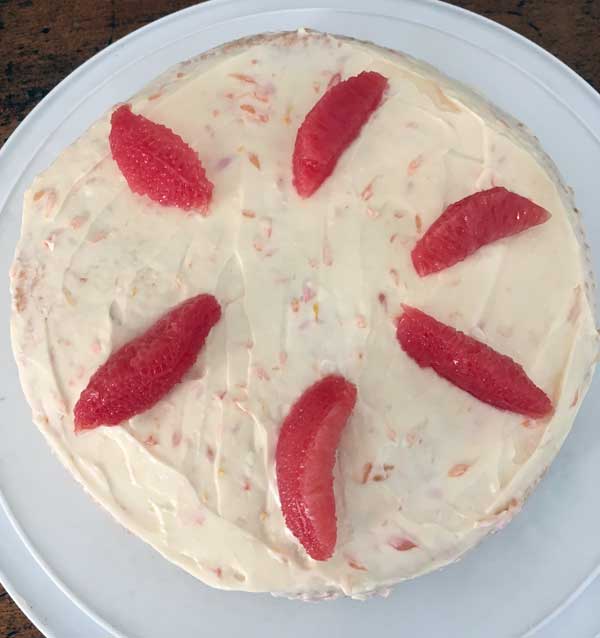 Disney's Version of the Brown Derby Cake
The original Grapefruit Cake recipe is probably a secret, but along with Jean Anderson's version, their are other copycat recipes out there. The one I've seen most often is a small chiffon cake that's split horizontally, filled with grapefruit segments and covered in a grapefruit flecked cream cheese frosting. So I guess Disney's new version incorporates grapefruit syrup somehow, which seems like an easy thing to do.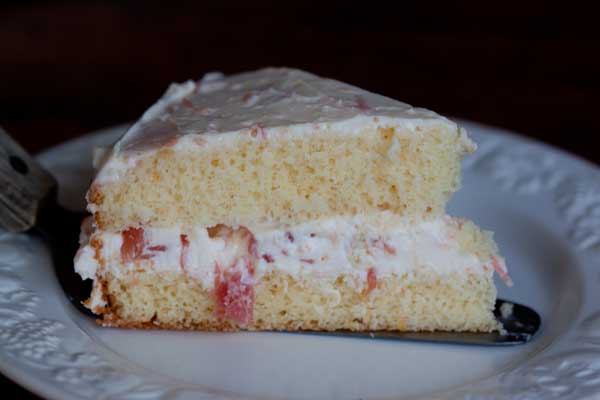 To Grease or Not to Grease for Chiffon Cake
Back when I first made it, there weren't a lot of pictures of what it's supposed to look like or interpretations of the recipe. Luckily that's changed, and there are now several versions floating around. The Disney version calls for an ungreased 10-inch pan. And then there's also a highly rated version by Paula Deen. Paula's is almost the same but made in a greased 9 inch round pan. I wondered which version was correct. Should It be baked in an ungreased pan chiffon cake style (so it can cling to and climb up the pan walls) or in a greased 9 inch cake pan?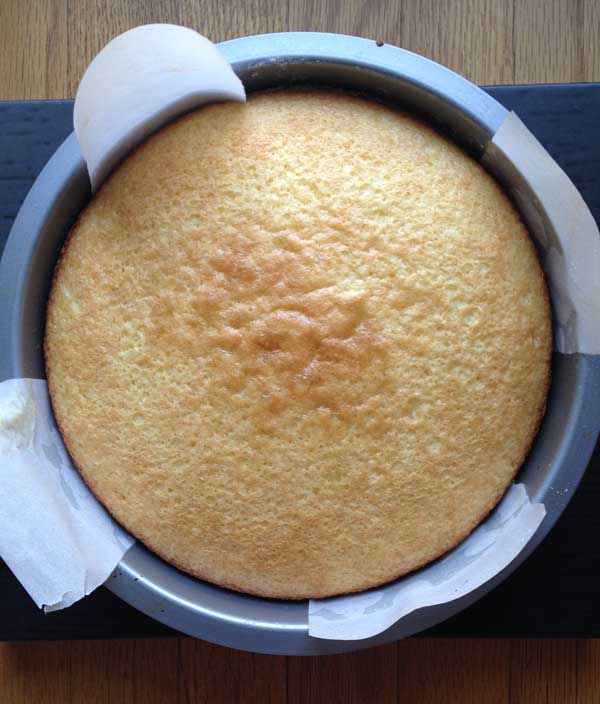 Greased vs. Ungreased
Long story short, I tried making the cake both ways. First I baked it in an ungreased 9 inch springform. Next I tried it in a regular 9x2 inch cake pan generously greased and lined with parchment. As expected, the springform version rose higher and lighter, but the greased cake pan version was tastier and easier to deal with and seemed to hold the frosting and fruit a little better since it was just slightly denser.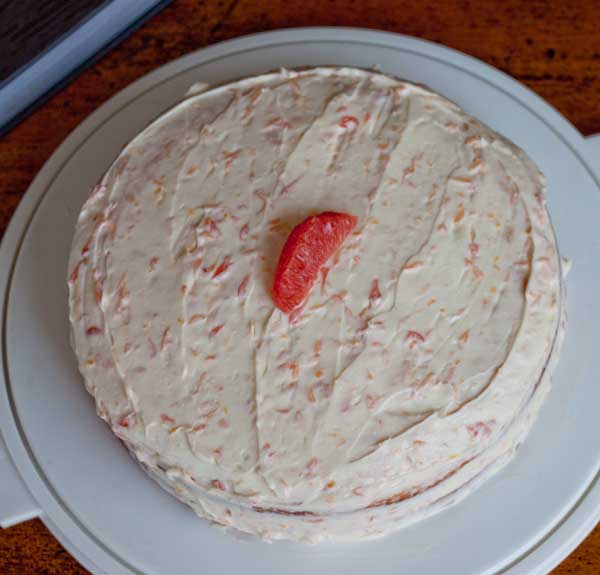 Canned Grapefruit vs. Fresh
Another question I had along the way was whether I really needed to use canned grapefruit.  The recipe calls for grapefruit zest so you can't make the cake without having at least 1 actual grapefruit.  Why buy canned when you can just section some grapefruit pieces and use those?  After making the cake two ways I'm guessing its because the canned grapefruit is a little sweeter and more uniform in shape plus the convenience factor of not having to remove the membrane. It's up to you which way to go, but I actually thought the fresh grapefruit tasted better and probably wouldn't bother with the canned. Either way, it's a fun little cake and very refreshing.
Cream Cheese Frosting and Cake Texture
The cream cheese frosting is a bit light and doesn't contain butter. The cake's crumb is also fairly lean. As for flavor, There's quite a bit of citrus. I did add a tad of vanilla because I like it in almost everything, but other than that I didn't make a whole lot of changes. That being said, I'm pretty sure the restaurant version is not exactly like this and will have to go try it one day at The Brown Derby.
Recipe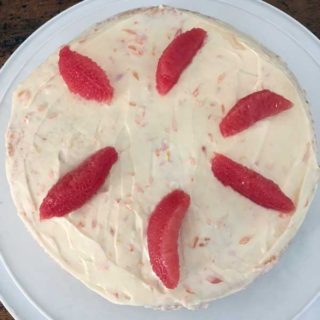 New Brown Derby Grapefruit Cake Clone
Revised version of the Brown Derby Grapefruit Cake recipe served at Disney. You can substitute fresh grapefruit for the canned and leave out the food coloring (I actually forgot it!) if desired.
Ingredients 
1 ½

cups

sifted cake flour

5.25 oz

¾

cup

granulated sugar

5.25 oz

1 ½

teaspoons

baking powder

½

teaspoon

salt

¼

cup

water

¼

cup

vegetable oil

¼

teaspoon

vanilla extract

1

teaspoon

grapefruit zest

I used closer to 2

3

tablespoons

grapefruit juice

3

large egg yolks

3

large egg whites

¼

teaspoon

cream of tartar
Grapefruit Cream Cheese Frosting:
16

ounces

cream cheese

softened

1

tablespoon

grapefruit juice

1

teaspoon

grapefruit zest

1

cup

powdered sugar

sifted

6 to 8

drops yellow food coloring

optional

16

oz

can grapefruit sections

well drained (or use fresh grapefruit sections)
Instructions 
Preheat oven at 350 degrees F. Grease a 9x2 inch round cake pan and line with strips of parchment. Dust with flour.

Whisk the flour, sugar, baking powder and salt together in a mixing bowl.

Make a well in the center of the flour and add water, oil, vanilla. zest, grapefruit juice and egg yolks; mix with a heavy duty scraper until well blended.

In a separate bowl, using an electric mixer, beat egg whites and cream of tartar until whites are stiff but not dry. Gradually fold egg whites into flour mixture with a rubber scraper until blended.

Pour batter into the pan and bake for 25 to 27 minutes or until cake springs back when gently touched with a finger.

Remove the cake from the oven and let cool slightly, then turn the cake from the pan and let cool completely.

Prepare the icing while cake cools. Beat cheese until fluffy. Gradually blend in sugar, then add grapefruit juice and zest. Mix until well blended. Add food coloring if using. Crush several grapefruit sections and add to frosting. Use however many you like.

With a serrated knife, split the cake into two layers. Spread frosting on bottom half of cake. Top with some more chopped up grapefruit sections. Cover with second layer of cake and frost top and sides. Garnish with remaining grapefruit sections.
Notes
If you have a kitchen scale you can skip sifting the flour and just weigh out 5.25 oz. If you don't have a scale and are using cups, it's important to sift so that the flour will be well-aerated and your 1 ½ cups of flour will be nice and light.
The original frosting called for 12 oz of cream cheese, ¾ cup of sugar and less grapefruit zest and juice. I used the original amounts but just barely had enough frosting and recommend going with 16 oz of cream cheese, 1 cup sugar, etc. etc. as written so that you'll have plenty of frosting.