Chocolate Peanut Butter Volcanoes are peanut butter cookies with a fudgy lava center. I found the recipe years ago on Yahoo Answers, which no longer exists. Since then, I've learned the source is the Rosie's Bakery Cookie Book.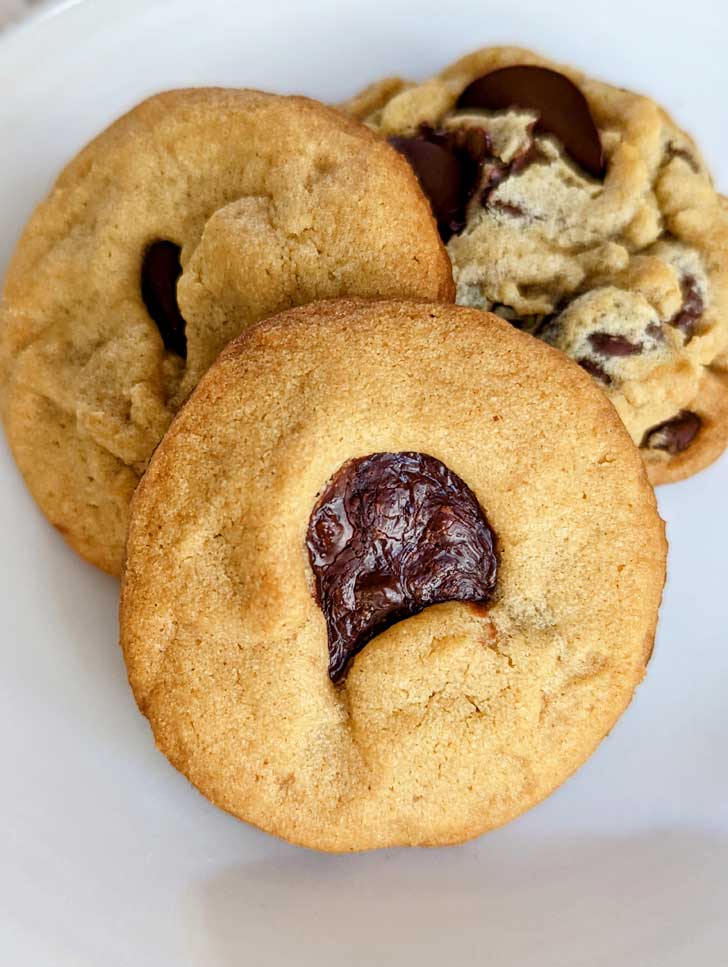 Half Cup of Condensed Milk
For some reason these cookies did not become a regular in my rotation. I'm guessing it's because the filling calls for a half cup of condensed milk, so it's a recipe one would make to use up an opened can of condensed milk. Then again, that's not really a problem around here! I'll report back once I complete the arduous task of making these terrible looking fudge filled peanut butter cookies.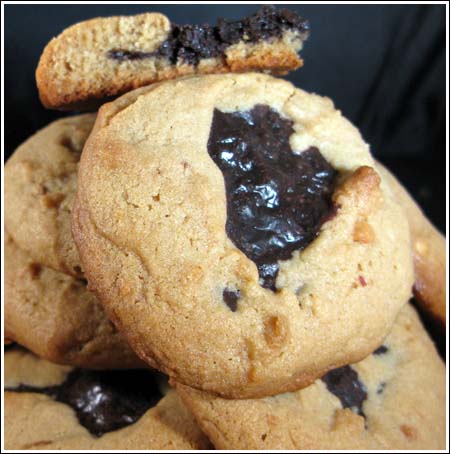 Condensed Milk in a Pouch
New find! Eagle Brand in a pouch! It's a little more expensive, but perfect if you need to use smaller amounts of condensed milk and don't want to open a whole can. This inspired me to make the cookies again and add more notes.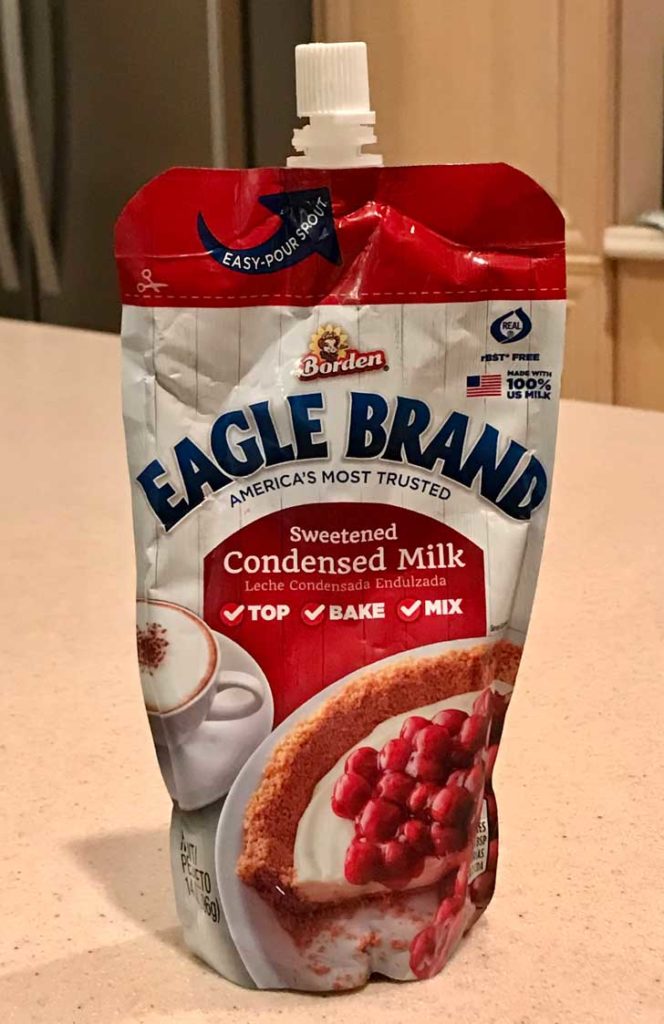 Some Updates to Volcanoes
I made a half batch of these again recently and added some notes to the recipe.
I tried mixing chips, chocolate and cold condensed milk and heating in the microwave. The mixture seized up pretty quickly. So for best results, melt the chocolate separately and whisk into warmed or room temperature condensed milk.
You can use 1/2 cup of chips (84 grams) combined with 1/2 oz (14 grams) of unsweetened chocolate or use a heaping half cup of bittersweet chips (98 grams).
The dough is much easier to work with if chilled. You can chill and then scoop or scoop out portions, chill the portions and shape each volcano individually.
Chocolate Peanut Butter Volcanoes
The Lava
3 ounces (1/2 cup) semisweet chocolate chips (84 grams) OR use 3 1/2 oz bittersweet chips and omit the unsweetened chocolate
1/2 ounce unsweetened chocolate (14 grams)
1/2 cup sweetened condensed milk (such as Eagle Brand), at room temperature or warm (155 grams)
1-1/2 teaspoons pure vanilla extract
The Cookie
1 3/4 cups all-purpose flour (220 grams)
1/4 teaspoon plus 1/8 teaspoon baking soda
1/4 teaspoon salt
11 tablespoons (1 stick plus 3 tablespoons) unsalted butter, at room temperature (155 grams)
3/4 cup smooth peanut butter
1/2 cup plus 1 tablespoon (lightly packed) light brown sugar
6 tablespoons granulated sugar
3/4 teaspoon pure vanilla extract
1 large egg
Directions
Preheat the oven to 350 degrees F. Line several baking sheets with parchment paper.
Make the lava: Melt the chocolate in the top of a double boiler placed over simmering water. Alternatively, you may melt the chocolate in the microwave.
Using a whisk, stir the melted chocolate vigorously into the room temperature or slightly warmed condensed milk until the mixture is smooth and well blended. Whisk in vanilla; Set aside.
Make the cookie dough: Sift the flour, baking soda, and salt together into a small bowl and set aside.
Using en electric mixer on medium speed, cream the butter, peanut butter, both sugars, and the vanilla together in a medium-size mixing bowl until light and fluffy, about 10 minutes. Stop the mixer twice during the process to scrape the bowl with a rubber spatula.
Add the egg and beat on medium speed until blended, about 1 minute. Scrape the bowl.
Add the flour mixture and mix on low speed until blended, about 15 seconds. Scrape the bowl and mix several seconds more.
Measure out tablespoons (can use slightly more or slightly less) of the dough and roll them into balls with your hands, Place the balls 2 inches apart on the prepared baking sheets. Note: I found it very helpful to scoop the dough into portions, chill the scooped portions, then shape cold dough. It's much easier to work with when cold.
Using your thumb, press a deep hole into the center of each ball, and plop a heaping teaspoon of the lava mixture into the hole. Pinch the opening together just a little bit so the lava will not overflow, but so that it is still visible.
Bake the cookies until they are lightly golden — check at 12 minutes, may need up to 16. Cool the cookies on the sheets or eat them while they are still warm for an extra- special treat.
Store the cookies in an airtight container in the refrigerator for 1 day. After that, store them in the freezer for up to 2 weeks. Bring them to room temperature before eating.
(Makes about 28)