Tonight I tried a new recipe from Eating Well. It was a little too spicy for Fuzz due to that liquid fire they call "Sriracha", but Todd loved it so I thought I'd post a picture.
I served this with plain white rice, but Eating Well suggests "a simple salad of arugula and orange sections dressed in a light vinaigrette". Maybe next time. I think it would have to be in addition to the rice.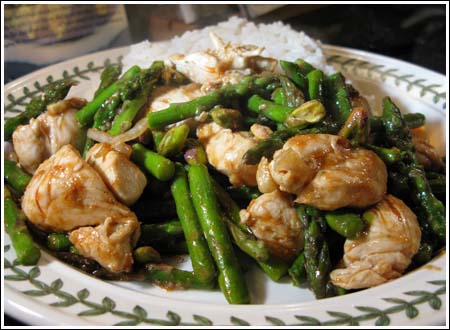 Wok-Seared Chicken with Asparagus & Pistachios from Eating Well
1 tablespoon (15 ml) toasted sesame oil
1 1/2 pounds fresh asparagus, tough ends trimmed, cut into 1-inch pieces
1 pound (450 grams) chicken tenders, cut into bite-size pieces
4 scallions, trimmed and cut into 1-inch pieces
2 tablespoons (30 ml) minced fresh ginger
1 tablespoon (15 ml) oyster-flavored sauce
1 teaspoon (1 ml) chile-garlic sauce (I used sriracha)
1/4 cup shelled salted pistachios (30 grams), coarsely chopped
Heat oil in a wok or large skillet over high heat. Add asparagus; cook, stirring, for 2 minutes. Add chicken; cook, chicken and asparagus together, stirring, for another 4 minutes. Stir in scallions, ginger, oyster sauce and chile-garlic sauce; cook, stirring, until the chicken is cooked through, 1 to 2 minutes more. Stir in pistachios and serve immediately.
NUTRITION INFORMATION: Per serving: 208 calories; 8 g fat (1 g sat, 3 g mono); 67 mg cholesterol; 7 g carbohydrate; 30 g protein; 3 g fiber; 175 mg sodium; 326 mg potassium.
Serves up to 4