One more post about peanut butter cookies…..just one more.
I know two people, Erin (no recipe on that link) and Nicole, who have already made the cookies using a scratch dough.
Erin used scratch dough to save $$$.  Nicole used scratch dough because she didn't have time to find the refrigerated dough.  I decided to make half a batch of each.  I took them to the school teachers' loung to get some reviews, but no one was around so I left them there and went to Target for some retail therapy.  So the reviews are from me only. 
Picture.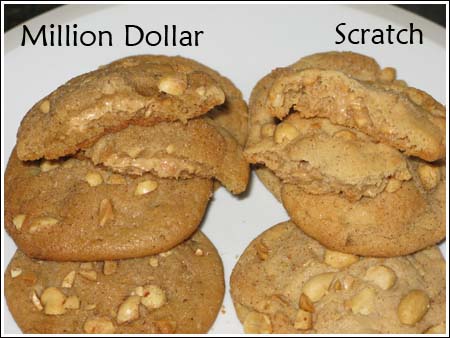 Million Dollar Cookies Darker and chewier as opposed to light and crumbly. They had more of a brown sugar taste, chewier edges and as the usual packaged cookie dough flavorings.  Some people might actually prefer this texture over scratch.  I'm just sayin'….
Nicole's scratch cookies had a good homemade taste. The texture was light and flakey and cookies set up beautifully.  I kind of like the scratch because I'm used to it and know it's scratch.
Both were good. In the end, I think the idea of stuffing peanut butter into peanut butter cookies deserves recognition. After making all these stuffed peanut butter cookies, I think I'm going to be disappointed with non-stuffed peanut butter cookies.
Here are a few notes and recommendations.  And then I will stop.
1. Use salted peanuts — more drama!
2. More peanut butter in the filling ( 2/3 to 3/4 cup). The filling balls will be stickier and harder to work with, but the results are worth it. Wetting hands a bit helps with the shaping.
3. Don't flatten too much or you won't get as much contrast.