After having a slice of coconut cake at a restaurant in Beaufort, Fuzz and I rejiggered  this old coconut sheet cake recipe from Southern Living to make it more like (maybe better than!) the restaurant's.  The good news is it's a really easy coconut cake because it starts white cake mix.  The things we did to jazz it up were boosting the coconut flavor in the frosting, piping sweetened whipped cream over the coconut frosting for textural contrast and adding an easy mango-passion fruit puree.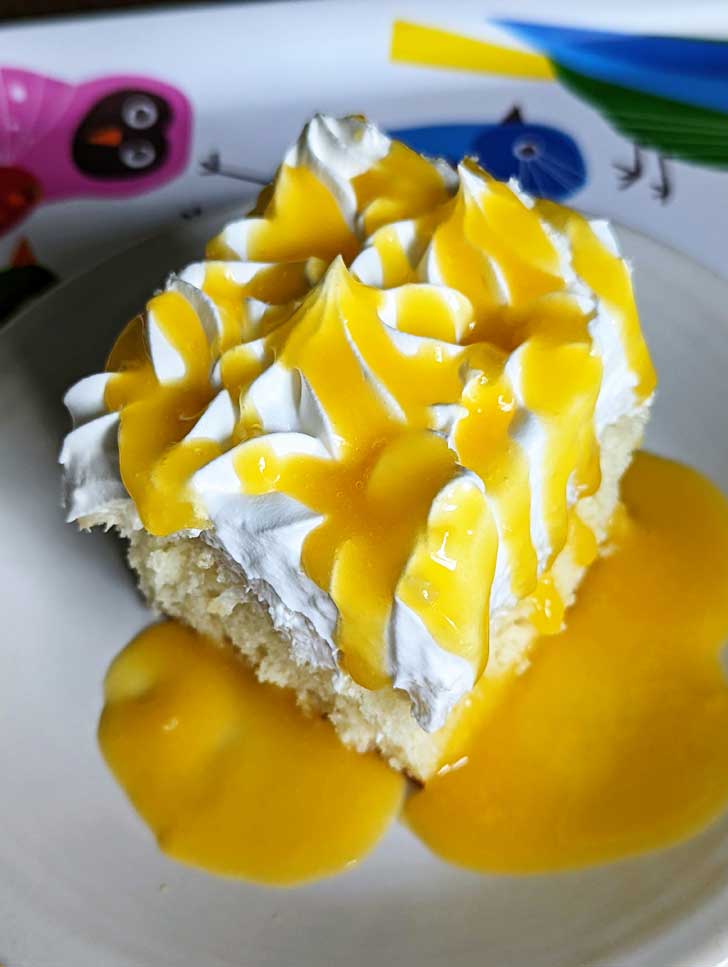 Coconut Sheet Cake Baking Notes
The restaurant's cake was a really beautiful coconut layer cake. As much as we love layer cakes, we wanted to stick with sheet cake so we made the newest version in a glass baking dish so that it would be pretty enough to serve right out of the dish.  The recipe is for a 9x13 inch glass dish, but it can also be halved and baked in an 8 inch square glass dish. Of course if you want to, you could bake it as two 9 inch round layers, double the coconut frosting and make it as a big old passion fruit drizzled coconut layer cake.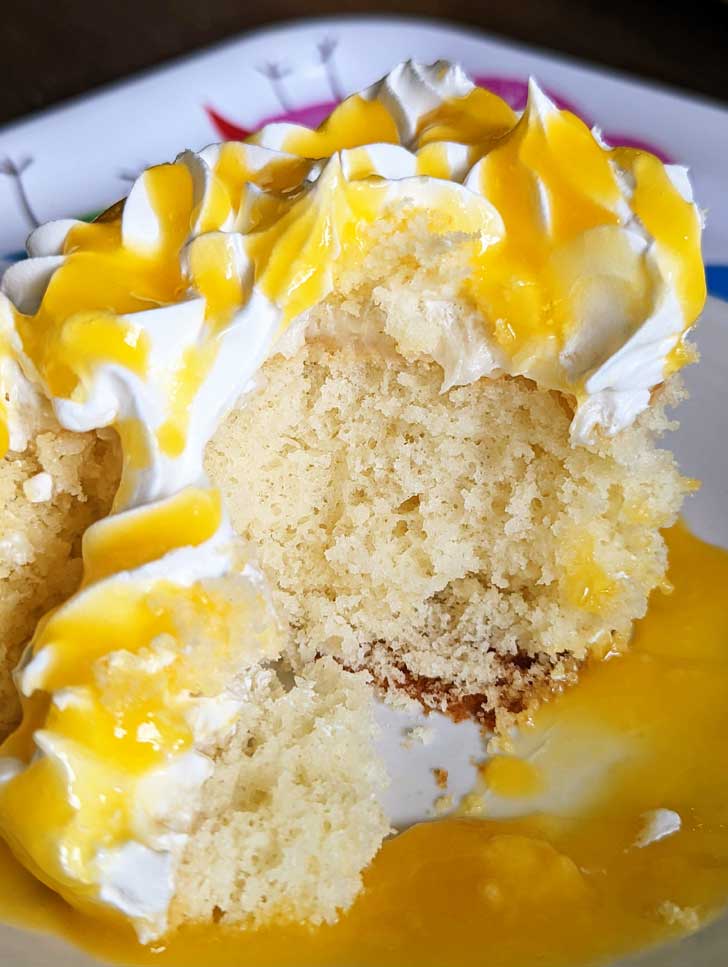 We really love this one, and I especially appreciate the convenience and ease of doctoring up a box of white cake mix.  Maybe next time I'll use a scratch base, but the cake mix doctored with cream of coconut is good.  And speaking of cream of coconut, here are some technical notes.
Cream of Coconut vs. Coconut Cream and Milk
There's really nothing complicated about this recipe, but it's important to know a little about one of its key ingredients, cream of coconut. Cream of coconut is not the same as coconut milk or coconut cream.  Cream of coconut is a mixer used in drinks, and unlike coconut milk and coconut cream, it is sweetened.  The two brands I usually come across here in the USA are Coco Lopez and Coco Real.  Cocoa Lopez comes in a 15 oz can and Coco Real comes in a squeeze bottle.  For this recipe, I bought a can of Coco Lopez and used 8.5 oz of it.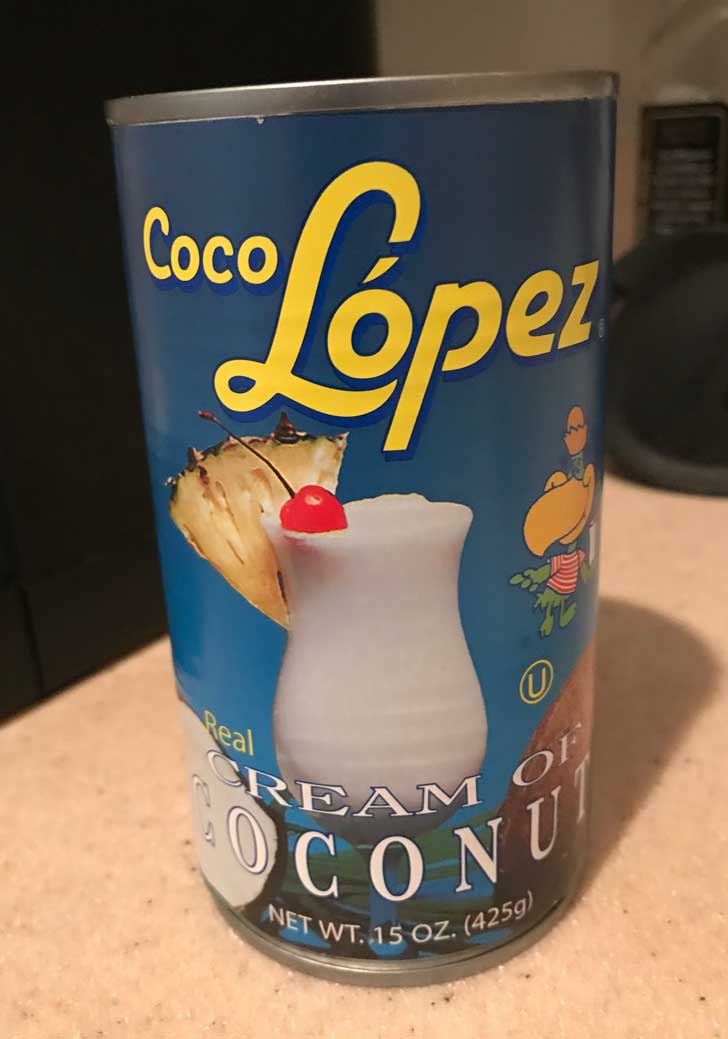 When you open a can of Coco Lopez, chances are the liquid will have separated from the solids. Before measuring, you'll want to warm it a little to melt the fat and stir, so that it is more homogenous.  Here's a before and after picture.  It starts chunky, but after being warmed and stirred it looks like melted applesauce.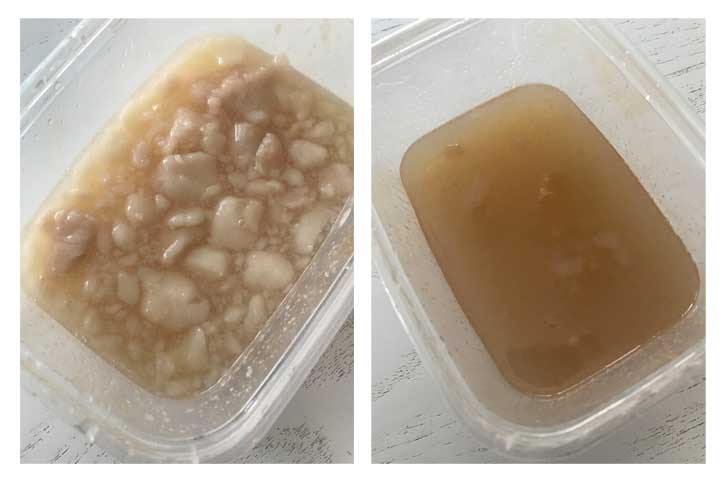 Mango Passion Fruit Puree
If you live in the USA, you might have a difficult time finding passion fruit or even frozen passion fruit.  Luckily passion fruit nectar is easy to find, so you can puree it with frozen mango and yet the texture of mango puree with a mango and passion fruit flavor. Just puree 6 oz (weight) of thawed frozen mango chunks with 4 to 4 ½ oz or so of good quality passion fruit nectar.  Chill it, then drizzle over the cake.  You'll have plenty leftover, but you can take care of that by diluting it with more passion fruit nectar and adding a little vodka for a mango passion fruit cocktail.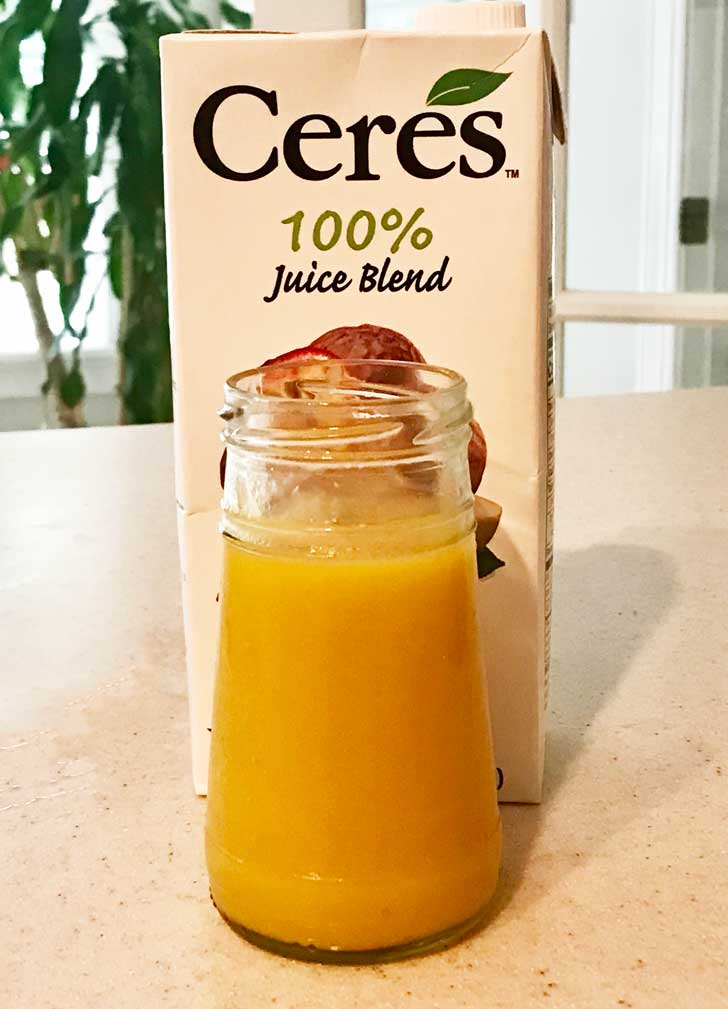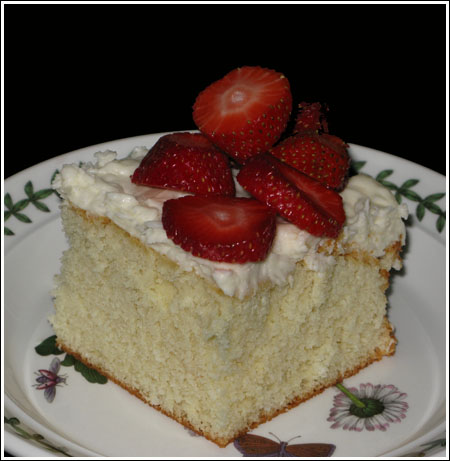 Scratch Coconut Cake
If you just read all this and are thinking how you'd much prefer a coconut cake without boxed cake mix, no worries! You can make the Shubox Cafe recipe (and maybe add Mango Passion Fruit Puree).
Recipe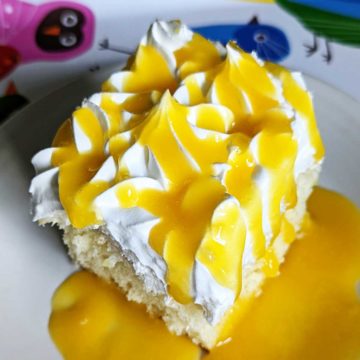 Southern Living Coconut Sheet Cake
Two convenience ingredients make this cake easy (and tasty!).
Ingredients 
3

large

eggs

(150 grams)

1

cup

sour cream

(230 grams)

⅓

cup

water

(75 grams)

1

box

white cake mix, Betty Crocker

(16.25 oz box)

1

can

cream of coconut (not coconut cream)**

(8.5 oz can) --- Coco Lopez etc.
Cream Cheese Frosting
6

tablespoons

butter, softened

(84 grams)

6

oz

cream cheese, softened

(170 grams)

3

cups

confectioners' sugar (you can start with 2 and add more)

(360 grams) plus more as needed

1

teaspoon

vanilla extract or use part vanilla and part (start with ¼ teaspoon) coconut extract

2

tablespoons

whole milk

5

oz

sweetened flaked coconut
Sweetened Whipped Topping
2

cups

Cool Whip or whip 1 ½ cups of heavy cream and sweeten to taste with confectioners' sugar.
Mango Passion Fruit Puree
6

oz

frozen mango chunks (a heaping cup)

4

oz

passion fruit nectar (Ceres)
Instructions 
Preheat oven to 325 degrees F. Grease and flour a 9x13 inch pan. You can use metal or glass, but you may have to adjust the bake time for glass.

In a large mixing bowl, beat the eggs for about a minute. Beat in the sour cream, water, cake mix and cream of coconut using low speed, then increase to high speed and beat for about 1 ½ to 2 minutes. Scrape sides of bowl often.

Pour the batter into the prepared pan and bake for about 40 minutes at 325. May take up to 45 minutes.

Alternatively, you can bake the cake in a 15- x 10-inch pan for 30 to 32 minutes.

To make the frosting, beat the softened butter and 1 cup of the confectioners' sugar until creamy. Add the softened cream cheese and beat until smooth, then beat in another cup of sugar and vanilla extract. For extra coconut flavor, you can add a little coconut extract. Beat in the milk, then stir in the flaked coconut. Spread across the top of the pan.

Pipe or spread sweetened whipped cream over the frosting.

To make the mango passion fruit puree, puree the mango and passion fruit until smooth. Chill it, then drizzle it across the cake.
Notes
Cream of Coconut is a sweetened product sometimes found on the baking aisle or sometimes found with the wine and spirits.  The brand name is Coco Lopez.  If you can only find 15 oz cans, just weigh out a little over half the can.