Peanut Butter Streusel Topped Brownies are awesome! The recipe is from Southern Living. It gives you a very fudgy brownie base and a peanut butter packed streusel topping.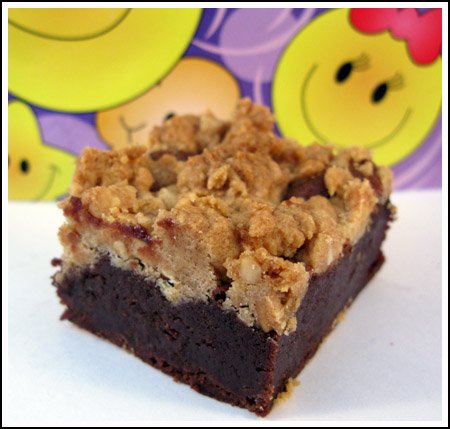 Some people have mentioned that the brownie recipe tastes similar to Austin's famous Miles of Chocolate when underbaked by about 5 minutes.
The streusel part tastes phenomenal with a texture like the top of a crumb-cake, but moister and with loads of peanut flavor. Has anyone ever put a topping like that on brownies or did Southern Living do it first? At any rate, I'd put this in the bake sale file for sure.
A variation on the brownies could be to add chipotle powder and cinnamon to the brownie itself and a pinch of chipotle to the peanut butter streusel. Peanut butter and chipotle go surprisingly well together.
Now if you are not in the mood for peanut butter, the brownie recipe itself is awesome. It calls for 4 oz of unsweetened chocolate and a mixture of brown and white sugar. This is an 8 inch size pan recipe, so you'll get a decent amount of brownies but not a ton. That being said, they are quite rich so you can cut the brownies very small.