For the past few months, I had an ancho chili pepper sitting on the kitchen counter. I'd bought it on impulse and just didn't get around to using it. Sometime last week, I got tired of looking at it and threw it away not realizing how sorely it would be missed. First, at Fuzz's party, her little friend Zachary came to the kitchen and asked if he could look at the pepper (I forgot to tell his mom, he's fascinated with anchos) and then today, I realized I could have ground it up and used it as a topping for these brownies. That is, Southern Living's topping of ancho, maple syrup, cinnamon and pecans.
But things worked out well, because without my ancho, I had no choice but to make the peanut butter streusel variation mentioned yesterday.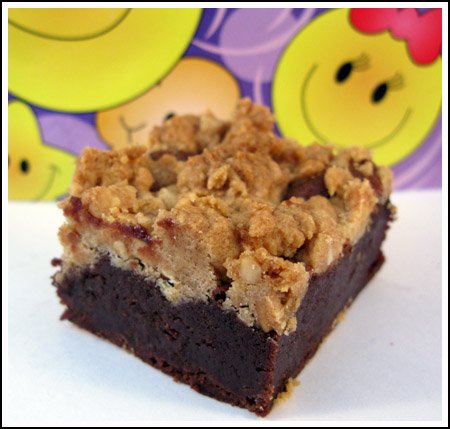 The brownies were very good and as a commenter pointed out, were very similar to Austin's famous Miles of Chocolate when underbaked by about 5 minutes. I also quick cooled them in a water batch, which may have played into it as well, because I'd describe the texture as fudgy, but not soft and gooey. The streusel part was phenomenal with a texture like the top of a crumb-cake, but moister and with loads of peanut flavor. Has anyone ever put a topping like that on brownies or did Southern Living do it first? At any rate, I'd put this in the bake sale file for sure.
A variation I just thought of would be to add chipotle powder and cinnamon to the brownie itself and a pinch of chipotle to the peanut butter streusel. Peanut butter and chipotle go surprisingly well together.