Asparagus with Hazelnut Gremolata is from the Mayo Clinic web site, so it's nutritious. If you have a mini electric chopper or an immersion blender with a chopper attachment you can make this in minutes.
Sorry about the picture. I had to take it really fast because I hate serving food cold.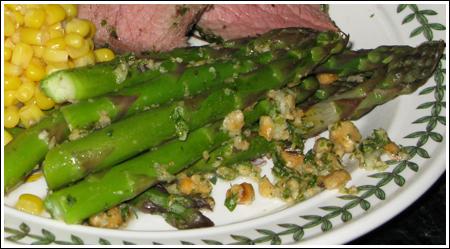 Asparagus with Hazelnut Gremolata
1 tablespoon finely chopped parsley
1 clove garlic
2 teaspoons lemon juice
1 teaspoon olive oil
¼ teaspoon salt
¼ teaspoon lemon zest
1 tablespoon finely chopped hazelnuts.
1 pound asparagus
Make the gremolata first. Mix together parsley, garlic, lemon juice, olive oil, salt and nuts. Set aside.
Snap off tough ends of asparagus and steam. Place asparagus in a steamer basket and steam for 3-4 minutes or until tender. Alternatively, you can use one of those new steam fresh bags and steam in microwave.
Toss steamed asparagus with nut mixture.
Serves 3 or 4