Small Batch Double Chocolate Cookies were inspired by Jennifer, who baked and photographed Martha Stewart's Outrageous Chocolate Cookies. Since I'm the only one in this house who eats rich chocolate cookies and since I'm still trying to get rid of Hillary's, I figured I'd try a small batch version with a few changes.
My change, aside from cutting the recipe in half, was to incorporate high quality flavored chocolate. Since it was a small batch, I could afford to pick out a couple of more expensive bars. Our grocery store has a huge selection of high end chocolate and it was hard to choose between Mayan, a ginger spiked chocolate bar, espresso bean, toffee chunk bar or chili. In the end, I took the conservative route and used a Lindt Bittersweet Hazelnut. Point is, you can have fun using various chocolates.
Even I'd already seen two pictures, these were better and more interesting than expected. The cookies have a shiny, flakey, light crust and a rich and chocolaty center. The hazelnut flavor really came through, and now I'm really looking forward to trying some of the other bars.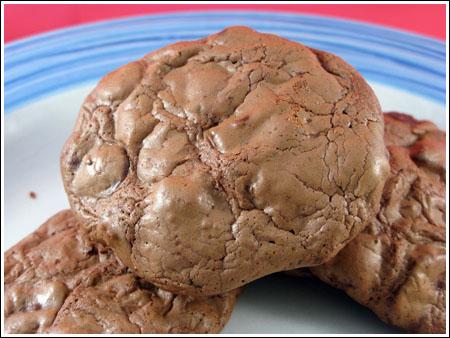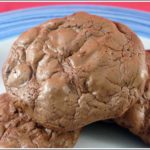 Print Recipe
Small Batch Double Chocolate Cookies
Small Batch Double Chocolate Cookies which makes only 10 delicious cookies.
Ingredients
2

ounces

semisweet chocolate

chopped (Ghirardelli "Extra" Bittersweet 70%)

1

tablespoons

unsalted butter

1/3

cup

all-purpose flour

1/4

teaspoon

baking powder

1/4

teaspoon

salt

1

large egg

1/4 

cup

plus 2 tablespoons packed light-brown sugar

1/2

teaspoon

vanilla extract

6

ounces

flavored dark or bittersweet chocolate bar

cut into chunks (Lindt Bittersweet Hazelnut)
Instructions
Preheat oven to 350 degrees. Heat chopped bittersweet chocolate and butter in a microwave-safe bowl in 20-second increments, stirring in between, until almost melted; do not overheat.

In another bowl, stir together flour, baking powder, and salt.

In a medium (2 quart) mixing bowl, beat egg, brown sugar, and vanilla on high speed until light and fluffy. Reduce speed to low; beat in melted chocolate. Add flour mixture and stir until combined. Makes sure batter is not still warm from the melted chocolate, then stir in cut up chocolate bar.

Drop heaping tablespoons of dough 2 to 3 inches apart onto baking sheets. Bake, rotating sheets halfway through, until cookies are shiny and crackly yet soft in centers, 12 to 15 minutes. Cool on sheets 10 minutes; with a thin metal spatula, transfer to racks to cool completely.

Makes 10