Today I let Fuzz make Small Batch Vanilla Cupcakes. She used a recipe from the book Small Batch Baking and made these cupcakes with very little supervision. I wasn't expecting them to be nearly as good as they were. They weren't too floury, they were light, and they had loads of vanilla flavor thanks to the paste. Fuzz must have the magic touch.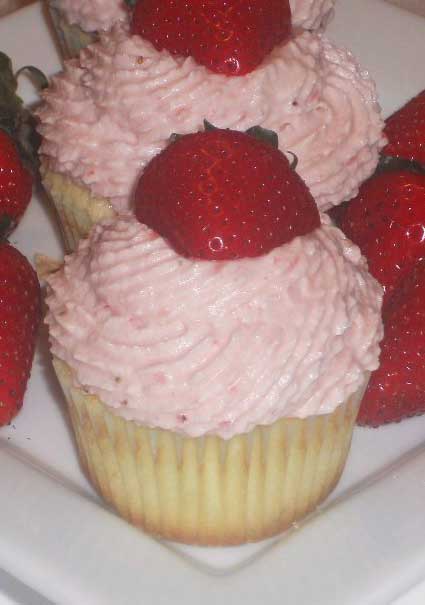 You can frost these with anything. The ones in the picture are topped with Mela's Strawberry Frosting Recipe.
Small Batch Vanilla Cupcakes -- Makes 4
½ cup all purpose flour, sifted (65 grams)
¼ cup plus 2 tablespoon sugar (75 grams)
⅛ teaspoon salt
2 tablespoons melted butter (28 grams)
¼ cup buttermilk (56 grams)
⅛ teaspoon baking soda
Yolk of 1 egg, room temperature
½ teaspoon of vanilla extract (we used Nielsen Massey vanilla paste)
Preheat oven to 350 degrees F. Line 4 muffin cups with paper liners.
In a medium mixing bowl, stir together flour, sugar and salt. Add melted butter to flour mixture and stir until pasty and moist. (We used a wooden spoon - no mixer)
In a small bowl, combine buttermilk and baking soda. Stir to mix. Stir in egg yolk and vanilla (or paste). Stir buttermilk mixture into flour mixture and beat heartily for 1 minute or two. Again, we just did this with a wooden spoon - but we beat it a lot! A mixer on medium speed would have been better. Beat until light and fluffy.
Divide evenly among the 4 muffin cups. Bake for 20 minutes.