Back in April, our school had a bake sale, and one of the best selling items was a brownie baked in a muffin tin. I didn't get to try one, but the kids loved them. They're called Rocky Road Fudge Brownie Muffins.
A few weeks later, I found a recipe for fudge brownie muffins and added it to my collection. It was very similar to this, but without a rocky road topping. Since I had some marshmallows lying around, I decided to make the muffins with a little twist – a topping of chocolate chips, marshmallows and pecans.
If Rocky Road is not your thing, you can skip the topping and add a little cinnamon to the batter (1 teaspoon) or make the brownies with chocolate chips only. If you decide to leave off the topping, divide the brownie batter among only 10 of the cups and make 10.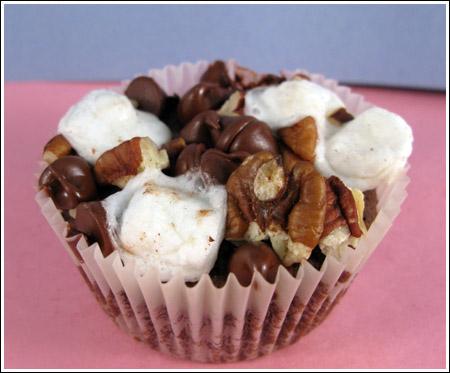 Rocky Road Fudge Brownie Muffins
8 tablespoons unsalted butter (114 grams)
¼ cup unsweetened natural cocoa powder
2 large eggs
1 cup granulated sugar (200 grams)
1 teaspoon vanilla
½ scant teaspoon salt (if using salted butter, omit)
¾ cup all purpose flour (100 grams)
⅔ cup semi-sweet chocolate chips (divided use) (114 grams)
⅓ cup toasted pecan pieces or coarsely chopped pecans
⅔ cup mini marshmallows
Preheat oven to 350 degrees F. Grease or spray top of a 12 cup muffin pan with cooking spray and line cups with paper liners.
Place butter in a 2 cup glass measuring cup; microwave on high for one minute or until butter melts. Add cocoa to melted butter and stir well. Set aside and let cool slightly.
Whisk eggs, sugar, vanilla and salt together in a medium mixing bowl. Add butter/cocoa mixture and stir until well mixed. Add flour, stirring just until blended' stir in ⅓ cup of the chocolate chips.
Spoon the muffin batter into cups, dividing evenly among all 12 (halfway full).
Stir together remaining ⅓ cup chocolate chips, toasted pecans and mini marshmallows. Set aside.
Bake muffins for 18 minutes. Pull pan from oven and sprinkle with marshmallow mixture. Return to oven and bake for 2 minutes more for a total bake time of 20 minutes. Let cool in muffin tins for about 10 minutes, then carefully loosen muffins from tins and let cool completely before serving.
Makes 12
Note: If you skip the topping, divide batter among 10 muffins cups to make the brownie muffins slightly taller. Bake time is still 20 minutes.