Yesterday afternoon I made a Boston Cream Pie from The Joy of Cooking.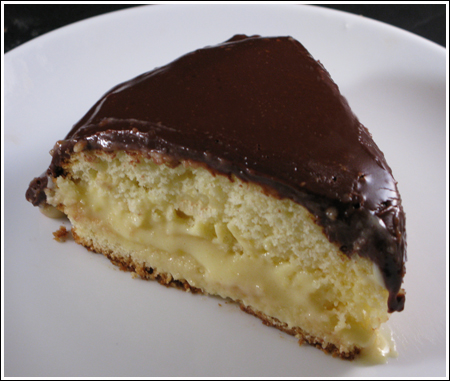 As far as desserts go, we all loved it. I wouldn't call it my favorite Boston Cream Pie recipe, but after looking around at all the variations, I think it would take me a year to find and pick a favorite. No two recipes are the same. Just Google Boston Cream Pie and you'll see what I mean.
What most Boston Cream Pie recipes do have in common is that they are all cakes (not pies) with a cream filling and a chocolate icing. But that's it. Some of the cakes are yellow cakes and others are sponge. Some call for eggs, some only use yolks. And every pastry cream filling seems different too. Some are made with flour and others use cornstarch. Some call for butter, some don't. And the chocolate toppings run the gamut as well. Gale Gand uses a ganache. Emeril uses store bought chocolate fondant (?) and the Food Network Test Kitchen makes their chocolate topping with a touch of corn syrup for shininess and flow.
At the end of the day, I was happy I'd chosen this recipe (slightly haphazardly) because if I'd searched through the variations trying to find the best, I would have never been able to complete this in time for dessert.
I followed the directions below with a few minor changes from the original. I cooked the cake in a 9 inch round springform and split it down the center. I think it stacks a bit more neatly when made in one pan and split instead of two. As for the cake recipe, this one was rich and crumbly rather than spongy. It was good, but I think next time I'd go with a traditional sponge.
This pastry cream filling was beautiful and smooth, but pretty basic. I don't own a double boiler, so I used a big metal bowl set over a saucepan of simmering water. It didn't seem thick enough at first, but was fine once it cooled and chilled.
The chocolate icing was very good, but make sure to sift the powdered sugar. I would definitely choose this icing over a ganache because in my mind, Boston Cream Pie should be topped with icing and not ganache.
I had so much fun with this recipe that I'm going to make a Boston Cream Pie Category and try to find a favorite. This will take quite some time and I do not plan on making one of these every day, but it's a dessert Todd likes so all the recipe try-outs will get eaten.
Recipe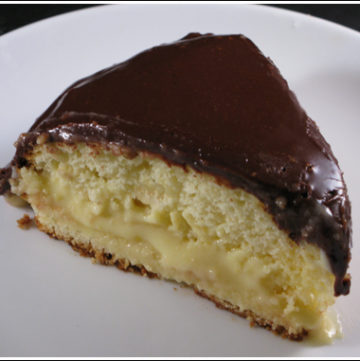 Boston Cream Pie from Joy of Cooking
Custard layered between golden cake topped with chocolate icing.
Ingredients 
FOR THE GOLD LAYER CAKE:
2

cups

sifted cake flour

measure after sifting

2

tsp.

baking powder

¼

tsp.

salt

1

stick

½ cup unsalted butter, softened

1

cup

sugar

3

large egg yolks

1

tsp.

vanilla extract

¾

cup

milk
FOR THE CUSTARD CREAM FILLING:
1 ½

cups

milk

whole

1

vanilla bean

½

cup

sugar

¼

cup

flour

3 to 4

large egg yolks

beaten (I used 3)
FOR THE CHOCOLATE ICING:
4

oz.

semisweet chocolate

1

tbsp.

butter

6

tbsp.

whipping cream

1

tsp.

vanilla extract

1 ½

cups

confectioners' sugar

sifted
Instructions 
Preheat oven to 375 degrees F. Spray a 9 inch round springform pan with flour-added cooking spray. If you want, you may use two 8 inch pans instead.

Sift flour again with baking powder and salt; set aside. Beat butter and sugar in bowl of electric mixer until light in color, about 2 minutes. Beat in egg yolks and vanilla. Add flour mixture in 3 parts, alternating with milk, beating well after each addition. Pour batter into greased pan or pans.

Bake until wooden pick inserted in center comes out clean, about 30 minutes – will take less time if using 2 pans. Cool in pan(s) on wire rack 10 minute. Remove sides of pan and let cool completely, then carefully remove cake from springform bottom. When cake is cool, split it in half horizontally.

Custard Filling: Heat milk and vanilla bean in medium saucepan over medium heat to just below boiling. Place sugar, flour and egg yolks in top of double boiler over simmering water. Add milk and scrapings from inside of vanilla bean. Cook over medium heat, whisking constantly, until mixture begins to thicken. Remove from heat; stir. Cool mixture completely.

Glaze: Melt chocolate and butter in top of double boiler over simmering water. Stir in cream and vanilla. Add confectioners' sugar; mix until smooth.

TO ASSEMBLE: Place 1 cake layer on serving plate. Spread with thick layer of pastry cream. Top with second cake layer. Frost with icing.