I thought I'd be making bowls upon bowls of basic pastry cream since I'm searching for a favorite, but thanks to Katrina's friend Paige, I may have found "the one".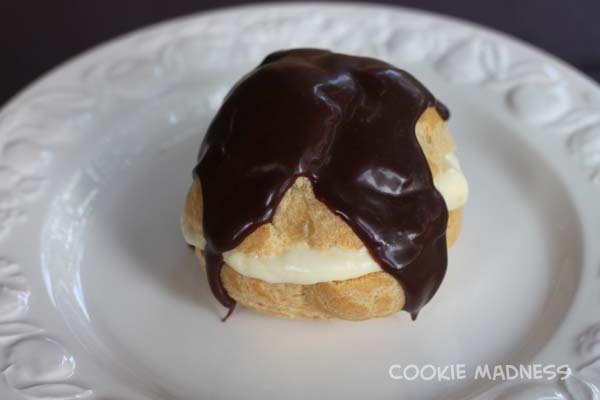 Like yesterday's pastry cream, this one starts with 2 cups of whole milk. However, instead of 2 yolks and a whole egg, it uses 4 yolks. In addition to the yolks, it gets extra thickening power from a combination of cornstarch and flour. Given the thickening power of yolks, cornstarch and flour, I expected this cream to be super stiff. But no -- it was "just right" stiff without being gelatinous or custard-like. I also appreciated the color, which was yellower than yesterday's due to the extra egg yolks and maybe the fact I used brown eggs from free roaming chickens. Pastry cream is one of those recipes where splurging on the best eggs you can find and maybe even using butter from pasture fed cows (etc. etc. etc.) is totally worth it. And it goes without saying that infusing vanilla bean into the milk would make this amazing, but I didn't have any vanilla beans (as usual) and used extract.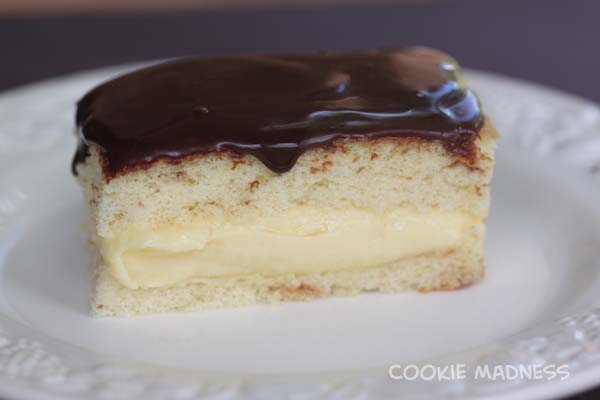 By the way, the cream in the cream puff has some extra whipped cream folded in. However, for Boston Cream Pie the pastry cream is perfect as is. And if you're wondering why my Boston Cream Pie is a rectangle, it's because I finally found the right cake to go with the Epcot Strawberry Shortcake Copycat recipe (hint -- it's a genoise) and have been making it over and over and carving it trying to figure out the most geometrically efficient way to make that strawberry cake. So I have loads of cake scraps in the freezer and used a scrap to make one single piece of Boston Cream Pie.
Recipe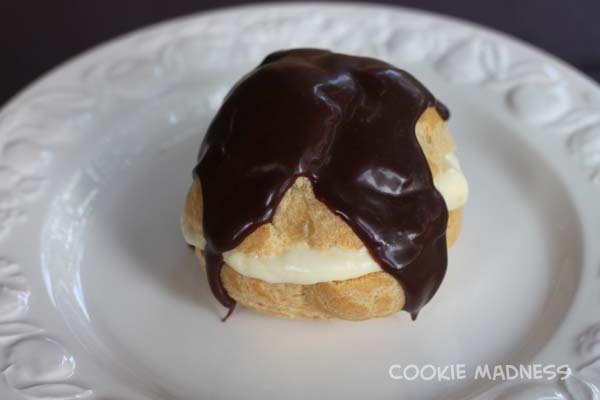 Basic Pastry Cream #2 -- This Might Be "The One"
A thick and creamy, non-chalky, non-lumpy pastry cream recipe that's perfect for Boston Cream Pie.
Ingredients 
2

cups

of whole milk

⅔

cup

granulated sugar

¼

cup

flour

1 oz.

¼

cup

cornstarch

1 oz.

4

large egg yolks

2 to 3

T.

unsalted butter

I used three

1

teaspoon

of vanilla extract

Optional: 1 cup heavy cream

whipped
Instructions 
Place the milk and half of the sugar in a medium saucepan (see note). Slowly bring to a gentle boil.

While you're waiting for the milk mixture to come to a boil, whisk the remaining ⅓ cup sugar into the egg yolks until thick and pale. Combine the flour and cornstarch in a small bowl, then whisk the combined flour and starch into the egg/sugar mixture.

When the milk comes to a boil, whisk some (I used about a cup) of the hot milk into the egg mixture to temper and thin.

Reduce the heat to medium or if using a large burner, medium low, and add the tempered egg yolks to the boiling milk, whisking constantly. The pastry cream will thicken almost immediately. Continue to cook and stir until 1 or 2 large bubbles break the surface (this might take a minute or two, but it helps kill the enzymes that cause thinning). Remove from the heat and whisk in the butter and vanilla.

Transfer the pastry cream to a clean container. Press a piece of plastic wrap to the surface and chill until cold.

If desired, you may lighten the texture of the pastry cream by folding in the whipped cream after the pastry cream if fully chilled. You may want to sweeten the cream with 2-3 tablespoons of powdered sugar and add a little more vanilla before folding it into the pastry cream because the cream itself is just the right level of sweetness and adding unsweetened cream will make it slightly less sweet.
Notes
I use a 3 quart All-Clad without any coating on it since this requires lots of vigorous whisking and you don't want flecks of coating in your cream.