Spice Cake Gooey Butter Bars are based on a famous St. Louis cake called "Gooey Butter Cake" and this version is based on a particular recipe from Paula Deen. It's a Gooey Butter Cake that uses cake mix as a base, which means you can mix and match the flavors. So I made Gooey Butter Cake or in this case, bars, with spice cake mix.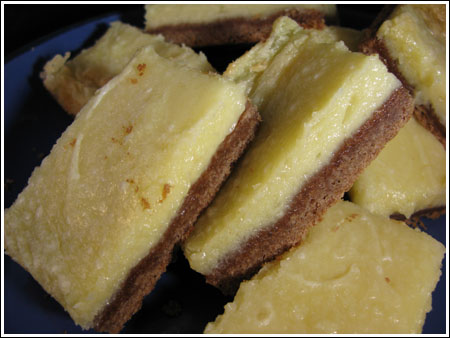 Spice Cake Gooey Butter Bars
Crust:
18.25 oz spice cake mix
8 tablespoons melted butter (regular salted)
1 large egg
Topping:
8 oz cream cheese, softened
2 large eggs
1 pound powdered sugar
1 teaspoon vanilla
8 tablespoons melted butter (regular salted)
Preheat oven to 350 degrees F. Line a 13x9 inch metal pan with foil and spray with cooking spray.
Mix together cake mix and butter. When moist and crumbly, blend in the egg. Press into the pan.
Beat together cream cheese and egg. Add powdered sugar and beat until creamy. Beat in the vanilla, then slowly add the melted butter.
Pour the cream cheese mixture over the crust and bake for 40-45 minutes or until sides appear set. Middle should still be very jiggly. Cool completely, then chill for a few hours.
Lift from pan and cut into squares or bars. Makes anywhere from 24 to 32.