I found the "Action Vietnam Cookies" recipe in a book called "Food Writer's Favorite Cookies" where it was submitted by Betty Bernard, Food Editor, Lake Charles Press. In her entry, Betty says that a fellow staff member baked these for her son who was assigned war time duty in Vietnam and that the cookies ship well, age well and taste great. I decided to give the cookies a test run and see if they were really all that.
First off, they have a lot going on -- – cinnamon, nutmeg, coconut, bananas, chocolate and uh, raisins. I must have had some traumatic past-life experience with a Raisinette, because as much as I like raisins, I don't like them anywhere near my chocolate. So I swapped out cranberries.
The cookies are pretty good on day one. They taste like regular old banana oatmeal cookies and none of the ingredients overpower the others. I've packed them up tightly and plan on seeing how they keep at room temperature. Will get back to you.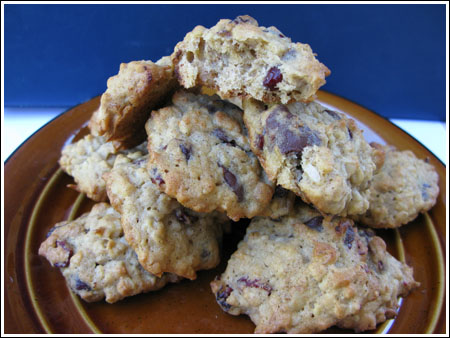 Action Vietnam Cookies
1 ½ cups all purpose flour
½ tsp. baking soda
1 tsp. salt
1 tsp. ground cinnamon
¼ tsp. freshly ground nutmeg
¾ c. solid vegetable shortening (I used butter flavored)
1 cup firmly packed light brown sugar
1 large egg
1 c. mashed ripe bananas (2 or 3)
½ c. coarsely chopped, toasted walnuts
½ c. semi-sweet chocolate morsels
½ c. shredded coconut
½ c. dried cranberries or raisins tossed in 1 tablespoon flour
1 ¾ c. quick-cooking rolled oats, uncooked
Preheat oven to 375 degrees F.
Mix flour, baking soda, salt, cinnamon and nutmeg together in a mixing bowl. Set aside.
In a large mixing bowl, with an electric mixer, beat together shortening and brown sugar. Add egg and continue beating until ingredients are well blended. Stir in banana. Add flour mixture and stir until it is almost incorporated, then add the nuts, chocolate, coconut, dried cranberries and oats.
Drop dough from end of teaspoon onto parchment lined cookie sheets. Bake for 12 minutes or until done. Makes 5-6 dozen cookies.