Peanut Blossom Cookies (or Peanut Blossoms) were a 1957 Bake-Off entry from Freda Smith of OH. Her Peanut Blossoms made the finals, but the grand prize went to Gerda Roderer's Accordion Treats. Though they didn't score enough points to win, Peanut Blossoms became very popular and 50 years later they're still a national favorite.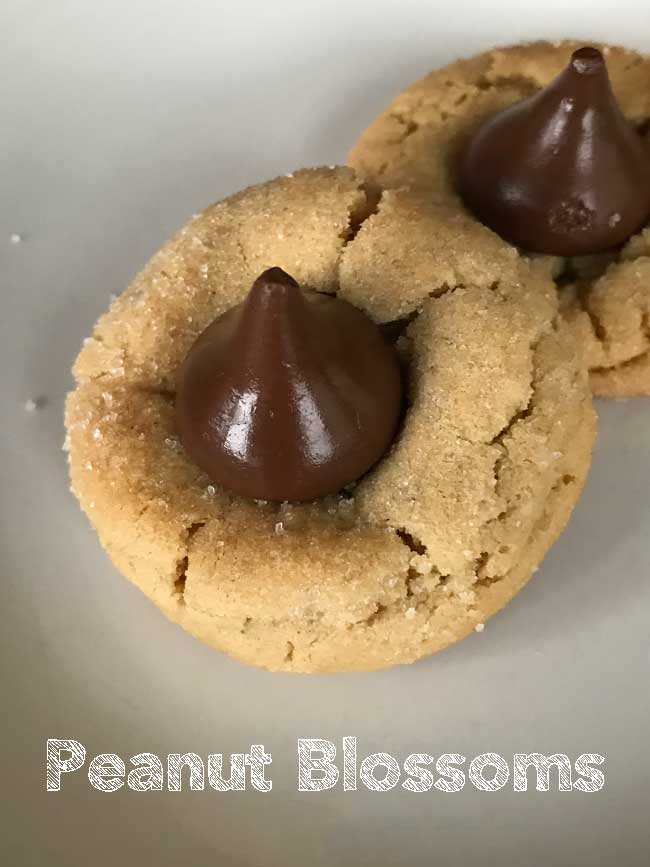 As you'd expect, the recipe has evolved over the years and there are different versions from various sources. Pillsbury sticks with the version from 1957, Hershey's uses less sugar and more peanut butter, Betty Crocker adds a little baking powder and omits the shortening, vanilla and milk, and Land o' Lakes uses butter (surprise!) and leaves out the milk.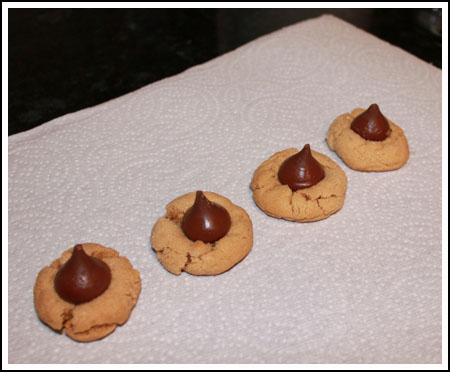 The Best Peanut Blossoms Recipe
Today I baked all four versions for a side-by-side comparison. I'd predicted my favorite would be the Hershey's recipe. It called for shortening, which meant it probably had a great texture, it had less sugar so I figured the cookies wouldn't be overly sweet, and it had a little more peanut butter.
After making all the dough and keeping track of which was which...
Peanut Blossoms Taste Test
The Hershey version was great, but not as sweet as the others and lacked the butter flavor which I really did notice in the Land o' Lakes cookie. I didn't think the butter flavor would matter much, but it did.
The Pillsbury recipe tasted almost identical to the Hershey's, but a little sweeter. It was very good and the shortening gave it a light texture, but I missed the butter flavor.
The Betty Crocker version was excellent. It was less tender so it had more of a bite to it than the others and wasn't as crumbly.  It  had a good butter flavor, but I  missed the vanilla and I think the cookie could have used a little salt.
The Land o Lake's version, my favorite, had a good texture (not as crumbly and light as the shortening, but good overall), and great flavor from the butter and vanilla.
So even though shortening improves the texture of some cookies, in peanut blossoms the shortening texture was trumped by butter's flavor. And while I worried the all-butter cookies might spread too much since shortening cookies usually hold their shape better, it wasn't an issue. The cookies looked pretty much the same, with the shortening versions being a bit more crackly.
Just for fun, I tried making a fifth cookie following the Pillsbury recipe but swapping out regular shortening for butter flavored. That was the worst cookie thanks to the artificial butter flavor. I don't mind artificial butter flavor in some things, but instead of enhancing the peanut flavor, it detracted from it.
Different Peanut Blossoms Recipes
Note: All butter is salted, so if you don't use salted you should adjust the salt by adding about ⅜ tsp. per half cup. All peanut butter was Skippy Natural Creamy and flour was Gold Medal unbleached.
Pillsbury
Hershey's
Betty Crocker
Land o' Lakes
½ c. shortening
½ c. peanut butter
½ c. sugar
½ c. brown sugar
1 egg
2 tablespoons milk
1 tsp vanilla
1 ¾ c. flour
1 tsp. soda
½ tsp salt
Granulated sugar
48 Kisses
½ c. shortening
¾ c. peanut butter
⅓ c. sugar
⅓ c. brown sugar
1 egg
2 tablespoons milk
1 tsp vanilla
1 ½ c. flour
1 tsp soda
½ tsp salt
Granulated sugar
48 Kisses
1 c. butter
1c. peanut butter
½ c. sugar
1 c. brown sugar
2 eggs
--
--
3 c. flour
1 ½ tsp. soda
1 tsp. bkg. powder
Granulated sugar
84 Kisses
½ c. butter
½ c. peanut butter
½ c. sugar
½ c. brown sugar
1 egg
--
1 tsp vanilla
1 ¾ c. flour
1 tsp soda
¼ tsp salt
Granulated sugar
48 Kisses
Recipe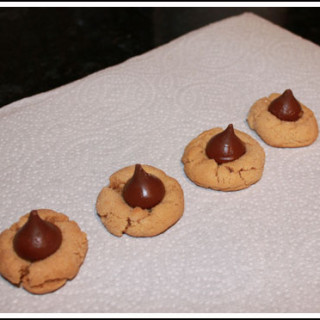 Peanut Blossom Taste Test
Peanut Blossom Cookies are peanut butter cookies with a Hershey's Kiss in the center. The recipe was introduced at The Pillsbury Bake-Off.
Ingredients 
1

stick

114 grams unsalted butter softened (114 grams)

½

cup

peanut butter

130 grams

½

cup

granulated sugar

100 grams

½

cup

firmly packed brown sugar

100 grams

1

large egg

1

teaspoon

vanilla extract

½

scant teaspoon salt

1

teaspoon

baking soda

1 ¾

cups

all-purpose flour

220 grams

¼

cup

sugar

48

milk chocolate candy kisses

unwrapped
Instructions 
In a mixing bowl, combine the softened butter, peanut butter and both sugars.

Beat at medium speed until light and fluffy. Add egg, vanilla, and salt and continue beating until well mixed. Add baking soda, stirring to break up any lumps, and then add flour. Beat on low or by hand until well mixed.

Cover bowl and chill for 30 minutes. Alternatively, if you have a small cookie scoop you can scoop out your 48 portions onto plates or a tray and chill the portions.

Heat oven to 375°F. Shape the portioned dough into neat balls (or scoop and shape if you've just chilled the whole bowl).

Roll balls in ¼ cup sugar and place 2 inches apart onto ungreased cookie sheets.

Bake 8-10 minutes or until very lightly golden brown. Immediately press 1 chocolate kiss in center of each cookie and then quickly return to the oven for 20 to 30 seconds. This softens the chocolate a bit, and even when it re-sets the Kiss stays softer.