This post dedicated to the friendly bakers who've emailed asking for advice on packing and shipping cookies. Lately, I haven't had much to say on the subject due to some bad experiences shipping and receiving homemade goodies. In one case, cookies I sent arrived stale. In another, some cookies I received tasted like the plastic container in which they'd been packed. Compared to staleness and plastic taste, crumbling is the least of the problems, but that's an issue too. Cookies break.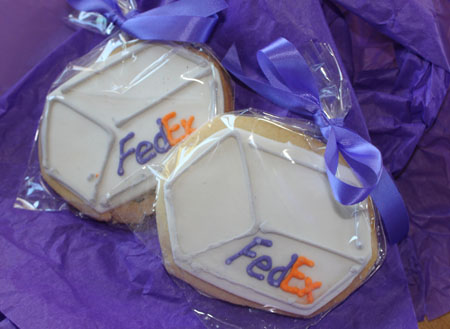 I'd almost given up on shipping cookies, but this week Fed Ex dropped off a couple of cute decorated sugar cookies, some guidelines for packing, and a friendly reminder that sending cookies the most expedient way possible will ensure freshness.
I know a lot of you are pros when it comes to shipping cookies and probably have some clever packing tips to add, but here are the basics from Fed Ex which include some important dates.
Fed Ex Tips for Shipping Cookies
Shipping Ingredients:
 Sturdy container for the baked goods
 Box of wax paper
 1 roll of heavy-duty packing tape
 Sturdy corrugated cardboard box
 Bubble wrap or other packing materials
Crumble-Free Packing Directions:
• Place the baked goods in a sturdy container, using wax paper to separate each layer. Use crumpled wax paper to fill in any spaces
• Secure the lid of the container with tape to keep it from accidentally popping off
• Put the container in a sturdy corrugated cardboard box that's just a bit bigger than your container, allowing for some cushioning. Use bubble wrap or other packing materials to cushion the container tightly in place
• Shake the box gently – if you can feel or hear any movement, add more cushioning.
• Seal the box with heavy duty packing tape.
• Bring the box to your local FedEx Office location and ship using FedEx Ground or FedEx Express delivery service this holiday season
Baker's Tips:
• Don't forget to include a note card with the shipper and recipient's contact information inside the package in case the shipping document gets separated from the package
• Ship before Friday, December 17 with FedEx Ground for the most cost-effective delivery guaranteed to arrive in time for Christmas
• When choosing FedEx Ground, be sure to send your cookies right after baking so that they are still fresh when they arrive, as shipping typically takes 3-5 business days
• For a last-minute gift idea, you can send your homemade treats via FedEx Express as late as Thursday, December 23 for overnight delivery in time for Christmas
• Visit your local FedEx Office and speak with a trained Pack & Ship expert for more ideas on shipping cookies or visit http://fedex.com/us/holiday/