I always liked Wheaties cereal, but never felt athletic enough to buy it. Wheaties was for people who broke a sweat, like Mary Lou Retton and Bruce Jenner. I preferred cereal that saved me energy. For instance, Total, which said I'd have to eat 10 bowls of other cereal to get the same nutrition as one bowl of Total. Now that was appealing. Even Special K was more alluring because the commercials implied weight loss as a result of eating the cereal – no hurdles, push-ups or gymnastics.
Well, something's changed. It appears Wheaties is getting away from their sporty image and targeting the weight loss crowd with a big banner across the box that says "Jump Start Your Metabolism With a Wheaties Breakfast" Logically, any cereal (food for that matter) would jump start one's metabolism, but I liked Wheaties bold move into targeting the weight conscious yet lazy, so I bought a box hoping the next morning at breakfast, my metabolism was going to be a white-hot calorie burning furnace.
I ate some Wheaties this morning and am feeling a little warm right now. Or maybe it's because I've been in the kitchen baking these Wheaties cookies which, no doubt, have a negative calorie value due to all the Wheaties.
This recipe is a scaled down version of something I found on Recipezaar, I liked this one because it called for chocolate chips, but if you are not addicted to chocolate, you might try this version or perhaps this one.
The recipe below was pretty good. The cookies are chewy with crispy edges and the fresh, wholesome, athletic, taste of Wheaties.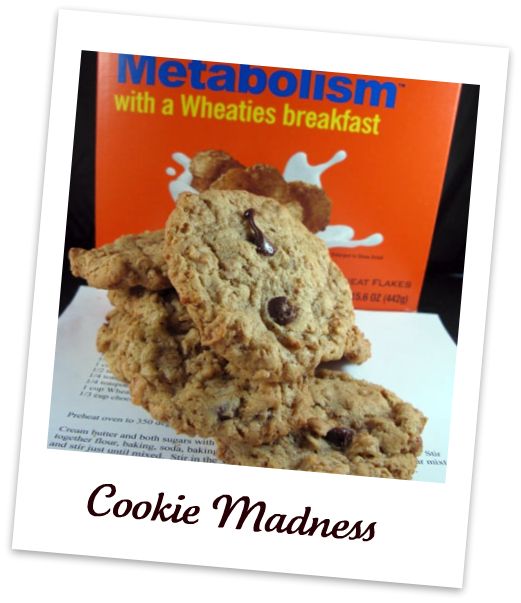 UPDATE: I tasted these cookies later in the day and they tasted even better. I also noticed a big difference in the batch I cooked for 12 and the batch I cooked for 15 minutes. Both were good, but the 15 minute batch was crunchier yet not burnt tasting. I cooked it on an insulated cookie sheet which probably helped in that department. Also, I felt the cookies needed nuts. I didn't add them to my batch, but I've written them in as optional for the recipe. Definitely try these!
Small Batch Wheaties Cookies
5 tablespoons plus 1 teaspoon unsalted butter, softened
½ cup packed brown sugar, packed
½ cup granulated sugar
1 large egg
½ teaspoon vanilla
1 cup flour
½ teaspoon baking soda
¼ teaspoon baking powder
¼ teaspoon salt
1 cup crushed Wheaties (measure after crushing)
½ cup chocolate chips (more if desired)
⅓ cup toasted pecans (optional)
Preheat oven to 350 degrees F.
Cream butter and both sugars with an electric mixer; Beat in the egg and vanilla. Stir together flour, baking, soda, baking powder and salt. Add flour mixture to sugar mixture and stir just until mixed. Stir in the Wheaties followed by the chocolate chips and pecans (if using)
Drop cookies by tablespoonfuls onto parchment lined cookie sheets and bake for 8-10 minutes or until lightly browned around edges.
Makes 20 cookies