This recipe is called Tomato Soup Bars and I chose it because 1) it's unusual and 2) I couldn't find anything else that seemed very interesting. Besides, I needed to use this can of tomato soup which I bought for no apparent reason.
So are the bars good? Hmmmm. Yeah. I guess. I haven't tried one iced, but they taste okay hot out of the pan. I'm waiting for them to cool down so I can smear the top with cream cheese icing. I'll make my final judgement when the bars are iced.
People seem to like pictures, so I've taken more than usual this morning.
Here are the ingredients. Basic things.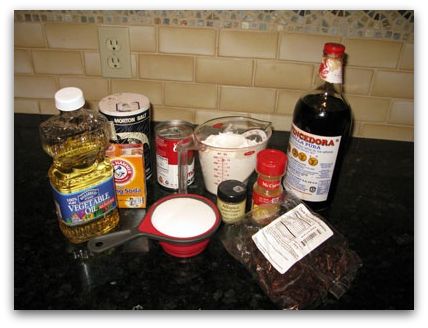 Batter, poured into a pan. Exciting! -- I used a 12x17 inch pan and the bars were very thin. Next time, I will make Tomato Soup Bars in a 15x10 inch pan.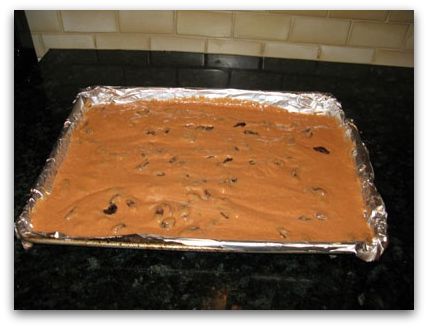 Here are the Tomato Soup Bars cooling down! Note the reddish hue. I kind of thought the tomato soup would be unrecognizable. That's not the case, but the bars have a pretty unique flavor. I can't say the tomato soup is not discernible, but it's not unpleasant either.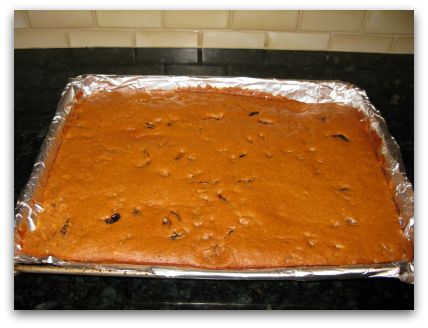 Tomato Soup Bars
1 (10 oz) can tomato soup
½ soup can water (5 oz)
½ cup vegetable oil
1 cup granulated sugar
1 teaspoon allspice
2 teaspoons cinnamon
1 teaspoon baking soda
⅛ teaspoon salt
2 cups all-purpose flour (9 oz)
1 cup raisins
Frosting of choice – cream cheese or vanilla
Preheat oven to 350 degrees F. Spray a 15x10 inch pan with cooking spray or line with non-stick foil.
Mix tomato soup, water, oil, sugar, allspice and cinnamon in a large bowl. Add baking soda and salt and stir well, making sure you remove any lumps of soda. Add the flour and stir until mixed, then stir in the raisins. Pour into the pan and bake for 20 minutes. Let cool completely. Frost with cream cheese icing.
Since I made my bars too thin (pan was too large) the icing was somewhat overpowering. Next time, I will use a 15x10 inch pan and maybe a drizzle of icing.