Notes from My Attempt at Cloning Houston's Veggie Burger
Back in days gone by we used to eat at Houston's, a popular restaurant in Texas (and other places). I often ordered the Houston's Veggie Burger -- not because I was vegetarian, but because it was so good. At one point I came up with a similar version which I still make from time to time with little variations. Below is the base recipe along with some notes.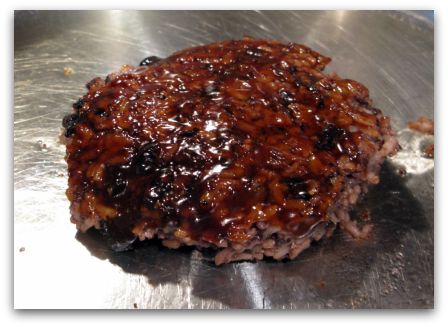 Some Recipe Notes
1. I've made these several times and I get different results based on how well I mash the beans and how much moisture the ingredients want to absorb on any given day. Sometimes the mixture comes out a bit gloppy, which I why I always make it ahead and chill it. Chilling firms up the patties a great deal.
2. Salt is variable. Start with about a ½ teaspoon of salt and then taste the mixture to see if it's balanced. I used to use 1 teaspoon, but lately I've only needed ½ teaspoon.
3. Be careful what type of jalapenos you use in your Houston's Veggie Burger copycat. Some brands (such as Old El Paso pickled nacho style) are milder than others. Today I used La Costena brand and had to throw out the whole first batch of burgers because that brand was just too spicy for me. But I have a low tolerance for fiery foods, so take that for what it's worth.
4. Adjust the seasonings to your liking. It's really important to taste, so make sure you try the mixture before frying up the burgers. If you're scared of raw egg whites, just taste before you add it.
5. Speaking of egg. If you are vegan, you could try using a different binder. The old flax mixed with water trick might work, but you could even try apple sauce or something like that. I've always used the egg, but someone told me Houston's was vegan
6. If you work for Houston's, please, please, please build a restaurant near my house in South Austin. Never mind. We moved.
Houston's Veggie Burger Copycat
(Mix ingredients a few hours before serving to allow for chill time)
4 tablespoons hickory barbecue sauce
1 tablespoon molasses
1 (15 ounce) can black beans, drained or ¾ cup freshly cooked
2 cups cooked brown rice
1 tablespoon oat bran or 2 tablespoon oatmeal, ground
2 tablespoons onions, finely chopped
1 tablespoon finely chopped canned beets
1 teaspoon beet juice
1 teaspoon chili powder
¼ teaspoon ground cumin
¼ teaspoon black pepper
½ to 1 teaspoon salt (start with ½ and test)
1 tablespoon pickled jalapeno pepper, chopped ** -- use a milder brand
1 egg white
2 teaspoons olive oil
Cheese slices (optional)
Stir together barbecue sauce and molasses. Set aside.
In a large bowl, mash beans. Alternatively, you may do this in the food processor. Stir in 3 tablespoons of the barbecue mixture (reserving remaining for brushing) and remaining ingredients -- rice through egg white. Form into four large patties.
Heat olive oil in a cast iron or non-stick skillet over medium. Grill burgers for 2 minutes on one side. Turn and brush with remaining barbecue/molasses mixture. Top with cheese slices (if desired) and grill for another 2 minutes or until cheese is melted.
This is a picture of the ingredients. I used onion, but I forgot to put it in the ingredient group photo. Poor onion. It felt so left out. As for the jalapenos, the brand in the photo is really hot.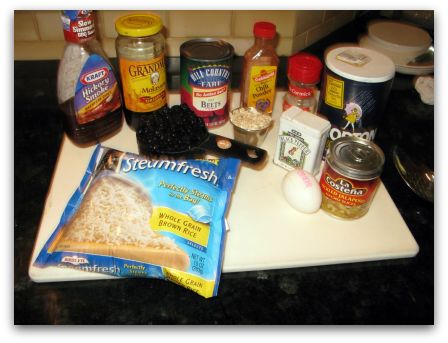 I don't even know why I took this picture. It's ingredients being mixed in the bowl.
Update: Here's a chef's variation on the Houston's Veggie Burger. Interesting.