In first grade, Fuzz bought lunch almost every single day. I'd offered many times to pack it, but she liked the ritual of going through the line, seeing the lunch ladies, paying for her meal and carrying her tray of food to the table. Some days, she'd even eat it! I know this because I would pop in on occasion. Her pattern was to spend most of her time on the green beans (?), pick at the protein and drink half the milk. No wonder she was always so hungry after school.
This year, Fuzz asked me to pack her lunch, and of course I was very happy about that. I want to keep her interested enough not to want to buy, so instead of being hyper vigilant about nutrition, I'm throwing more treats into the box – and I mean better treats than sugar free pudding, which is the kind of thing I'd give her Kindergarten year and probably part of the reason she wanted to buy. This year, I've chosen to be more laid back about lunches and am including a cookie or two here and there.
This recipe was sent to me by Stephanie and it's going to be the first surprise cookie in Fuzz's lunchbox. What's great about it is yes, it is a cookie, but it's also got some nutrition from the cashews, which are plentiful.
The original recipe, which Stephanie found in a church cookbook, came with a browned butter frosting. I made a small batch of frosting and discovered I didn't care for it much because the cookies seemed to rich to need frosting. I did want a little sweetness to go with the salt, so I threw in some butterscotch chips and loved the results. Below is how I made the cookies with and without frosting. If you do choose to frost, the frosting sets, so you can still pack it in a zipper bag and send it along.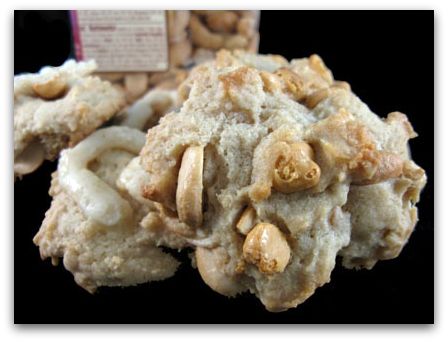 Lunchbox Cashew Cookies
1 stick unsalted butter, room temperature (114 grams – 4 oz)
1 cup light brown sugar (180 grams)
1 large egg
3/4 tsp. vanilla
1/3 cup sour cream (80 grams)
2 cups flour (255 grams)
3/4 tsp. baking powder
3/4 tsp baking soda
1/2 tsp salt
1 3/4 to 2 cups lightly salted cashew halves & pieces
2/3 cup butterscotch chips (use only if not frosting)
Preheat oven to 350 degrees F. Line a cookie sheet with parchment paper.
Cream butter and brown sugar with an electric mixer; beat in egg and vanilla. Fold in the sour cream, keeping the batter light. Thoroughly mix flour, baking powder, baking soda and salt together in a separate bowl. Add flour mixture to butter mixture and stir until almost mixed. Add cashews and butterscotch chips and stir until fully mixed. Drop dough by well-rounded teaspoonfuls onto cookie sheet. Bake for 12-14 minutes or until edges are brown. Cool and frost with brown butter frosting if desired.
Makes about 36 cookies
Brown Butter Frosting
4 oz unsalted butter (114 grams)
2 c. powdered sugar, sifted
3 T. cream (I used milk)
1/4 tsp. vanilla
To make frosting; lightly brown butter a saucepan. Remove from heat and add sifted powdered sugar, cream and vanilla. Beat until smooth. Let it cool a bit, then spoon it into a zipper bag. Snip a tiny piece off the end and pipe the frosting onto the cookies.