A few days ago, I asked for help identifying a recipe with a layer of cake, blueberries and cream. It was a dessert someone brought to a teacher's conference last year and it was so good, people remembered it many months later.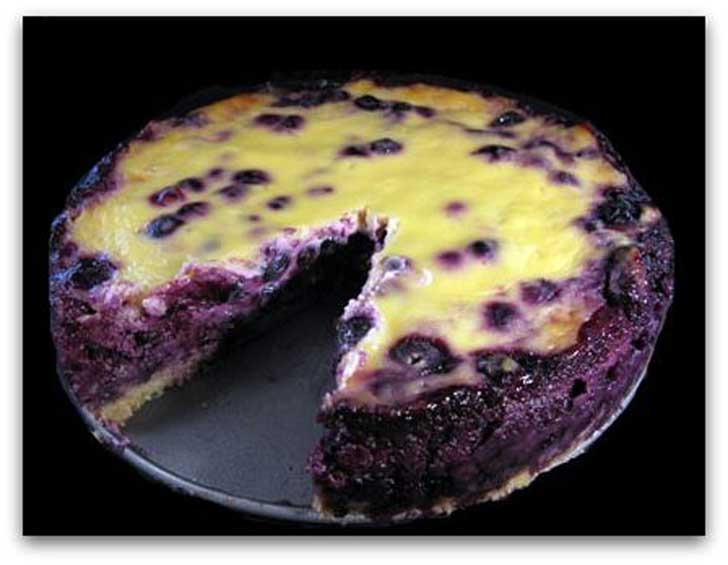 Baking Blonde pointed towards this recipe on allrecipes.com. On paper, Nova Scotia Blueberry Cream Cake sounded like it might be similar to the memorable potluck dessert which was described to me as a layer of cake topped with berries and cream – not unlike a Boston Cream Pie.
This cake was more like a cheesecake than a Boston Cream Pie. I don't think it was the dessert we were searching for, but it's so good that I would definitely make it and serve it myself.
As for the name, Nova Scotia Blueberry Cream Cake  is only cake in the sense that a cheesecake might be called a cake. There's not a cake layer, but rather a shortbread crust which soaks up a moisture from the berries and makes a nice base for the fruit and cream. Slices hold their shape quite well.
Here's a photo of the whole cake before being sliced, plated and topped with whipped cream.
Blueberry Sour Cream Tart aka Nova Scotia Blueberry Cream Cake

Nova Scotia Blueberry Cream Cake
Crust:
1 ½ cups all-purpose flour (6 ¾ oz)
½ cup granulated sugar
1 ½ teaspoons baking powder
¼ teaspoon salt
4 ounces butter, unsalted (cold)
1 egg
1 teaspoon vanilla extract
Topping:
4 cups fresh blueberries or thawed and drained frozen blueberries
2 teaspoons cornstarch
2 cups sour cream
½ cup granulated sugar
2 egg yolks
1 teaspoon vanilla extract
2 cups sweetened whipped cream for topping
Preheat oven to 375 degrees F. Spray a 9 inch round springform pan with cooking spray. It's best to use light colored (silver) rather than black.
In a bowl or food processor, combine flour, ½ cup granulated sugar, baking powder and salt. Cut or process in butter until mixture resembles coarse crumbs. Stir or process in the egg and 1 teaspoon of vanilla. Pat lightly into the bottom of the prepared pan.
Sprinkle cornstarch over the blueberries and gently stir to coat cornstarch with blueberries (it will disappear as you stir). Spread the blueberries over the crust.
Stir sour cream, ½ cup of sugar, egg yolks and 1 teaspoon of vanilla together in a mixing bowl. Pour this mixture over the blueberries and carefully spread it across the top.
Set the springform pan on a foil lined cookie sheet** and bake for 60 to 70 minutes in the preheated oven, until the top is lightly browned around edges – it should still look a little loose in the center and will set as it cools and chills. Loosen hot cake from pan with a knife, but do not remove sides quite yet. Cool completely and chill for a few hours. Remove sides of springform pan. Serve each slice with whipped cream or spread whipped cream over entire cake before slicing.
Makes 8 servings.