There are so many great recipes for Lemon Squares aka Lemon Bars. For a long time, I considered this one the best. As of now, I still do.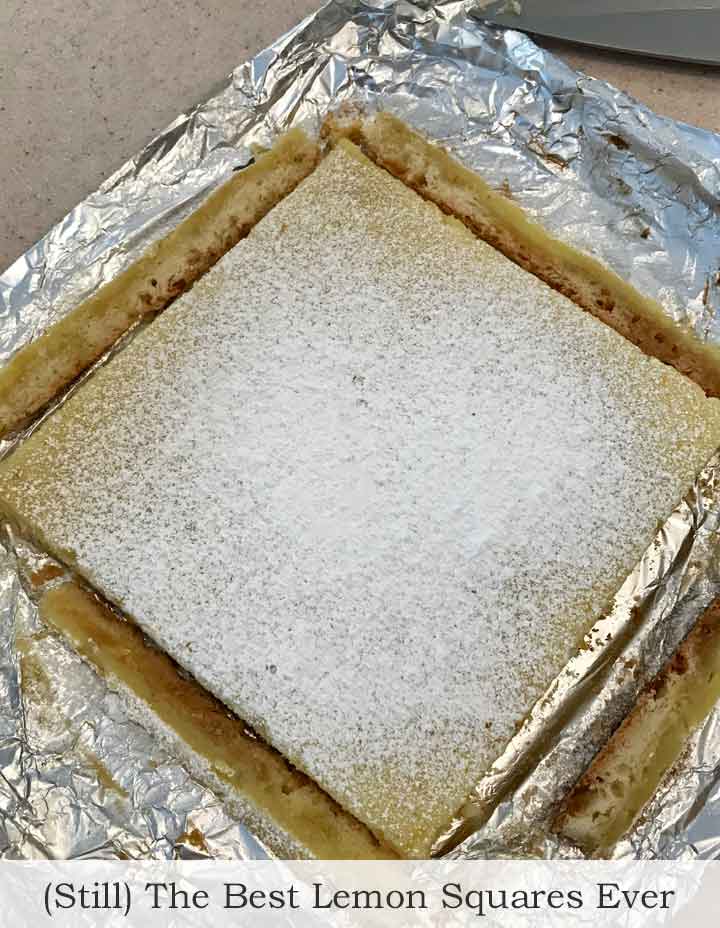 Smooth Lemon Squares Filling
Originally from Cook's Illustrated, this recipe has a slightly creamier, smooth lemon filling thanks to some half & half cream. I think the half & half is what makes these better, as it curbs the acid from the lemon. Also, being a fat, it carries the flavor and helps prevent the lemon bar filling from tasting quite so eggy.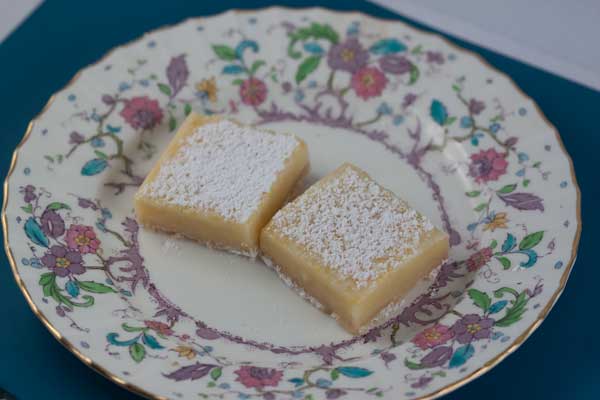 Melted Butter Crust
Over the years I've changed the lemon bar crust. The original one from CI calls for cold butter, powdered sugar and cornstarch and is made in a food processor. I like to use extra soft/almost melted butter, granulated sugar and flour. The crust is just as good (though the texture is different) and it's a lot more convenient. If you want a firmer crust and don't mind using the food processor, the original powdered sugar & cornstarch version is in the notes.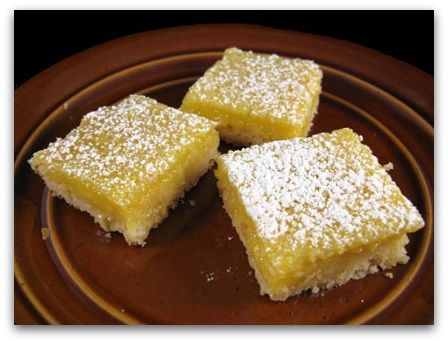 8 Inch Pan Lemon Squares or ⅛ Sheet Pan
I've always made these in a metal pan, but I'm pretty sure using an 8 inch glass dish would be fine. If you need to make a larger batch, the original 13x9 inch pan recipe is here.  Recently, I made them in a ⅛ sheet pan. The bars come out thinner, but still very good. I think the thin ones are a little easier to eat, and I kind of like the ratio of crust to filling. But either pan size will work just fine.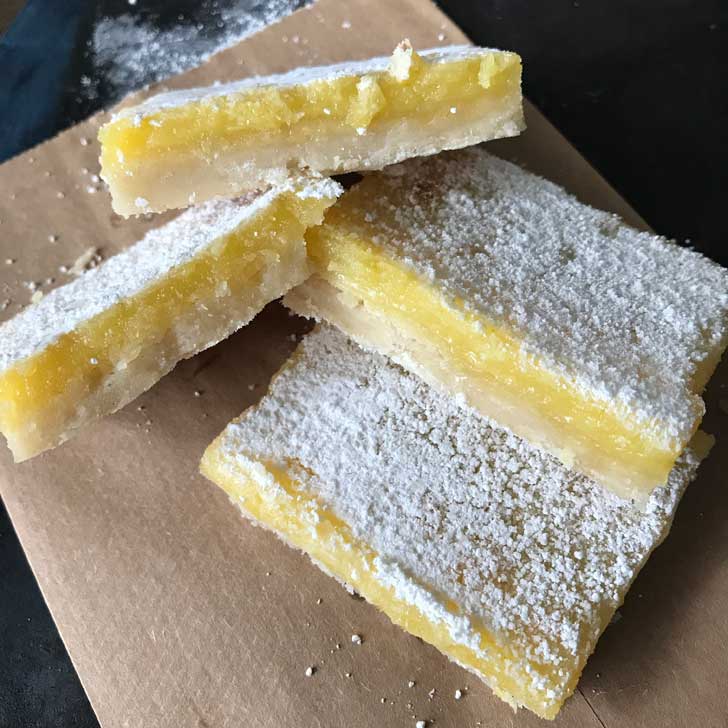 Even Less Eggy Tasting -- Update
These Lemon Squares aren't eggy tasting, but if you are really sensitive to egg and want to make double sure you don't taste it, you can try this tip. Crack the eggs into a bowl before using and use a fork to remove the chalaza (also known as "white stringy stuff". It sort of helps, but you'll still taste some egg. I do think it makes the filling smoother.
Recipe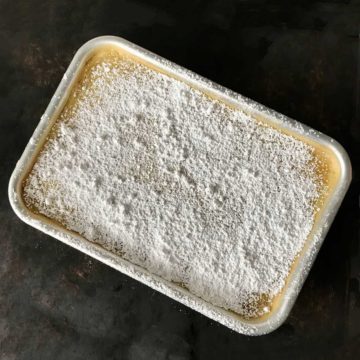 Quite Possibly The Best Lemon Squares Ever
Possibly The Best Ever Lemon Squares! The bit of half & half cuts the lemon a bit.
Ingredients 
Crust:
1

cup

all-purpose flour

(130 grams), pastry flour okay too

4

tablespoons

granulated sugar OR powdered sugar

(50 grams granulated or 30 grams powdered)

⅛

teaspoon

salt, increase to ½ if using unsalted butter

8

tablespoons

salted butter, gently melted

(114 grams)
Filling:
2

large

eggs

⅔

cup

granulated sugar

(130 grams)

1 ½

tablespoons

all-purpose flour

(9 grams)

1

teaspoon

lemon zest

⅓

cup

fresh lemon juice, strained if you have time

3

tablespoons

half & half (light cream)

Or use 1 ½ T. cream and 1 ½ T. milk

⅛

teaspoon

salt
Instructions 
Grease and flour an 8 inch square metal pan or a ⅛ sheet pan. You can use parchment paper or foil if desired, but be sure to grease and flour the lined pan.

In a mixing bowl, stir together the flour, sugar and salt. Pour in the gently melted, cooled, butter and stir to make a soft dough. Press into the bottom of the greased pan. Chill the dough lined pan for about 30 minutes or until ready to bake.

Preheat oven to 350 degrees F. When oven is preheated, bake the pre-chilled crust (above) for 18-20 minutes or until edges are very lightly browned. If you prefer a less browned crust, bake at 325 for 25 to 28 minutes.
Lemon Filling
While the crust is baking, crack the eggs into a bowl and use a fork or tweezers to remove the white stringy things (chalazae).

A few minutes before the crust is ready, whisk together all filling ingredients until smooth. REDUCE OVEN HEAT.

Again, reduce oven temperature to 325 degrees. Stir filling, then pour filling over the warm crust. Bake for 20 minutes or until filling no longer appears wet and shaky. It won't look completely done, but if small bubbles have formed on the surface it should be ready to remove. It will set as it cools.

Set on a wire rack and cool to room temperature. Lift from pan, place on cutting board, dust with extra powdered sugar, trim edges and cut into bars.
Notes
For the crust, granulated sugar will make it firmer and powdered sugar will make it soft and less sweet.  I prefer a firmer crust to hold the lemon filling, but some people like the soft texture of the powdered sugar crust.  You can use either.
Firm, Powdery, Food Processor Version Crust
¾ cup plus 2 tablespoons flour (114 grams)
⅓ cup powdered sugar (40 grams)
2 tablespoons cornstarch (16 grams)
⅜ teaspoon salt
6 tablespoons cold unsalted butter, cut into chunks (84 grams)
Pulse flour, powdered sugar, cornstarch, and salt in food processor. Add butter, then pulse until coarse. Pour mixture (it will be very dry) into lined pan and press over pan bottom. Refrigerate for 30 minutes. While it chills, you can make the filling.
Preheat oven to 350 degrees F. When oven is preheated, bake the pre-chilled crust (above) for 18-20 minutes or until edges are very lightly browned.