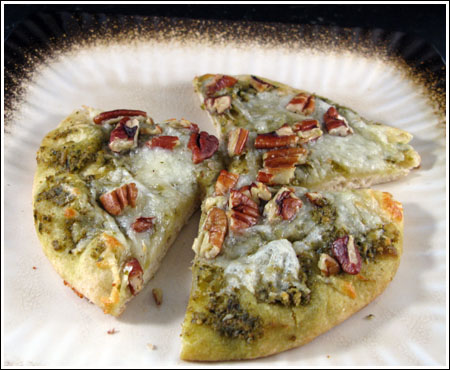 Pecan Pesto Pizza for One
1 Greek style pita round (not the pocket type) – I used Kangaroo brand
2-3 teaspoons pesto sauce (Whole Foods 360 is very good)
1/3 cup shredded "Four Cheese Italian Blend" (mozzarella, provolone, Swiss, Parm)
2 tablespoons whole pecans
1. Preheat oven to 400 degrees F.
2. Place pecans on a paper towel and microwave for 1 1/2 minutes to pre-toast. You can do this in the oven, but that would be a waste of energy since you are only using 2 tablespoons. You could probably skip the pre micro-toasting, but I do it anyway to ensure the pecans are toasted enough.
3. Spread pesto over top of pita. Sprinkle cheese over pesto. Chop the pecans into pieces and spread over top.
4. Bake for 8-10 minutes or until hot and bubbly, then use a pizza cutter to slice into triangles.
.