This is a strange little "recipe" I came up with during our kitchen remodel. It's a single box of Green Giant sauced vegetables, spiced up with cumin, ginger and turmeric, rolled up in buttery phyllo dough. I got the idea while craving samosas, and though these aren't actually samosas, they were very good alongside the frozen Indian dinners we'd been eating during the remodel. I hadn't planned on posting this, but I served some with m daughter's lunch, and she asked how to make them. So here's how to make Frozen Vegetable Phyllo Wraps.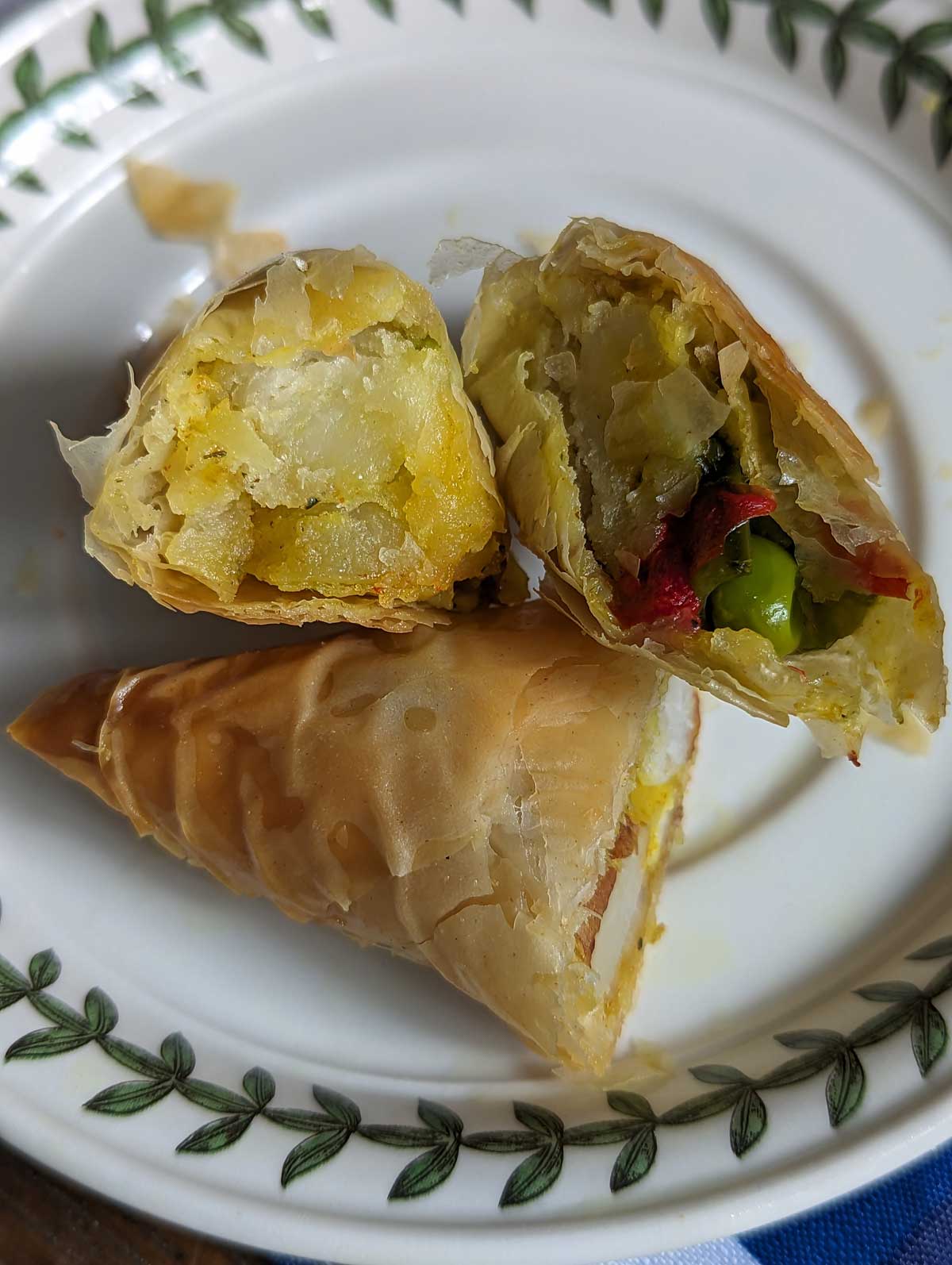 Samosa Flavored Frozen Vegetable Phyllo Wraps
First, you'll need to have some phyllo dough. I had some leftover from another project, which is one of the other reasons I made these. You'll only need about 9 sheets. You'll also need a box of Green Giant Garden Vegetable Medley, which is mostly potatoes and peas. And then to give them the samosa feel, you can use whichever Indian spices you like in your samosas. I just went with curry, turmeric and ginger. The vegetables are already in an herb sauce, so the other spices are just to add some Indian character.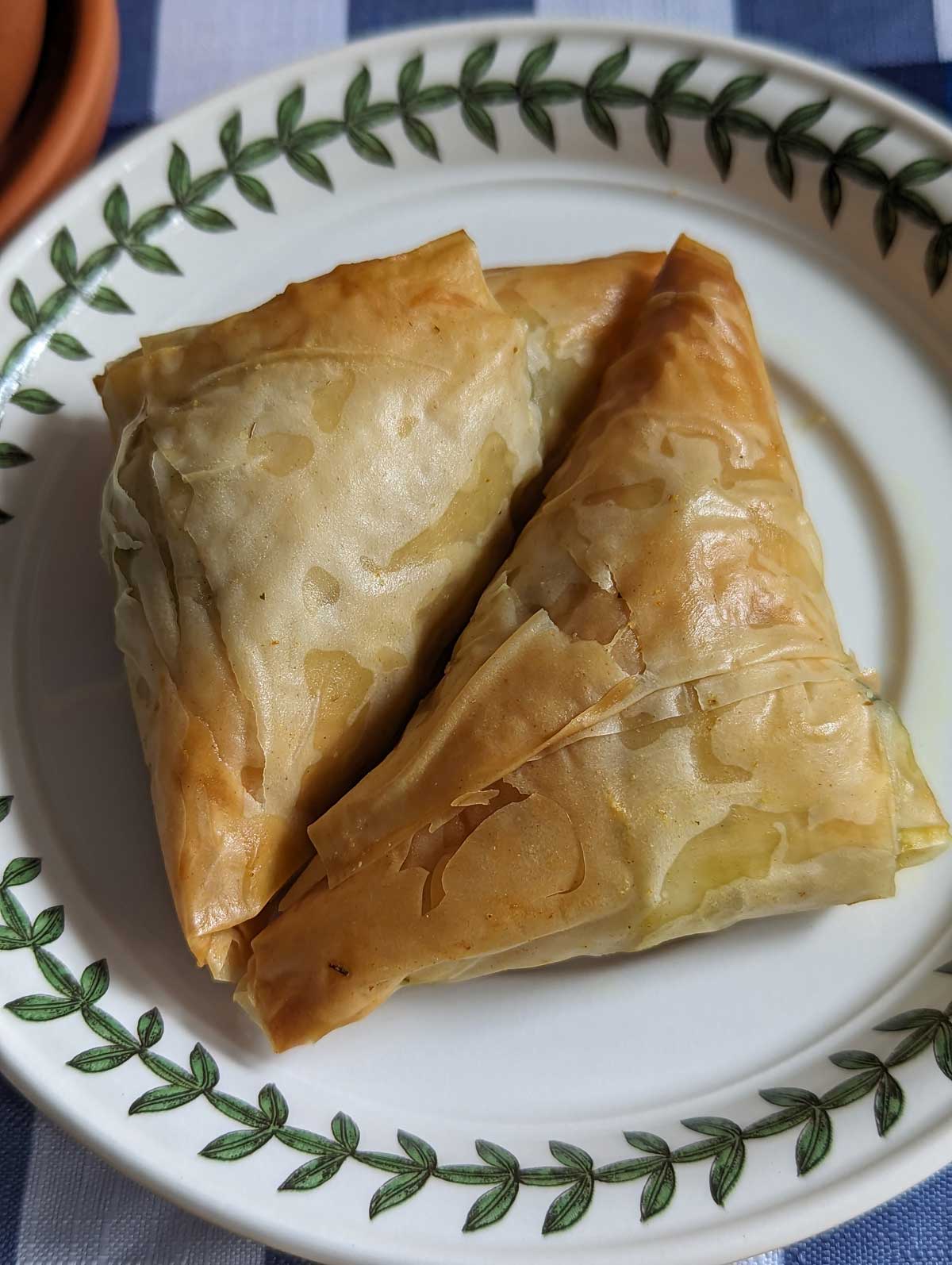 You'll also need a olive oil flavored cooking spray and some melted butter. You could get away with using only the cooking spray for less fat, but the butter makes them so much better, so I use a combo of the two. The cooking spray is for convenience. It coats a large area of the phyllo quickly without having to brush, and the butter is for flavor.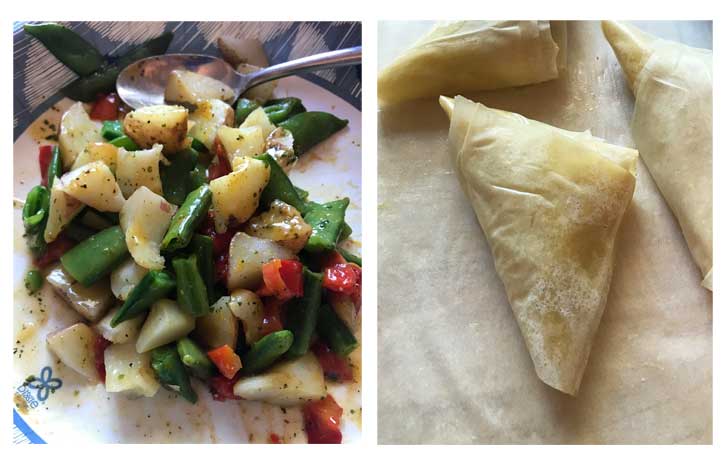 So here's the recipe, which to me is more like an idea than an actual recipe. If you try it, let me know!
Recipe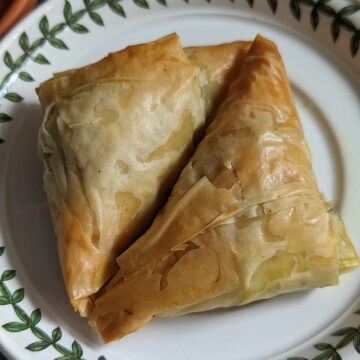 Frozen Vegetable Phyllo Wraps
Phyllo dough stuffed with Indian flavored vegetables
Ingredients 
1

box

Green Giant Garden Vegetable Medley

⅛

teaspoon

EACH cumin, ginger and turmeric

1

pinch

sugar

1

pinch

hot pepper, optional

9

sheets

phyllo dough (9x14 inch)

olive oil cooling spray

3

tablespoons

salted butter, melted
Instructions 
Prepare the vegetables as directed on the box, but microwave only about ⅓ of the time indicated (so about 1 ½ to 2 minutes). Empty into a bowl and let cool slightly. Grab some kitchen scissors and snip each sweet pea into smaller chunks so they'll fit better. This is going to feel really strange, but you'll understand why.

Stir in cumin, ginger, and turmeric. Add ¼ teaspoon sugar as well (optional) and hot pepper to taste. Set aside.

Make sure you have a big, clean flat surface such as a cutting board in front of you.

Unroll your phyllo and carefully separate one sheet. Lay the one sheet of phyllo in front of you with the short side (9 inch) on the bottom. Spray with olive oil cooking spray and then fold it lengthwise into thirds so that you have one fairly sturdy 3-layer 14-inch strip in front of you. Spritz with more olive oil spray or brush with the melted butter.

Put a spoonful of the vegetable mixture in the bottom left corner. Make sure to use at least one chunk of potato along with however many beans you can fit.

Hold down the vegetables and fold upward from the left corner like a flag. As you fold, the vegetables may fall out. Just gently press them back in as you fold. This starts out messy, but as you fold higher the triangle neaten up!

Once you have a neat triangle, brush it with melted salted butter and set it on a parchment or greased foil-lined baking pan.

Bake at 350 until golden brown (about 18 minutes). Let cool slightly before serving.