I may not be an expert Indian cook yet, but I've advanced from garam masala, cumin and turmeric to spices like amchur, something I'd never even heard of until a few months ago. Now I use it all the time, and we're loving it in this recipe for Hot Hot Peanuts. Theyre made with garam masala, cayenne, lime zest and amchur.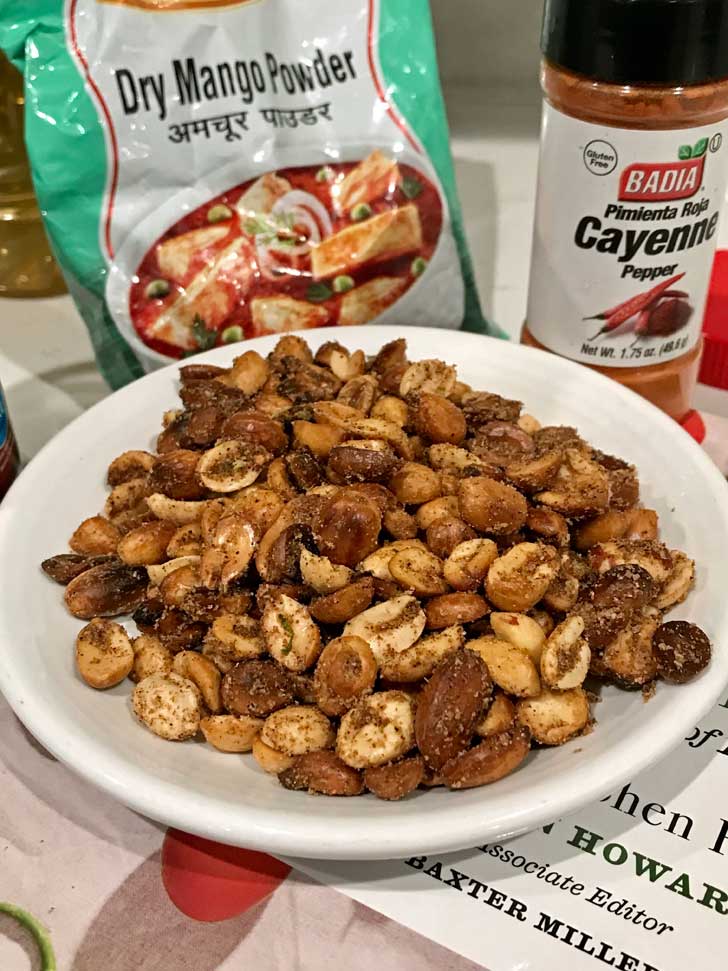 What is Amchur?
Amchur is dried mango powder. Its flavor is often described as citrusy, but it's a little sharper and more earthy. Since it has a citrus flavor it, it goes well with other citrus, which in this case is lime zest. The mango powder, lime zest and cayenne all come together for a flavor that makes these peanuts very hard to stop eating. Then again, you can say that about peanuts in general. But these are definitely more interesting than regular peanuts.
Not So Hot
The recipe is adapted from Edible North Carolina where it was shared by Raleigh chef, musician, and restaurant owner Cheetie Kumar. It's called Hot Hot Peanuts, but we didn't find these very hot at all, which is a plus for me. I like spicy but not hot. For mouth burning heat, feel free to add more cayenne. As they are,the Hot Hot Peanuts have the spike of amchur, plus actual citrus in the form of lime zest and juice which is drizzled over before serving. So they have a warmth to them, but are not super hot.
Dry Roasted Peanuts & Other Ingredients
The original recipe calls for unroasted, unsalted North Carolina peanuts. Those are not easy to find, even in North Carolina, so I used dry roasted unsalted peanuts from and made some adjustments to the oil in the recipe. But how about that amchur? Todd brought mine back from a trip to India, but if you're not in India you can order it pretty easily or just pick it up at the Indian grocery store. Everything else should be available at your usual grocery store.
Recipe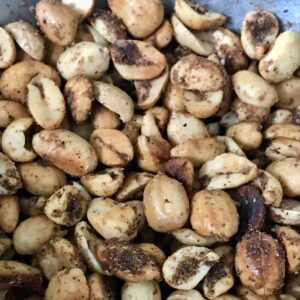 Hot Hot Peanuts
This makes over 2 cups of peanuts. You may want to try halving the recipe first to make sure you like it or to get the spice level to your satisfaction.
Ingredients 
2

tablespoons

garam masala (generous tablespoons)

2

teaspoons

kosher salt (like Morton, with Diamond you'll need more)

1

tablespoon

cane sugar or just use regular granulated

Coconut sugar might be good to, or better yet, jaggery if you have some.

1

tablespoon

amchur (dried mango powder)

½

teaspoon

ground cayenne (use more if you like a lot of heat)

1 ½

tablespoons

peanut oil or grapeseed or any high smoking point oil

2

cups

dry roasted unsalted peanuts, heaping cups

1

lime

zest of, or use up to a tablespoon. Depends on how citrusy you want it

1

tablespoon

fresh lime juice (use less if you'd like)
Instructions 
Combine all of the dry spices in a large bowl.

Heat half of the oil in a large wok or high sided skillet until shimmering but not smoking. Add 1 cup of the peanuts and stir over medium heat until toasted and golden (about 5 minutes). Keep an eye on the peanuts and stir them often. They burn easily, so you want to move them just as they start to darken a little. Since they're already roasted, you don't have to worry too much about toasting them.

Using a slotted spoon transfer them to the bowl with the spices. Repeat with remaining oil and peanuts.

Stir the peanuts again (you'll have a lot of spice powder in the bowl) and adjust salt, sugar and zest to taste. Peanuts start to taste even better once they are cool and set.

Sprinkle on the lime zest and juice before serving.