Fuzz's class is having their monthly play date/Halloween party this afternoon, so I decided to bake some cupcakes. The first batch was vanilla and the second batch was based on this prize winning Taste of Home recipe submitted by Mary Bilyeu. The original title is Special Mocha Cupcakes, but if you are a real mocha fan, you should know that the mocha flavor is subtle enough for a bunch of 7 year olds. I recommend decaf.
The original recipe includes a very sweet chocolate frosting. I prefer frosting with less sugar and more chocolate, so I used the recipe below. Depending on your schedule or what's in the pantry, here are two other great chocolate frosting:
Silky Chocolate Butter Frosting – an old Good Housekeeping recipe I use over and over
Amy's Chocolate Frosting which is easy and delicious. Swap out the stout for coffee to keep the coffee theme going.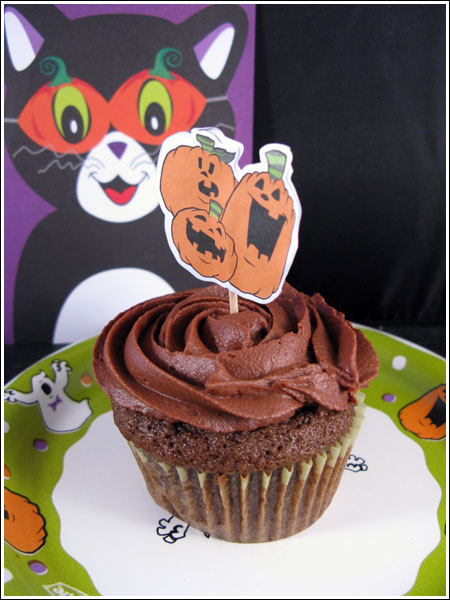 Chocolate Mocha Cupcakes with Rich Chocolate Frosting
1 ½ cups all-purpose flour
1 cup granulated sugar
⅓ cup natural unsweetened cocoa powder
1 teaspoon baking soda
½ teaspoon salt
½ cup hot coffee
½ cup vegetable oil
3 teaspoons cider vinegar
3 teaspoons vanilla extract
2 eggs
Rich Chocolate Frosting:
4 oz semi-sweet chocolate, chopped
½ cup heavy cream
2 tablespoons unsalted butter, softened
⅔ cup confectioners' sugar
2 tablespoons cooled coffee
1 teaspoon vanilla
Preheat oven to 350 degrees F.
In a large mixing bowl, combine the flour, sugar, cocoa, baking soda and salt. In a small bowl, whisk the coffee, oil, vinegar and vanilla. Make a well in the dry mixture and add the coffee mixture to the dry mixture. Stir just until moistened, then using a spoon, beat in the eggs. Beat with a spoon until mixture is smooth.
Divide mixture evenly among 12 paper liners and bake at 350 degrees for 20-25 minutes or until a toothpick comes out clean. Cool for 10 minutes before removing from pan to a wire rack to cool.
Get started on the frosting because it requires chill time.
Place the semi-sweet chocolate in a mixing bowl. In a microwave-safe measuring cup, microwave the cream until it boils. Pour the hot cream slowly over the chocolate and stir until chocolate is melted and mixture is smooth. Place bowl in the refrigerator and chill for 45 minutes or until it is very cold – it shouldn't take more than an hour. Don't chill too long or mixture will get too stiff.
When ready to frost, pull melted chocolate/cream mixture from refrigerator and using a hand held electric mixer, beat it until it fluffs up and becomes a bit paler. Beat in the butter, then slowly beat in the sugar. Beat in the coffee and vanilla. If mixture seems to stiff, add a little more coffee.
Ice the cupcakes.
I like to put the iced cupcakes in the refrigerator and let the icing set.