Cranberry Chocolate Chunk Cookies with Olive Oil is a recipe I originally found on the H.E.B. grocery store website. It's an interesting one and a little ahead of its time. H.E.B. posted it back in 2008 before everyone was putting extra virgin olive oil in everything.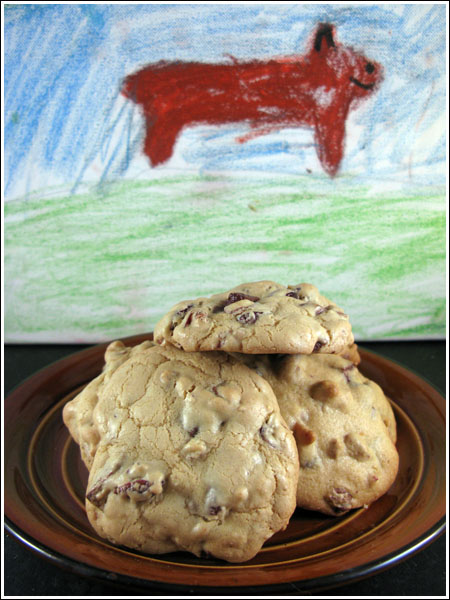 The cookies are very good, but different. I thought they would be cakey, but they're kind of dense, stiff in the center and have extremely crispy (almost hard) edges. They don't brown much, given the lack of baking soda, but they are chock full of chocolate chunks, cranberry and nuts so they still look pretty and taste great. Make sure you use really good chocolate and be sure to add the nuts (if you can). I left out the coconut, but it probably would have been good too. Cranberry Chocolate Chunk Cookiesare definitely not overly sweet.
Vegans -- let me know if you figure out a good substitute for the eggs. I think it's do-able, but it might be tricky since the eggs capture a lot of air.
Cranberry Chocolate Chunk Cookies
1 ½ cups white whole wheat flour or all purpose (190 grams)
½ teaspoon baking powder
½ scant teaspoon salt
6 tablespoons olive oil
1 cup brown sugar, packed
2 large eggs
½ teaspoon vanilla extract
¾ cup EACH dried cranberries, chocolate chips or chunks (good ones)
½ cup toasted pecan pieces
½ cup shredded coconut (optional)
Preheat oven to 350 degrees. Line 2 cookie sheets with parchment.
Sift together the flour and baking powder and set aside. Stir in the salt (it doesn't always go through the sifter).
Beat olive oil and brown sugar using an electric mixer on high speed for 3 minutes. Beat in the eggs and vanilla on medium speed (about 1 minute). Add the sifted flour ½ cup at a time and stir by hand until mixed. Stir in chocolate chips, cranberries and nuts.
Drop dough by rounded tablespoonfuls onto prepared cookie sheets. Bake the cookies for 15 minutes or until golden brown (at least around edges).
Makes about 2 ½ dozen cookies