Granola Everything Cookies are your basic Everything Cookies, with one of the "things" being granola. Originally from a blog called Sunday Nite Dinner, these cookies are a great way to use up the loose granola at the bottom of the box. I suppose you could also make them with homemade granola, but if you've gone to the trouble of making granola you might not want to bake it into cookies.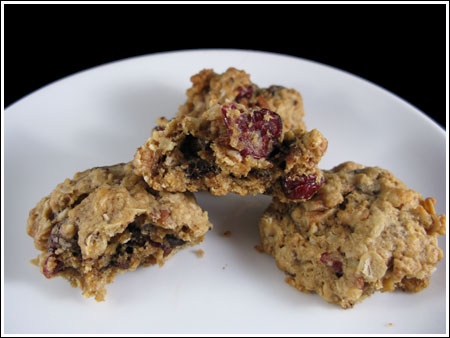 I mostly stick with the original recipe, but sometimes make minor changes – cherries instead of raisins, dark chocolate chunks instead of chips, and no peanut butter chips. I always increase the salt and sometimes use white whole wheat flour to add a little whole grain. This is a great tasting cookie with wholesome ingredients and lots of interesting textures and flavors.
Granola Everything Cookies
1 ½ cups granola, loose type or slightly crushed
1 cup old fashioned rolled oats
4 oz dark chocolate, cut into chunks
1 cup toasted pecans, chopped
1 cup dried cherries or cherry flavored dried cranberries
1 ⅔ cups all-purpose or white whole wheat flour (7.5 oz)
1 teaspoon baking soda
1 teaspoon baking powder
¾ teaspoon salt
½ cup packed dark brown sugar
½ cup granulated or turbinado sugar
2 sticks (8 oz) unsalted butter, cut into small pieces, room temperature
1 teaspoon vanilla extract
2 large eggs
Preheat oven to 350°F. Line a couple of cookie sheets with parchment paper.
Mix granola, oats, chips, nuts and dried cherries together in a bowl; set aside.
Stir flour, baking soda, baking powder and salt together in another bowl. Set aside.
Cream the butter and both sugars together in a large bowl using an electric mixer. Add vanilla and beat in the eggs, one at time. Mix in flour mixture until just combined. Stir in the granola mixture.
Scoop up very well-rounded tablespoons of dough and shape into into 2-inch balls. Place the balls onto baking sheets, spacing them at least 2 inches apart.
Bake until the cookie edges turn golden brown, 12 to 15 minutes. Let the cookies cool on the baking sheets for 3 minutes. Transfer the cookies with a wide spatula to a wire rack. Let cool at least 30 minutes.
Makes about 3 dozen cookies