Last night at dinner Todd told me one of the guests was bringing sweet potato casserole. My first thought was "What am I going to do with the 5 pounds of sweet potatoes I bought?" and my second was "Hallelujah!" Thanksgiving Day's cooking schedule just got a little less hectic.
Since I'm in that weird period where the make-ahead dishes are done and everything else is must be cooked the day of the feast, I decided to make a sweet potato pie for the office staff at Fuzz's school. I'd never made one before, so I used this recipe. 584 people can't be wrong, no? Well, we'll see. I'm hoping to get some feedback from the tasters. Plus, I made some changes, which I wrote below.
The pie crust was made by my good friend Marie Callender. I wanted to make it myself, but realized that I only have one pie dish (crazy!) and it was currently occupied by a pecan pie.
Update: Reviewers said this pie was good, but on the sweet side. I went back and read the reviews and a lot of people cut the sugar to 3/4 cup and used these proportions (1/2 granulated, 1/4 brown). So that's what I'd do next time.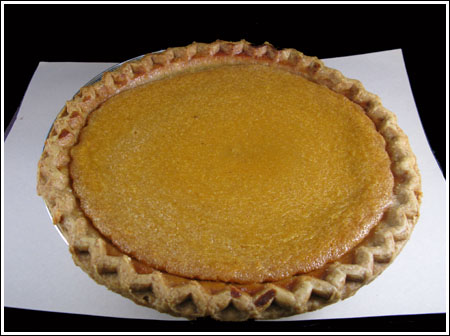 Sweet Potato Pie
1 pound sweet potato, cut into thirds
4 oz salted butter, melted
1 cup granulated sugar (210 grams)
1/2 cup milk
2 large eggs
1/2 teaspoon cinnamon
1/8 teaspoon fresh nutmeg
1 teaspoon vanilla
1 9 inch pie crust (homemade or Vodka crust)
Cook sweet potatoes in microwave. Let cool, then remove peels.
Preheat oven to 350 degrees F.
Break up sweet potatoes and put in food processor. Add butter and sugar and pulse 5 times to mix. Add milk, eggs, cinnamon, nutmeg and vanilla. Puree until smooth – mine still had tiny lumps, but they weren't a problem in the end.
Pour mixture into pie crust. Bake for 45 minutes at 350 degrees F.