Sweet Potato Pie Bars are a combination of a pumpkin pie bar and a sweet potato pie recipe. This version has a brown sugar, cinnamon, pecan base and topping.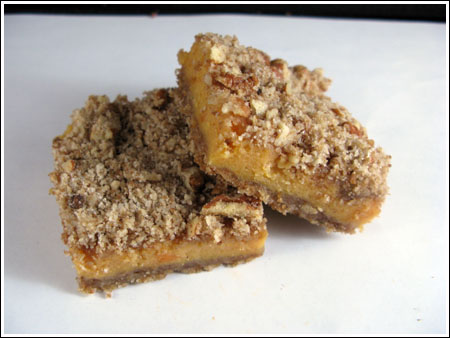 Sweet Potato Pie Bars
Crust:
1 1/2 cups all purpose flour plus 1 tablespoon
1/2 teaspoon salt
1/2 cup granulated sugar
1/2 cup firmly packed brown sugar
1 teaspoons ground cinnamon
6 oz unsalted butter, cut up
1 cup finely chopped pecans
Filling:
1 pound cooked sweet potato
4 tablespoons melted butter
1 (14-ounce) can sweetened Condensed Milk
2 eggs, beaten
1 teaspoon cinnamon
1/8 teaspoon fresh nutmeg
1/2 teaspoon grated orange zest
1/4 teaspoon salt
1/2 teaspoon vanilla
Preheat oven to 350 degrees F. Have ready a 13×9 inch metal pan – greased or lined with foil and sprayed with cooking spray.
Combine flour, salt, both sugars and cinnamon in bowl of food processor. Add cold butter and pulse until mixture is crumbly. Set aside a heaping half cup of the mixture, then dump the rest into the pan and press into bottom.
Clean food processor bowl. Process sweet potatoes, melted butter, sweetened condensed milk, eggs, remaining, cinnamon, nutmeg, orange zest, salt and vanilla. Process until smooth. Pour evenly over crust.
Toss reserved flour mixture with pecans and sprinkle over sweet potato mixture. Bake 30 to 35 minutes or until set. Set on a wire rack to cool.
Lift from pan and cut into squares.
Makes about 32