Chocolate Ginger Cookies come courtesy of Kristin Schell, who gave me the recipe years ago before she founded The Turquoise Table. As the story goes, Kristin fell in love with the cookies at the Four Seasons Teddy Bear Christmas Tea and (bravely) asked the chef for the recipe. The pastry chef at the time, Naomi Gallego, kindly shared it.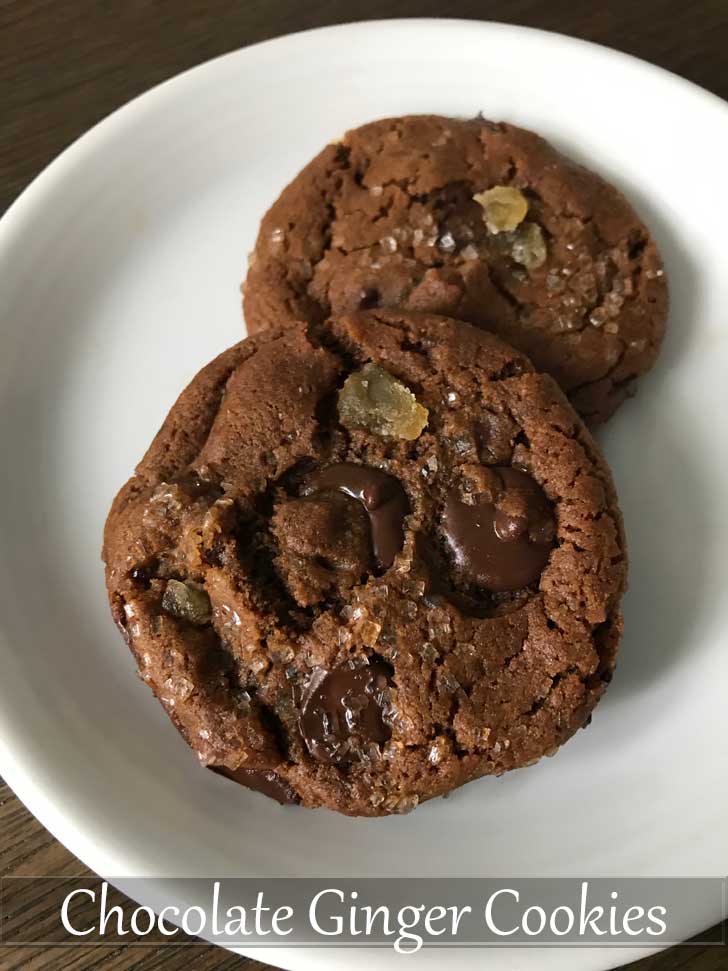 No Eggs in Chocolate Ginger Cookies
At first I was a little surprised to see that the Chocolate Ginger Cookies recipe didn't call for eggs. To be safe, I checked the Martha Stewart Cookie Book which features a very similar cookie on the cover. Martha's recipe did not call for eggs either. This was good news or future vegan cookie baking, and I've since made these cookies completely vegan by using "plant butter" and vegan chips.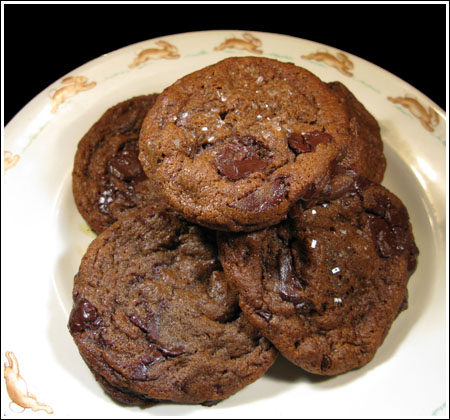 Yield and Cookie size
Kristin's recipe is here. I've made her recipe several times over the years, but I almost always cut it in half as written below. The recipe says to chill the dough for four hours. You can chill the dough and then portion it or you can portion it into 20 dough rounds, chill the rounds, then bake. I always portion before chilling. As for size, you can use a medium cookie scoop and make large Chocolate Ginger Cookies, in which case you should get around 18 to 20. If you don't have a cookie scoop or just want smaller cookies, use a tablespoon to scoop up the dough and make about 24 rounds.
Recipe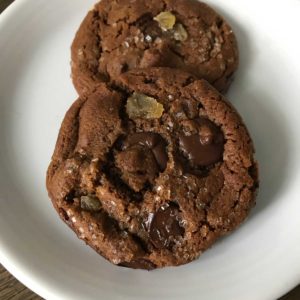 Chocolate Ginger Cookies
From Naomi Gallego when she worked at The Four Seasons Hotel
Ingredients 
1 ½

cups

plus 1 tablespoons flour

(210 grams)

1

tsp

baking soda

1 ¼

tsp

ground ginger

1

tsp

cinnamon

¼

tsp

ground cloves

¼

tsp

freshly ground nutmeg

1

tablespoon

unsweetened cocoa powder

natural

1

stick

salted butter or use unsalted and add salt

(114 grams)

1

Tbs

crystallized ginger, finely chopped -- can use more

½

cup

brown sugar, tighly packed

(110 grams)

½

cup

molasses****

(145 grams)

1 ½

cups

chocolate chips (or use chocolate chunks)

Sugar for rolling (optional)
Instructions 
Mix together the flour, baking soda, ginger, cinnamon, cloves, nutmeg and cocoa powder. If you are using unsalted butter, add the ⅜ teaspoon of salt as well. Set aside.

With an electric mixer, cream the butter and the brown sugar until light and fluffy. Gradually add the molasses, stirring as you pour.

Using lowest speed of mixer (or by hand), add dry ingredients, scraping side of the bowl. Stir in chocolate chips as well. Mix well. Cover dough and chill for at least 4 hours.

Preheat oven to 350 degrees.

Scoop about a tablespoon full of dough and roll in the palms of your hands until perfectly round and compact.

Roll the rounded dough balls in sugar to coat (if you want) and place on baking sheet.

Bake at 350 for about 10 minutes (for small cookies) or slightly longer for larger cookies. You can also bake at 325 for 12 or so minutes.

Allow cookies to cool and store in an airtight container.
Notes
There is another version of this recipe (Martha Stewart's) which calls for ¼ cup of molasses rather than ½ cup.  I have always used the ½ cup measure.  
.