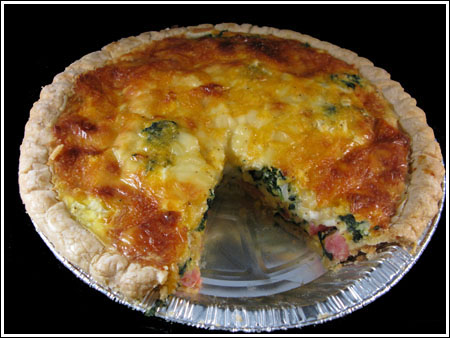 Ham, Cheddar, Gouda & Spinach Quiche
1 (10 oz) package chopped frozen spinach, thawed
1 cup (114 grams) shredded cheddar cheese
1/2 cup (60 grams) shredded Gouda cheese
2 tablespoons (30 ml) flour
1 unbaked pie shell (9 inch deep dish)
1 cup (90 grams) diced ham
1/2 cup grated parmesan cheese
1/2 cup diced onion
3 large eggs
1 cup (240 ml) evaporated milk
1/4 teaspoon pepper
Preheat oven to 350 degrees F (176 degree C).
Drain spinach and remove as much moisture as possible by pressing between paper towels; set aside.
Mix together shredded cheeses (cheddar and Gouda) and toss with flour. Sprinkle a heaping tablespoon of cheese mixture over bottom of pie plate.
Spread over the tablespoon of cheese, then spread drained and dried spinach over ham. Sprinkle parmesan cheese over spinach, followed by onion.
Whisk eggs in a mixing bowl; stir in milk, pepper, parmesan and shredded cheese/flour mix. Pour this mixture into pie shell gradually, allowing it to soak into spinach.
Set quiche on a cookie sheet and bake for 50 minutes. Let stand for 10 minutes before serving.