Here's a terrible photo of what is actually a very good crustless quiche. Cottage cheese adds some extra substance and protein, along with the lean ham and low fat cheese.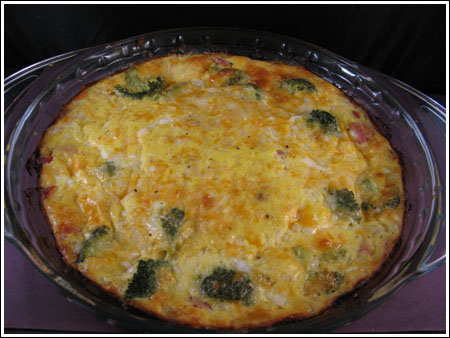 Crustless Quiche with Ham & Broccoli
1 cup broccoli florets
4 ounces (114 grams) very low fat ham, cut into chunks
½ cup chopped onions
2 tablespoons (30 ml) grated parmesan cheese
3 large eggs
⅛ teaspoon (.5 ml) salt (optional)
¼ teaspoon (1 ml) garlic powder
¾ cup (180 ml) low fat milk
¾ cup (180 ml) low fat cottage cheese
⅛ teaspoon paprika
2 tablespoons (30 ml) all purpose flour
1 cup (114 grams) shredded Kraft 2% milk Colby Jack cheese
Preheat oven to 350 degrees F (176 degrees C). Spray a 9 inch round glass pie plate with cooking spray.
Layer broccoli, ham and onions across bottom of pie plate; sprinkle with parmesan cheese.
Whisk eggs in a mixing bowl. Whisk in salt (if using), garlic powder, milk, cottage cheese and paprka.
Toss cheddar cheese with flour and add to egg mixture. Pour egg mixture over quiche.
Bake for 40 minutes or until set. Let stand for about 10 minute before serving.
MASTERCOOK NUTRITION INFO -- I am not sure it's 100% accurate, but it sounds right.
Per Serving (excluding unknown items): 199 Calories; 9g Fat (44.4% calories from fat); 20g Protein; 7g Carbohydrate; 1g Dietary Fiber;