Streusel Scones are what you'd expect — scones topped with streusel.  But these are a little different in that they are pineapple flavored.  Or not!  The original recipe calls for 4 oz of undrained pineapple, but if you don't have pineapple then a little milk does the trick.  And then of course you can add-in something else like blueberries or chocolate chips. I guess the stand-out thing about this recipe is the streusel.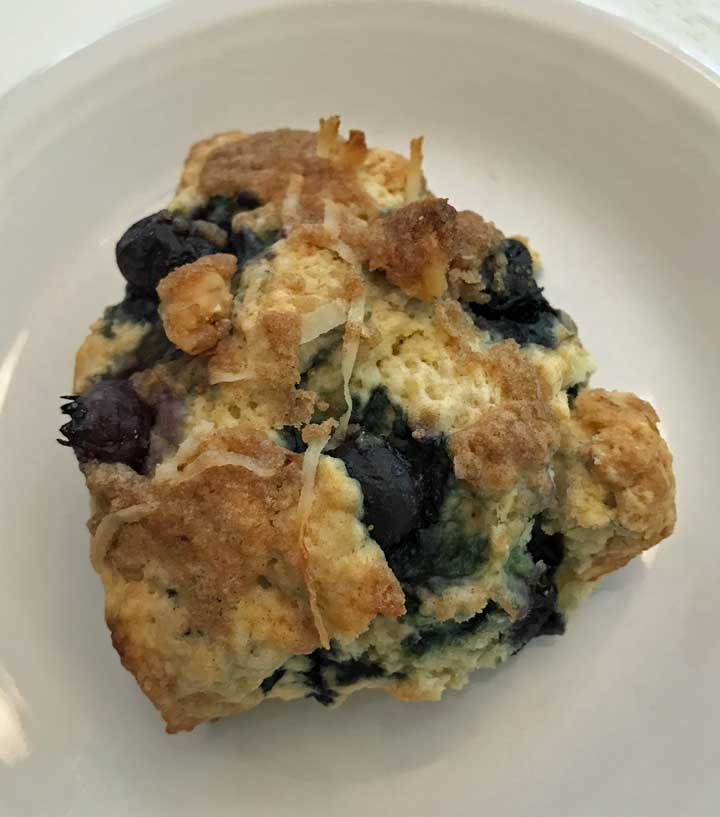 Grating Butter in Scone Dough
You can make Streusel Scones in a food processor, but if you don't feel like cleaning the food processor, you can make the dough in a big bowl and use a large hole grater to shred the butter into the dry mixture. As with all scone dough, you may need to adjust flour and liquid. Always add liquid gradually.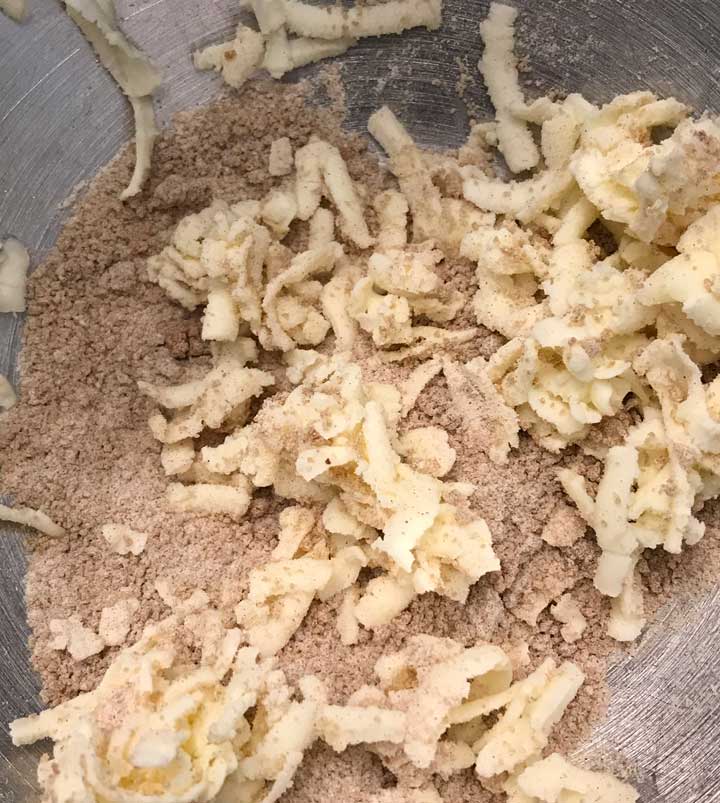 Individually Portioned Streusel Scones
The  dough should be easy to shape into a circle and cut into neat triangles.  Once you've cut the triangles, you can bake them right away or freeze the individual portions. You can then bake each triangle of frozen scone dough.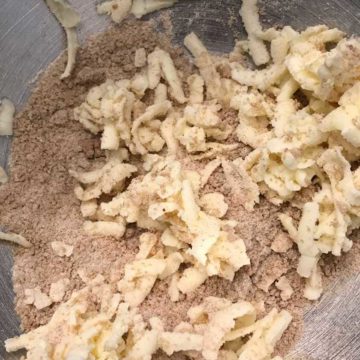 Streusel Scones
These streusel topped scones get their moisture from the pineapple and its liquid. If you don't have pineapple, you can substitute milk and use different add-ins.
Ingredients 
Streusel
1/3

cup

all-purpose flour

70 grams

1/3

cup

lightly packed brown sugar

70 grams

1/4

teaspoon

ground cinnamon

3

tablespoons

cold unsalted butter

42 grams

1/3

cup

walnuts or pecans

chopped, untoasted

1/4

cup

shredded coconut

unsweetened or sweetened okay
Scone Dough
2

cups

all purpose flour

250 to 280 grams

2

teaspoons

baking powder

1/4

teaspoon

baking soda

1/2

teaspoon

salt

1/3

cup

cold unsalted butter

70 grams

1/3

cup

granulated sugar

70 grams

½

cup

crushed pineapple

undrained pineapple (4 oz) OR 1/3 cup whole milk

1

large egg

1

teaspoon

vanilla
Instructions 
Preheat oven to 375 degrees F. Have ready a parchment lined baking sheet.

Make Streusel: Combine 1/3 cup flour, brown sugar and cinnamon in a large mixing bowl. Using a large holed grater, shred cold butter over the dry mixture. With a fork, lightly toss. Add nuts and coconut and mix until crumbly. Set aside (I recommend keeping it in the refrigerator).

Make Scone Dough: In a large mixing bowl, combine flour, baking powder, baking soda and salt and stir well. Shred butter over dry mixture and toss with a fork. Use your fingers or the fork and mix until crumbly, then stir in the sugar.

In a large liquid measuring cup or a small bowl, stir together pineapple, egg and vanilla OR 1/3 cup milk and vanilla. Dump the flour mixture into the pineapple mixture and stir to make a dough. It should be bouyant and a little sticky, but not too sticky. If dough is too dry, add more liquid. If is is really sticky, use a lot of flour on the pastry mat.

Dump the dough onto a floured pastry mat and press into a rectangle. Fold it gently into thirds, incorporating any flour from the mat (if needed). Repeat. If you are using any sort of add-ins such as frozen blueberries or chips INSTEAD of the pineapple, knead them into the dough. Shape into a 7 inch circle.

Arrange streusel over top of the circle. You may not need it all. Cut circle into six triangles. For smaller scones, cut into 8 triangles.

Arrange however many scones you want to bake on the baking sheet. Put the others in a freezer bag and freeze.

Bake scones at 375 for about 25 minutes. Let cool for 10 minutes before serving. scored) to seal in the filling. Wrap the dough triangles individually and keep frozen until ready to bake.